Word Swipe Pic – Cheat, Download & More
"Word Swipe Pic" by "Casual World Studio" is one of the rising stars this year. In November 2019, it cracked the mark of 100.000 downloads and received a fabulous, phenomenal rating of 4.9 stars out of more than 3.000 reviews. Wow, it had my curiosity, now it has my attention!
Are you one of those guys or gals being already hooked by this Android game? Then check out our Tutorial to see how you can master it. Or read our Review if you want to sanity-check your opinion about it. Or click on Download if you'd like to get it right away. Let's start!

Tutorial – Cheat, Solver, How-To
It's not a shame to not master every word game within minutes. So if you need a helping hand, we're more than glad to be there for you.
How to Play "Word Swipe Pic"
Thanks to its telling name, the basic game principle is pretty clear: You swipe words whilst looking at a picture. Like in many similar games like Word Stacks, the wanted words are hidden within a bunch of letters that are interlaced at the bottom of the game screen. The unique approach of "Word Swipe Pic" lies within the upper half of the game screen: Instead of presenting a topic or some clues, you'll see a picture, from which you have to distill the most-fitting keywords, that can be used to describe it.
Lets take one of the first levels (with the cutest image) as an example: In the screenshot below, you see a resting dog with a medical thermometer in its jaws. Conveniently, you can select the word "FEVER" and "REST" right away before you even have to think about more details. Now, you'll see that it's not only important to detect the right words, it's also important to select them in the right order. Neither "NWEAK" nor "BLAKKET" will make sense, but if you identify and select "WEAK" first, a "BLANKET" will appear, which is obviously also part of the picture.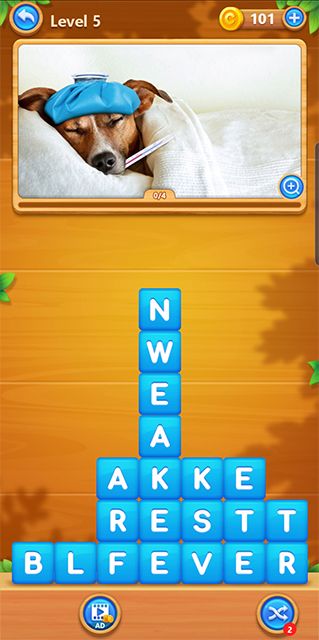 In-game Help
In case you're stuck somewhere, the game offers a set of tools for a quick and easy help:
Use SHUFFLE (the icon with the crossed arrows) to reorganize the letters on the game board.
The HINT button (the icon with the light bulb) will reveal a letter from one of the hidden words.
The LOCATOR (the icon showing a magnifying glass) is used to reveal a starting swipe point.
Plus, you'll get some extra points for words, which are hidden in the stack but aren't describing the picture. Also, the built-in dictionary is a nice addon, in case you want to learn more about a certain word. Anyway, sooner or later you'll reach the point, when you'll run out of coins or none of the in-game helpers will answer your questions. To ensure you're still making progress, feel free to use our free letter sorting tool.

Word Swipe Pic Review
After we made sure that there's a chance to solve all the levels, we have to also answer the question, if the game is worth it in the first place. Let's begin with the review.
Graphics (2/2)
There is one big advantage of "Word Swipe Pic" setting it apart from other word games like Word Tower Puzzles or Word Games Tour. The pictures shown on the screen, aren't just ambient background pictures setting the mood, they are actually part of the game. In addition to that, they offer a variety of different themes, they are sometimes funny, sometimes cute, one picture will make you smile, the other one will set you in a calm, relaxing mood. They only have one thing in common: All pictures are very well chosen and of the best quality. 2 points!
Sound (1/2)
The calm, beautiful and relaxing harp music in the background doesn't always fit the various moods the different pictures generate. On the other hand, it would be quite annoying if the music changes according to the current riddle, which would result in a crazy, unsettling soundtrack. That's why I'm not fully satisfied with the sound, but I don't have any improvement suggestions either.
Balance (2/2)
Whereas other games struggle with a decent frequency of showing ads, "Word Swipe Pic" has found the happy medium. Plus, all ads are skippable, so in case you don't need any bonus items or coins, you can just close the interstitial and rejoin the action. Chapeau!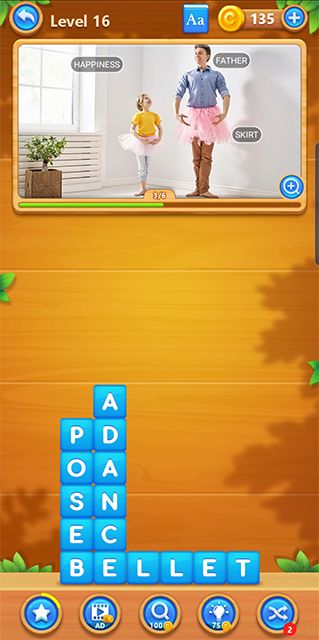 Controls (2/2)
The controls are easy and intuitive. Simply swipe across the game board to dissolve the letters and tap on the icons, in case you need help. That's it!
Gameplay (2/2)
"Word Swipe Pic" is a solid game based on the great idea of combining hidden picture games with word stack games. I genuinely enjoyed the different pictures, that made the word puzzles so much more enjoyable to comparable games.
The Verdict (9/10)
Watch out, dear competitors! With "Word Swipe Pic", a game has joined the competition, that has the power to outpace most of its rivals, when it comes down to a 1:1. Based on the great idea of pushing the background image in the center of the stage, the players could ask the sixty-four-thousand-dollar question: "Why should I play another word game, when I've got Word Swipe Pic"? Since the fresh approach of "Casual World Studio" disrupts the genre, I guess the other studios should do everything they can to not fall behind.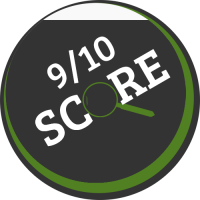 Download
"Word Swipe Pic" by "Casual World Studio" is available both for Android and iOS. The development studio seems to be quite new, so we haven't found a website or even a social media profile operated by them. However, with "Pop Color Coloring Pages", they have another gaming app in their portfolio, that you might want to check out.

Similar Apps