WordBrain: Tutorial, Review and Download.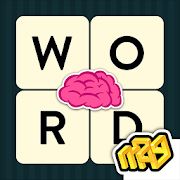 Fellow word game fanatics, it is time for us to check out at another app that promises to keep our brain cells active and claims to be "a word puzzle for true word geniuses". We feel addressed by that, don't we? So, let's take a look at "WordBrain".
The game was developed by "MAG Interactive" and by their own accord, it is played by more than 40.000.000 people. Yes, you read right. 40 million players! In the Google Play store it has a 4.4 stars rating by almost 950.000 voters and in the Apple store close to 85.000 people rated it to be a great 4.6 stars game. Thereby, the conclusion that this seems to be a good game indeed, is not a far fetched one. The main critic seems to be the ad-heaviness.
But I need to know more than that and see it for myself! Read what I think about the game in the review. If you need help, check out the tutorial and tips section and if you'd rather come straight to the point and play, then head to the download button at the bottom of the site.

Tutorial – Cheat, Solver, How-To
No shame, if you forgot how this game works or in which directions the words can be found, I've got you covered. Please note, that the instructions can also be found in the game: Just click on the gearwheel and click on the bar. Still, here are the main functions condensed:
You can find words while swiping up, down, left, right and diagonally.
The boxes below the letters show you the correct word length.
The light bulb hint reveals one letter, the star hints reveal one word and the mega hints reveal one word and highlight the location of it. The amount of bonus words is shown in the right-hand corner of the screen. However, finding all of those just grants you a star, but no additional hints.
Hints can be gained by watching ads or inviting friends. You can also buy them in the shop and earn them after you've solved a puzzle pack and move on to the next mascot.
Since hints are a rare occurrence, you need to use them economically. Sometimes it is just as helpful to close the app for a while and come back with a fresh mind. In the event that you are still stuck and maybe even out of hints, try to use our Scrabble tool. It is not optimized for the game of course, but if you type in the letters and determine the word length (by adding "." for each letter in the pattern bar), you will surely find the right words! It works fine, I promise. Just try it!

Review – Fun Word Game for Brainiacs
The download count, the ratings, the first impressions: everything tells me, that the game could have great potential and be deserving of a spot in my games folder on my phone. But I don't want to count chickens before they are hatched and test the app throughout first.
Graphics (2/2)
One of the big pluses of the game is the whole visual concept. It is harmonious and consistent. The fonts, the animations, the character design of the pets, the colors: everything fits together and create a very professional, yet fun looking app. It has engaging elements that are modern and trendy looking but don't feel flashy.
Sound (1/2)
WordBrain doesn't come with any music. It might be easier to concentrate without it, but personally, I would love to have some musical backdrop as it would fit the app and its design nicely and I would also rather have the choice to play some music than not. However, it is not completely quiet as there are well-done sound effects when you find a word or swipe across the letters. Those are mute-able still in case you prefer it to be quiet or are playing in public.
Balance (2/2)
The mechanics of the game are easily figured out. Something you can't say about some of the levels. Several of them will seriously stimulate your gray matter, but don't worry, sooner or later you'll be able to solve them (whether or not with the help of our Scrabble tool mentioned above). While the difficulty doesn't increase significantly while playing a pack, it will slowly increase while reaching the next level mascots. So far 65 difficulty levels (each with its own pet) exist, each pack contains 10 or more level. Additionally, you can try to find all the bonus words and collect the stars. This sums up to a high number of gaming hours! Yeah!
I can't attest to the ad-heaviness – the main point of criticism in the ratings – of the game so far. Of course, there are ads, but they haven't been intrusive (yet?). They are short (skippable after a few seconds) and the banner at the bottom of the screen didn't bother me at all. However, I feel they have increased over time. Whether it happened because of an update or just because I've progressed in the game, I can't tell, but any longer or more ads and it would indeed be bothersome. I'll see where it goes. If it gets worse, I'll just play it "offline" in flight mode.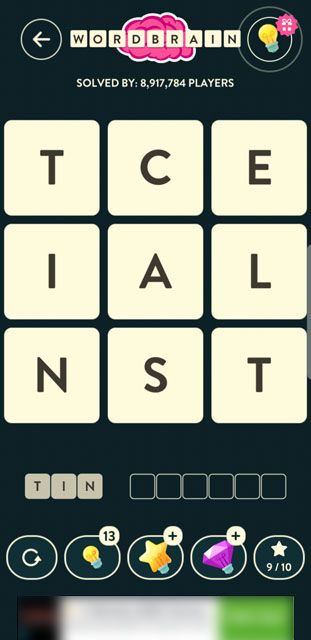 Controls (2/2)
The controls are easy to handle: Tap on the buttons you want to select or swipe across the letters to find words. In return, they'll react promptly and smoothly without a hitch. There is nothing to complain about here.
Gameplay (2/2)
Another major plus point of the game: the fun gameplay! The puzzles are mixed nicely and the app offers various content as well: There are events that are timed with real-time events like the current "Back to School" theme, you can play the Puzzle of the Day or create custom puzzles and share them with your friends, for example. There are also 15 different languages to choose from. The only minor thing that annoyed me, was that easy words like "nap" or "Jazz" didn't count.
The Verdict (9/10)
In summary, it seems like the developers didn't promise too much and developed a wonderful game that guarantees you plenty of hours of fun gaming time!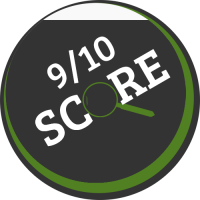 Download
Given, you've liked what you've read up to this point, try this game for yourself and download it. In the event, you'd like to know more about the developer and their other games, check out their homepage. Also, if you just can't get enough and want even more, you might be happy to hear that the devs have released WordBrain 2 as well!

Similar Apps