4 Images 1 Word: Tutorial – Reviews – All You Need To Know
Do you know the adage "A picture is worth a thousand words"? As it is said on Wikipedia, "it refers to the notion that a complex idea can be conveyed with just a single picture, this picture conveys its meaning or essence more effectively than a description does". Even though the saying is more than one hundred years old, it never lost its meaning even in the modern times of today. Maybe it has become even more apparent through Social Media apps. The developer studio "The Angry Kraken" embraced this meaning and created a game in the most appropriate genre. Voilà: "4 images 1 word: Word Games" was born.
And it already has more than 100.000 downloads and a 4.6-star rating from about 2.500 reviews. Seems like the "The Angry Kraken" was onto something and stroke a chord (or rather an optical nerve?) of the audience. Let's see if the app can convince us as well. Read our review or check out our tutorial here! And if you just want to solve all of the riddles, click on the download button below.

Tutorial: How To Play
While "4 Pictures 1 Word" is not hard to understand and the tutorial is easy to follow, I understand that one needs to look up some things from time to time, especially when playing casual mobile word games, that are not necessary played every day but now and then instead. But that's where we come into play!
First of all, take a good look at the four images. You need to combine what is shown into a single word and type it by pressing the respective letters at the bottom. It starts with an easy three-letter word and gradually gets more difficult. In the beginning, only the letters necessary to form the word will be displayed. Later, random letters get added as well so it is harder to spot the right words. If you've chosen the wrong letter, don't worry. Simply click on it and it immediately disappears from the gap.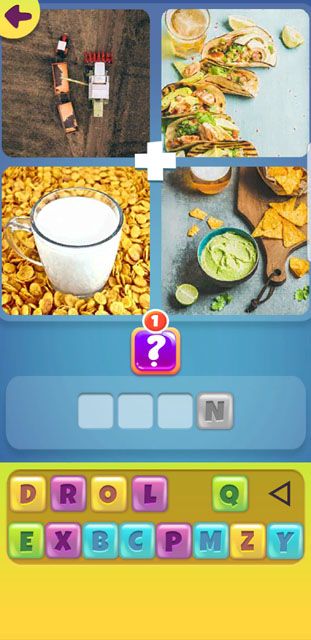 Here are some further useful tips:
Use the hint button. On top of the empty gaps, above where the words need to be typed in, there is a question mark. If you click it, you have to watch an ad. After that, you get a hint. Each hint grants you a letter.
Think in hypernyms. Every so often it is easy to get lost in all the words that rain down on your brain when you look at the pictures. A helpful trick is to focus on topics and umbrella terms and not to get to catch up with the details when you try to find the word that unites them.
Take a step back. Whether that means to close the app or to ask your friends. Sometimes a fresh pair of eyes is all you need to proceed in the levels.
The fastest way: The Word Unscrambler tool on word-grabber.com! Since your friends are not always around or available, there is another quick fix. You can use the Unscrambler tool to sort the letters and look for the right solution. I've used the screenshot above as ab example and typed in the letters "DROLQEXBCPMZYN". Since I've used an in-game hint earlier, I know that the letter 'n' comes last. So I've typed the following pattern into the Unscrambler tool: "………….N". After getting all of the results, you only need to look at the 4-letter words. And there is the fitting word: Corn! Since you still need to search for the right word it is not even cheating per se, just a little jump start so to speak.
To give you a smooth start into the game, we've written down the solutions for the first two levels as well:
Level 1.1: cow
Level 1.2: ring
Level 1.3: cloud
Level 1.4: key
Level 1.5: airplane
Level 2.1: ice
Level 2.2: path
Level 2.3: money
Level 2.4: hand
Level 2.5: sun

Review – Colorful Game For All Ages
"4 Images 1 Word" is a fun game genre in general. It is very versatile: you can play it with your kids, grandparents, friends, and siblings or use it in the classroom to engage your pupils. You can even play it through a messenger app: just use emojis or gifs! Or just play it on your phone as it is usually always available. Let's find out more about its strengths and weaknesses.
Graphics (1/2)
The design of the app is definitely eye-catching as it is colorful, vibrant and vivid. The lively colors are found throughout the game. The different colors of the letters even remind me of wooden ABC blocks for children. However, I feel a little more coherent color scheme, or maybe a second tone-down mode (like the one on the developer's homepage), would give a more pleasing result. Secondly, some of the pictures used weren't as sharp and in some cases even pixelated. Upgrading this could ensure a more professional look. The animations, however, worked flawlessly and smoothly.
Sound (1/2)
There is no music in this game, but I feel some up-beat tunes would fit very well to the game's design. The sounds, on the other hand, are nicely done and suitable. Only the 'Ta-da!" sound is a tad too long (and very slightly annoying, especially in the beginning, when you hear it very frequently as you solve the levels faster).
Balance (1/2)
I've hardly ever come across a free game that is this fair with their ads. As of today, the ad-free version costs 0,69€. But you can, of course, continue to use the free version and watch ad clips to get hints, but that's it. No banner, no interstitial spots, no pop-up. That makes the app great for children as well!
The performance, however, is out of balance. I've tested the app on two current phones. On the one mobile, it works almost perfectly every time, on the other one, it crashes whenever I firstly start it. After I've started it a second time, it runs smoothly without any trouble at all.
Controls (2/2)
You can hardly make it any easier to play a game. Click the letters you want to use and they hover smoothly to the gaps. That's it! Sometimes good controls doesn't have to be difficult.
Gameplay (2/2)
There are currently 125 word puzzles waiting to be solved, either online or offline (without the ad-function obviously). I love games that work offline as well! Furthermore, you get an introduction to the game and the possibility to play this game in various languages. There are even a clearly displayed cookie info and the option to opt-out of personalized ads. I like this transparency! The only downside is the ongoing question if I like the game and hence want to rate it. It's alright to ask after a while of playing but constantly? No, thanks!
The Verdict (7/10)
"4 images 1 word: Word Games" by "The Angry Kraken" is a game that guarantees you not only plenty of fun playtime but also some training for your brain, all in a fun and colorful environment!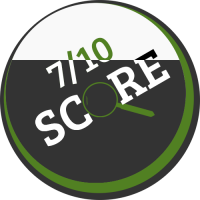 Download
If you want some vibrant addition to your game selection, download the game here:


Similar Apps