How to master "Word Master" + Review & Download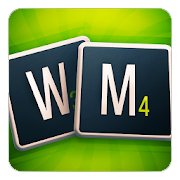 "Word Master" by "Jaguar Studios" is quite an interesting phenomenon. I actually know the developer Luis Gualandi, who started his career making indie games only a couple of years ago. In December 2017, I've reviewed one of his games, Infinity, calling it "the best indie app of 2017". Now, I am more than delighted to see Luis' breakthrough from an unknown talent to a rising star of the gaming business.
His newest app, Word Master, is featured on Google Play and received almost 8.000 reviews coming from more than 100.000 people who downloaded the game.
What an amazing coincidence, that he chose to develop a mobile word game, which is suitable to get reviewed by the one and only website for word apps, word-grabber.com. So if you want to know how to master "Word Master", go straight to our tutorial. If you want to see, if this game is as outstanding as his previous one, jump right into the review. And finally, if you don't care about all that stuff, because you just want to play this game as soon as possible, click on the download button below.

Tutorial – The Word Finder for Word Master
Well, since Word Master is pretty much a clone of the original Scrabble game, you can use our Scrabble Word Finder, if you're stuck with the letters you've got. Don't you think the help button in the game itself will be assistant to you! You can indeed click on "Master" and the game magically rearranges the game board showing the best possible move. It is, however, just the best move of the previous turn. The fast and precise A.I. calculates all words you could have played, but it doesn't help you to find the best word for the current one.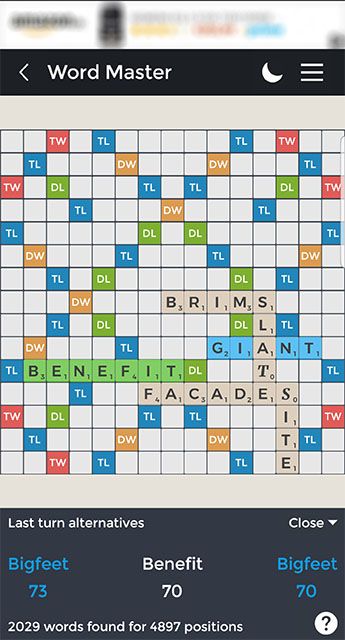 Given that, it is a great way to train your skills and improve your performance, but it shouldn't be mistaken with a quick and easy way to win a round. That's where we step into the breach for you! 🙂
Apart from recommending our Scrabble Tool, we can also give you some general advice for playing Scrabble.
Don't shy away from using three-letter words! They are a great way to score on a double (DL) or triple letter (TL) square.
Train your active vocabulary! Make use of the countless Word-of-the-day apps or websites like the one by Merriam-Webster, with which you can actively extend the number of words you know.
Extend existing words! So "fit" becomes "benefit" or "ant" becomes "giant". There's hardly a way to make more points with just a few letters.
Don't hesitate to change letters! Many people feel like changing letters is some kind of last resort, but sometimes it's better to search for an open door instead of running your head against a wall.

And finally: Think of parallels! Always look for plays parallel to words that are already on the Scrabble board. Creating two or three matching words with one move is quite tricky, but it will be rewarded. As you know, you get points for every word you form, so think in conjunctions and maximize your score!

Review – Scrabble Reloaded?
If you're bored of playing the good old board game, this fresh approach on the well-known classic might be an interesting alternative to you. "Word Master" is a reloaded Scrabble app with several board patterns, 12 different languages and the said "Master", which is nothing less than a built-in (Scrabble) trainer. That's not an insignificant amount of features to start with, right?
Graphics (1/2)
I know enough Scrabble clones to tell you that this one here looks better than most of them. The letter tiles have almost got this haptic wooden feeling you want them to have and every game board, menu and text field is recognizable and rich in contrast. There is even an implemented night-mode to soothe your eyes in dark surroundings. Very thoughtful!
On the other side, some brighter colors, better animations or one or two flashy fonts would give the app a more contemporary and professional look.
Sound (0/2)
As for the sounds, I have no other choice than giving zero points. Why? Because there are no sounds at all, no background music, no single click, buzz or ping, nothing. Too bad, as it's a missed chance to add some nice, realistic board game flavor to the mix. How cool would it be to hear the rustling sound of wooden tiles within a jute bag if you swap your letters? I bet you can almost hear that sound right now and you want it as well. So do I.
Balance (2/2)
I guess, Jaguar Studios done everything right to balance this game out. There are several difficulty levels and a lot of featured languages, so you can most likely play it in your native language and also have the opportunity to test your skills in another one. Also, the ads don't bother me at all, as they are implemented quite smoothly. Good job!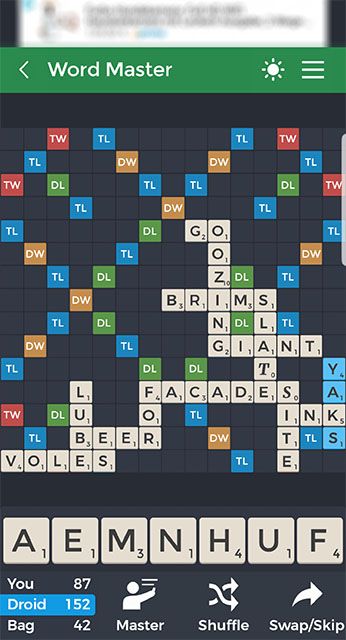 Controls (2/2)
The controls are self-explanatory and pretty easy. There is also a button that you can tap to recall misplaced tiles, so I guess the controls simply leave nothing to be desired.
Gameplay (1/2)
Is it fun to play the game? Well, it depends. If you're into challenging the computer (or yourself), you'll get what you want. There is, however, one essential function missing: A multiplayer mode! Okay, to be fair, there's a "hot seat" mode, where you can challenge your friends on one phone, but I think an online multiplayer mode, where you can compete with your online pals or people from all over the world, including a global highscore, would make more sense for an app like this. And your rivals never rest!
The Verdict (6/10)
All in all, I would say that "Word Master" is a great way to train your Scrabble skills, but it's not comprehensive and polished enough to challenge the original Scrabble app or one of the other top competitors like Words with Friends.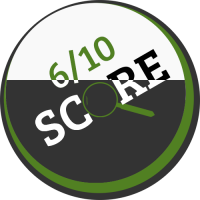 Download
If you want to train your word game skills, we highly recommend you to download this game for iOS or Android. Also, make sure to check out the developer page for older or future releases.

Similar Apps