Wheel of Fortune: Play the Original!
Remember when I told you the other day that the mere existence of Word Fortune by Betis shows that there's an undeniable need for a spinning wheel game? We'd just need a bigger one? A better one? A game with a multiplayer mode?
Well, seems like our prayers got answered. Published by "Scopely" (the studio that knows how to handle licensed games like YAHTZEE®, Looney Tunes™ and The Walking Dead), "Wheel of Fortune: Play and Win" is written and powered by the producers of the original Emmy®-winning TV game show.
It's no wonder why this game has been downloaded over 10 million times and is now among the trending and best-performing word games on Google Play. Enough reasons to check it out in our review, providing a few useful tips in our tutorial and giving you the opportunity to download it right away. Let's go!

Tutorial – Cheat, Solver, How-To
I could have it pretty cushy by simply copying the Word Fortune Tutorial, but no: Although my general advice remains the same (like learning these Hangman strategies), there's a bit more to it. If you're stuck playing "Wheel of Fortune", the game has a cool hint feature, that might get you back on track:
During a match, you'll find a hint card placed on the bottom of the page. If you draw it (by spending some of the in-game diamonds), you can tap on a blank field and the game magically reveals the hidden letter. This is a very quick and easy way to get some help if you're completely stumped and in urgent need of an initial spark.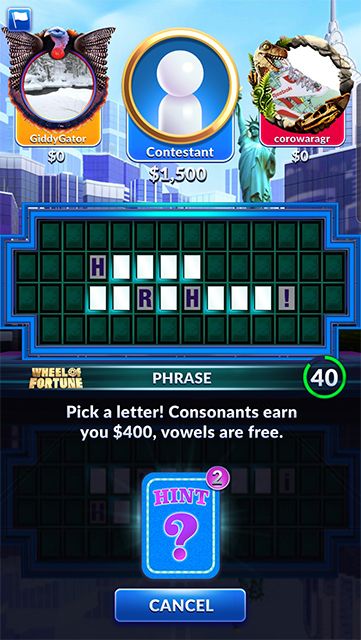 These hint cards, however, won't bring you through the whole game, I'm afraid. First of all, there are not for free and I won't recommend you to spend a fortune to master the "Wheel of Fortune", simply because there's a much better way to master the riddles without any costs. Of course, it's our Scrabble Word Finder! I know, this game isn't Scrabble, but still, you can use it to reveal hidden letters, even with considering those, that are already placed on the game board. Give it a try!
On top of all that, please keep in mind that you can only spin the wheel once. That rule even applies, if you've successfully guessed the right letter. Knowing that you might think twice before passing on to the next player. Use the extra seconds, that you've got to solve the whole phrase so that you keep the money and win the round before another player steals the show from you.

The New Reference
I won't keep you in suspense as there is simply no credible way to hold the fact back, that "Wheel of Fortune" is the best word game, that we've reviewed so far. I would even say that it's one of the best mobile games at all, and I won't cut down on words to explain why.
Graphics (2/2)
In my Word Fortune review, I asked the question: "Where are the visual effects, the lights, blinks, particles, animations?" Now I know where they are. They're here. The whole game is a beautiful grand display of particle fireworks, a festival of animations, it's like the Prince Ali Song Scene from Aladdin, just within a completely different theme, obviously.
Sound (2/2)
As if the developers of Scopely read my reviews, they actually implemented a clapping audience in this game. And this is just one part of a puzzle on how to create a fantastic, holistic soundscape leaving nothing to be desired. There is even a perfectly intonated TV host voice (Pat Sajak? Is that you?) leading you through the game.
Balance (2/2)
Just a few seconds after starting the game, you'll already find yourself in a match of "The Wheel" explaining the basic game mechanics in the most effective way possible. This approach makes it super easy for beginners to dive into the game without clicking through boring tutorials or getting no aid at all.
However, it's not only the early game convincing me entirely. For more experienced players, there's so much to discover, collect and unlock, so that you'll have fun for months. Challenges? Yep. Tournaments? Hell, yeah! Achievements? Got 'em. There is even a map featuring different cities and a souvenir collection, you have to complete. I'm serious!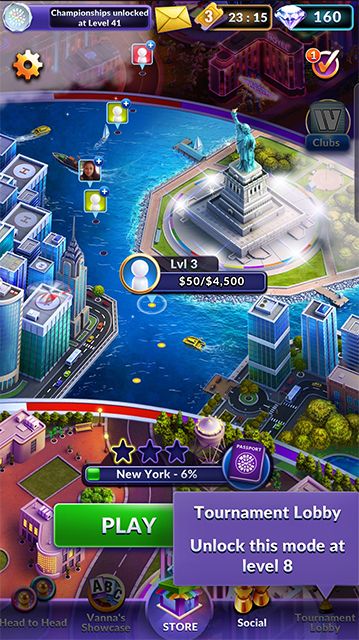 Controls (2/2)
What do you think? Does "Wheel of Fortune" make a howler? Did the developers fail by implementing easy and intuitive controls? Of course, not. You'll find anything you need at first sight and you won't come across any problem to select, unselect or type something.
Gameplay (2/2)
Is it fun to play the game? Well, what do you think? Based on all previous categories, it would be kind of a big surprise if I now tell you, that the game's still lacking some fun. It doesn't. If you're into guessing words, this is one of the best games you can choose and play. If you seek for multiplayer challenges, there isn't even another option that I am aware of. And if you're from the US and watched the original TV show, this is the one and the only app, that will bring this original feeling to your mobile device.
The Verdict (10/10)
All in all, this game is pure perfection and completely nails it. I can't even think of a reason why you should search for alternatives, what kind of feature you would miss playing this game. It's the first time I've ever given 10 out of 10 points in one of my reviews and I can ensure you that this won't happen too often. I'm fascinated, delighted and over the moon with this game, so do yourself a favor and follow my journey by downloading it as well.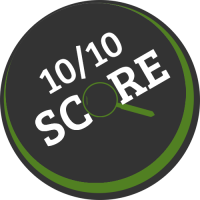 Download
The "Wheel of Fortune" by "Scopely" is available both for Android and iOS. If you want to take a look at Scopely's other releases, feel free to check out their website as well. Plus, you can follow Scopely on Facebook, Twitter and even LinkedIN.

Similar Apps