Word Tower Puzzles: Gotta stack 'em all!
"Word Tower Puzzles" by "Gluon Interactive Ltd." is what you can call a "summer hit". It has been released only a couple of months ago and soon became one of the rising stars this summer. Now, it has more than 100.000 downloads on Google Play and a fantastic rating of 4.7 stars coming from almost 7.000 reviews. One reviewer said, that "this game is so relaxing! It really helps me to settle down at night after a long day!" Another one said it's "the best word game I have found."
Wow. It truly sounds like a great addition to everyone's app set. Or is it possible that so many people soft-soap an app, that is rather mediocre than outstanding? We'll figure it out in our review. But don't worry: If you want to jump right into the tutorial, you don't need to read our opinion first. Also, you can click here to download the game right away.

Tutorial – Cheat, Solver, How-To
After you successfully became the 100.001st gamer downloading that game (Oh no, that's me, number 2!), you maybe are already in the process of thinking, that this wasn't the best idea of your life. Not because the game is bad in any way, but maybe you're even struggling with the first levels or getting stuck at a later stage. Whatever it is – no worries. We'll tell you how to master this game right away.
How to Play "Word Tower Puzzles"
First of all, let's be clear about the basic controls and the gameplay itself. In "Word Tower Puzzles", you see the theme of the current level (like "numbers" or "pets") on the upper part of the screen and it's your job to swipe across the stack of letters in order to dissolve the hidden words.
In any case, please keep in mind that the right order is also important! Take a look at our example in the screenshot below: If you see "BDNNY" on the bottom of the stack, you are definitely on the right scent, if you think that this should be a "BUNNY" instead. And it is. It will. As soon as you get rid of the "D" in "DOG", so that the "U" can fall down into place. (And yeah, "GOD" is not a pet, genius! You have to swipe bottom-up. 🙂 However, finding valid words, that are not part of the current theme will give you some extra points!)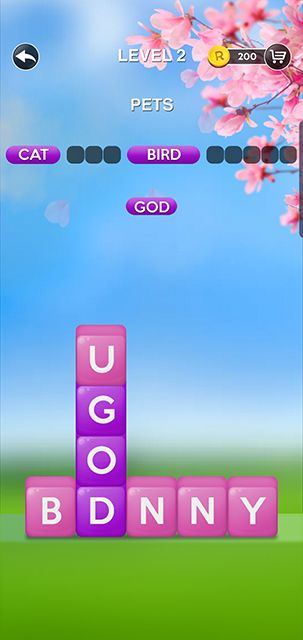 In-game Help
Anyway, understanding the simple math doesn't make you a professor, does it? In case you've fully understood what to do, but don't know how to do it, there's an in-game help pointing you in the right direction. As soon as you've reached level 12, you receive the whole toolset of four little helpers:

Please let me introduce to you (from right to left): The shuffle icon, that will rearrange some letters giving you a new perspective; the light bulb, that'll reveal a letter by placing it directly to a right spot on the top; the magnifying glass, that'll highlight the letter within the stack with which you should start swiping, and finally, the magic wand, that will magically make a whole word disappear.
Alright, then! So what's the catch? Well. The hint buttons aren't (always) free. The more help you need, the more coins you have to spend. And when I say coins, I mean real money, Dollars, Euros or Pounds or whatever currency you usually pay with. The smallest package is about 6.49€, which lets you use the magnifying glass for about 13, 14 times. This isn't particularly much, so if you don't want your hard-earned money to disappear as easily as the letters on the game board, you're better off with our cost-free word unscrambler or letter sorting tool.

Word Tower Puzzles Review
If you're not even sure if you want to spend some time on the game before you can even think of spending money on it, you should read our review to get a first impression of "Word Tower Puzzles" by "Gluon Interactive Ltd."
Graphics (2/2)
The graphics of "Word Tower Puzzles" are really lovely. I like the particle effects, the neat animations, and the well-designed changing backgrounds, that you can unlock while making progress.
Sound (2/2)
The relaxing music in the background perfectly underlines the calm, peaceful atmosphere of the game. Actually, I can't even think of a better way to set a game like this to a tune, so I'm perfectly fine with the way the developers did it here.
Balance (1/2)
Yeah, earning money is kind of essential while operating a business, but I honestly don't think the pricing is appropriate. At later stages (there are 2000+ of them!), the raised difficulty disbalances the ratio between help that's needed (especially for non-native speakers) and help that's provided. So it can get a little pricey, which you have to keep in mind.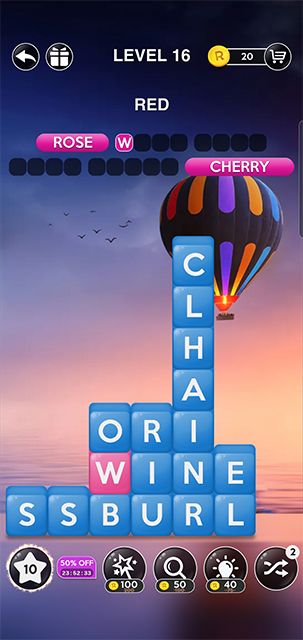 Controls (2/2)
It only took me one sentence to describe the controls for you and that says it all. They are as easy and intuitive as they could be, so I give two out of two points in this category.
Gameplay (1/2)
I like "Word Tower Puzzles", as it does almost everything right and provides a flaw-less, smooth-running gaming experience. However, I don't feel that it clicked between the game and me, that I caught fire by a vital spark of joy. Maybe I miss this little extra love that lets a single game stand out. Do you remember the motivational posters of Word Games Tour? Or Pat Sajak's voice in Wheel of Fortune? Yeah, that's the spirit I'm missing here.
The Verdict (8/10)
Spirit or not, with 8 out of 10 points, "Word Tower Puzzles" is definitely good enough to get an unconditional recommendation.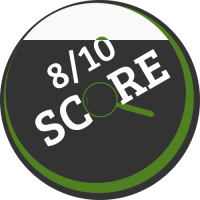 Download
"Word Games Tour" is available on Google Play and iOS.

Similar Apps