Word Fortune – Wheel of Phrases Quiz – Everything you need to know!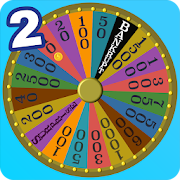 There must be something wrong with "Word Fortune – Wheel of Phrases Quiz" by "Betis". Although this game is so hot right now and players from all over the world have downloaded it a hundred thousand times, a lot of people rated it with only 1 out of 5 stars on Google Play. So, what's the deal?
One user complained about the orthography as "I couldn't solve many of the games as you've spelt [sic!] the words wrong", whereas another user states there is "no one to play against". Is "Word Fortune" as flawed as these comments presume? We'll make it clear in our review. Anyway, if you don't care what other people think, you can also jump straight into our tutorial or download the game at the bottom of the page.

Tutorial – How To Master Word Fortune
In case you've never seen "The Wheel" in real and don't know who's the longest-running host of any game show, I'll break it down to the basics for you: In this app (or show), you have to spin a wheel of fortune giving you money, that you can invest to buy vocals, needed to guess a word on the display board. Consonants are for free, but every time you bet on a letter that's not part of the hidden phrase, you have to pass the scepter on to the next player.
If you still don't get an idea of it, check out the following video giving you an impression of how "The Wheel of Fortune" looks and feels like.
Wheel of Fortune: New Baby Buggy
So, if you boil it down to its core gameplay, a Word Spinning Wheel like this is somehow a mixture of hangman, crossword puzzles and Scrabble. You don't think so? Then what do you think about that:
Guessing words by considering the highest frequency letters in the English language or popular letter combinations is nothing more and nothing less than playing Hangman with a few extra tweaks.
In Word Fortune, the player searches for a word in a certain category (like "Film" or "Automotive") limiting the number of possible answers. Also, every blank tile stands for a letter and every word is defined with a clear beginning and a clear end. This could remind you of classic crossword puzzles, right?
Plus, the letters are set. Like creating words with already placed tiles, you can complete the fragmentary phrases with remaining letters on your rack. Like in Scrabble!
Given that, there are several strategies on how to master "Word Fortune – Wheel of Phrases Quiz". Feel free to combine them all. Check out our Simple Hangman Tactics to optimize your preparation and get the words you need with our Scrabble Word Finder or our Crossword Solver.

Review – The Fortune Wheel is Out of Luck
The "Wheel of Fortune" ranks as the longest-running game show in the United States as it debuted in 1975, more than 40 years ago. Bringing "The Wheel" to your mobile device should be a quick and easy win for the developers, right? I'm afraid, it isn't.
Graphics (0/2)
I can't help myself by rating zero points for the graphics of this mobile app. The spinning wheel is indeed very similar to the original one (the font, the amounts), but that's the only positive thing to say about the graphics – if it's an achievement at all to rip off a signature feature.
The display board, however, looks dull and beamless, and same goes with every single text box, button, icon, and menu. Where is the flashy thrill of a game of chance? Where are the visual effects, the lights, blinks, particles, animations? Not here, I'm afraid.
Sound (1/2)
Same goes with the sounds. Only a touch of benevolence and gentleness could prevent me from giving zero points in this category as well. There are absolutely no background tracks or effects (like a clapping audience for guessed letters. I mean, why not?) and the few sounds are on the edge of being too annoying and poor in quality.
Balance (2/2)
Fortunately, the balance is great. The game is neither too difficult nor too easy. Plus, I couldn't find any of the misspelled phrases mentioned above in the couple of matches I played for this review. There is also a hint button and the game grays out every letter, that you have already chosen in a previous round. I like that!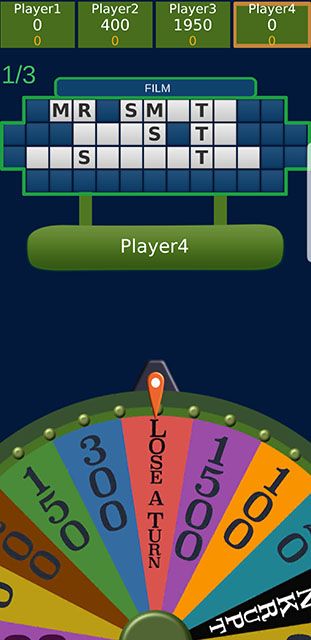 Controls (2/2)
Regarding the controls, there is nothing to criticize at last. You are able to intuitively swipe the fortune wheel into the right direction and tapping on the single letters and buttons works perfectly fine.
Gameplay (1/2)
There is a certain reason so many people downloaded this game. Of course, spinning the wheel and guessing the words is a lot of fun. Too bad, you're not able to play the game in real, online multiplayer matches. Like Word Master, it's only playable in a "hot seat" mode or against the computer.
The Verdict (6/10)
All in all, "Word Fortune – Wheel of Phrases Quiz" is a mediocre game, that has its pros, but is in dire need of a visual revision and a multiplayer mode to become a big hit. And it could be! Just think of these hundred thousands of people who have downloaded this game, despite the flaws that we've carved out in this review. There is an undeniable need to play games like this since they are similar to one of the most popular TV game shows ever. If you feel the same, but you're not convinced that this game is right for you, feel free to check out all fortune wheel apps on Google Play to find the best one.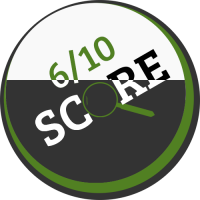 Download
Do you want to download this game right away? Then go ahead and click on the icon below to get to the Google Play Store. The previous releases of Betis, that you can check out on their homepage, were also available for Windows Phone – in case some of you still have a "Lumia" somewhere.


Similar Apps