Word Games Tour: The Complete Guide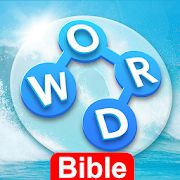 If you just see the icon and read the name, "Word Games Tour – crossword search" by "Anime Music & Word Games", it sounds and looks like every second word game on Google Play. Despite the obvious lack of creativity there, over 100.000 people downloaded this game so far making it one of the trending word games this week.
However, with only 3.5 out of 5 stars, the rating is somewhat mediocre at best. After checking out one of the user reviews, many players complain about the ads within the game and the ad about it. As I've never seen an advertisement for this app, it's difficult to estimate the validity of these reviews, so it's time to write one on our own!
If you've already installed it and hope for some good advice to master the game, please jump right into the tutorial. If you don't want to know how to become an expert playing "Word Games Tour" and if you're also not interested to see if we like the game or not, you're free to download it right away.

Tutorial – Cheat, Solver, How-To
It wouldn't be a complete guide about "Word Games Tour" without a Tutorial, right? That's why I'll do my very best to provide all useful information so that you don't need to worry about any of the hundreds of existing levels and all the ones to come.
How to Play "Word Games Tour"
To be honest, playing "Word Games Tour" is kind of easy and intuitive. You just have to swipe across the letter wheel to build words that fit in the crossword grid above it. For example, if you see the letters "N", "O" and "W", and the grid provides enough space for three three-letter words, it's safe to say that you can move your finger from "N" over "O" to "W" in order to create the word "NOW". Following the same pattern, but swiping in another direction, you can also build the words "OWN" and "WON" and you've done the job. That's it!
Quick in-game Help
If you get stuck anyway, you can tap the shuffle button to the left or the hint button to your right in order to get some fast, immediate help. The shuffle button will rearrange the letters on the table, whereas the hint button will consume some of your in-game coins in order to reveal one letter for you. This might be some quick and easy help, but don't forget, that you're not Scrooge McDuck taking a bath in his money bin. Sure, you can get more coins by making good progress or watching ads, but sooner or later, you'll have to make a decision whether to additionally spend some real money – or to ask us for help.
Our Letter Sorting Word Generator is there for you for free. Simply type in all the given letters and after you've submitted your choice, our tool will automatically generate all possible words that can be formed from your selection. Nice bonus: "Word Games Tour" will grant some extra coins for every word you submit, that is correct but not the word currently asked for.

Review – Copycat+
If there was a price for creativity, "Word Games Tour" wouldn't be among the nominees, since we've already seen the main game principles in Word Crossworch Search, Word Crossword Puzzle or the world-famous Wordscapes. Read our review to find out if there's more to it or if this game is just a simple copycat.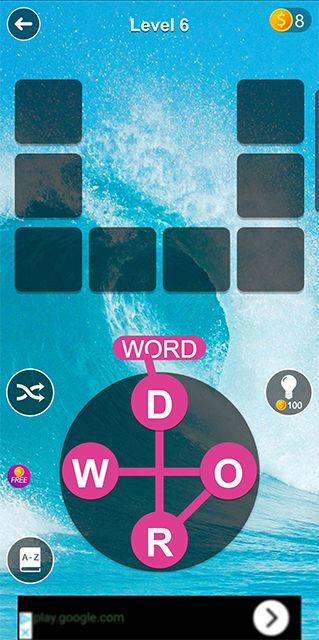 Graphics (1/2)
If you ask me why "Word Games Tour" was named this way, I would say this has something to do with the background graphics. Playing this game is some kind of world trip, visiting beautiful beaches, plains, mountains and so on. It's not a new, but a neat concept and adds a nice, relaxing touch to the game. However, apart from the background images, the game looks a bit outdated, as every button, icon, font or any other object of the interface doesn't meet the industry standard.
Sound (1/2)
I am sorely tempted to give zero points in this category, as the absence of background music is a shame and a needlessly lost opportunity. How cool would it be to hear some relaxing tunes matching the background images during this playable world trip? It's so obvious, that it hurts. Also, the couple thin and poor sounds can't compensate for this loss. At least, the mini-games section makes it up for by playing "The Entertainer" by Janis Joplin.
Balance (2/2)
Unlike the reviewers on Google Play, I honestly don't think that this game is swamped with ads. Plus, due to its useful in-game help and the built-in dictionary, "Word Games Tour" isn't too difficult either. On top of that, the game is actually amazingly well equipped with 2800+ levels, interesting challenges, a couple of mini-games and a unique Bible theme, that is getting unlocked at level 95. And there's even more to it: Between each and every level, an interstitial appears showing an inspiring quote in shape of a motivational poster. Nice!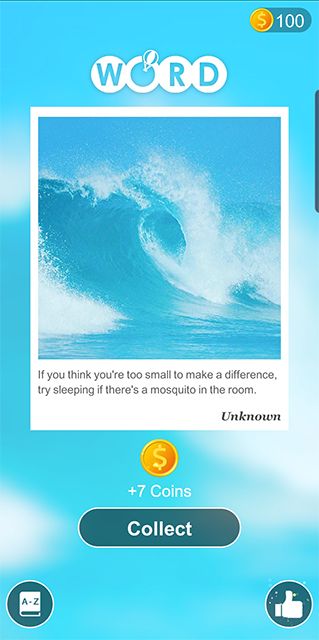 Controls (2/2)
As every one of you has seen this kind of games a thousand times, "Word Games Tour" is exactly played like its countless predecessors. Which is – at least in this category – a big plus of course.
Gameplay (1/2)
The gameplay itself is somewhat okay-ish. The main motivation to play this game would be the need for more puzzles after mastering all levels of all its predecessors. Adding the "Bible Theme" and displaying motivational posters are good ideas, but it's uncertain if this is enough to keep players engaged.
The Verdict (7/10)
To answer the initial question: Yes, the core of "Word Games Tour" is based on a well-known concept, but there are many little extras making the game more unique and interesting. If you're a true fan of the genre and already reached the last levels of Wordscapes & Co, "Word Games Tour" will give you exactly what you need: More riddles, more puzzles, more levels to appease your hunger.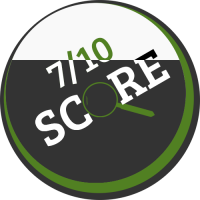 Download
As "Anime Music & Word Games" is right at the beginning of their very own tour, there is no website we can link to yet. And the Facebook page of the developers is rather small and empty, but it's something!


Similar Apps