Home Dream: Tutorial, Review and Download.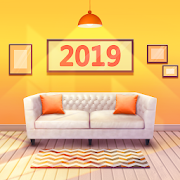 Did you ever imagine what it would be like if IKEA had a game? And I don't mean trying to build the furniture but planning out the overall look of the room. In "Home Dream" by "Smart Fun Casual Games" you can do this by choosing your favorite designs of various parts of the house after earning tokens by solving word riddles.
This casual game was downloaded more than 100.000 times and received a 4,5-star rating so far. Many users seem to enjoy this addictive combination of word game and design game. There are some gamers, who are not English native speakers voicing their disappointment that there aren't any other languages than English available though. The developers are currently working on local versions according to their answer to this complaint.
If you want to learn more about this game, you can find a more detailed review below. If you are wondering how to play this game or are looking for some help, check out our tutorial. And finally, you find the download here.

Tutorial – How To and Solver
This game consists of two parts – the word puzzle and the design game. In general, you need to solve the riddles to earn tokens, which you can use to pay for the furniture options, which always cost the same and it really just matters what style you prefer.
In the word game, you get some letters and a board. You need to find words, which will appear on the board if they were the right ones – sometimes you will find words, which are real but were not searched for and will bring some bonus points.
If you already found some words, their placement will help you to find the missing ones – just like in a standard crossword riddle. But there are also other hints available. They are not all available from the beginning though. You will always be able to shuffle the letter's order – and a change of your viewpoint seems to be simple but often helps. You can also pay some coins, which you earn for solving boards, to get more hints. There is a light bulb hint from the beginning, which shows you a random letter. Later, you will receive the lightning hint, which reveals several random letters. And finally, there is the pointing finger later in the game, which lets you choose a letter, which you want to know about.
If you don't want to spend your coins for those hints or you simply cannot find the word, you can always use our letter sorting tool. You just need to put all the available letters in the first field and let the tool do all the work. It will show you all possible combinations, sorting from the longest words to the shortest. You can check which words are still missing and would fit in the board – a real pain relief for those tough cases. You're welcome!

Review – Solving the riddle of a dream house
Like in real life this game combines working hard to be able to build your dream house. Let's have a closer look at all the parts building up this game.
Graphics (2/2)
The game design looks very modern and clean in general. As the goal is to find the best designs for different parts of the house the locations for the various levels change. The background pictures of the word riddle part change accordingly as well, keeping the look fresh and interesting. As the design is a big part of the game and up to your choice I think it is very satisfying to create your own versions.
Sound (2/2)
There is subtle background music during the game, which fits the game well as it's more of a calm than an action-packed game. It doesn't draw too much attention from the actual gameplay but supports the whole style. There is also an option to turn it off.
Balance (1/2)
I think this game is more on the easier side in comparison to other word puzzles. There are some boards that I found pretty difficult as well but it didn't build up to them and increases with difficulty. It was more like a random peek with easier riddles following right afterward. Since this game has to parts it might be nice that the puzzles are less complicated so that you can choose the next furniture faster.
There is also not too much advertisement in it, so you can really enjoy playing the game instead of getting interrupted all over again. However, you can choose watching ads to earn some coins, which you can use for hints.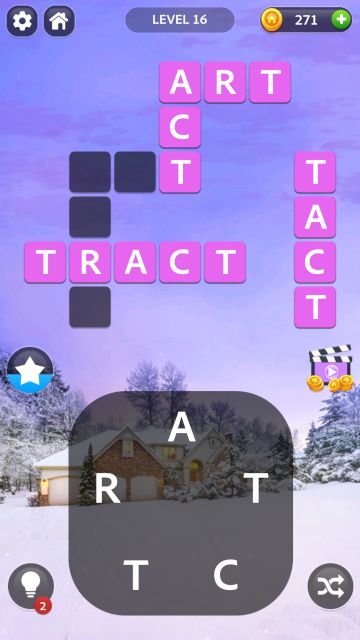 Controls (2/2)
The game has very easy and self-explaining controls. You just need to swipe to connect letters. It's also no problem to go back if you end up with the wrong letter. When building the home you just need to tap to choose the next area to build and to choose which color or version of an item you prefer.
Gameplay (2/2)
Word games are fun, but this one has a nice touch of combining it with decorating a luxury home, creating a whole new game. I like both parts of the game. Solving the word puzzles make you think while the home building part activates your creativity.
The Verdict (9/10)
Although the game is more on the easier side in the word riddles category it adds a new touch with connecting it to a design game. If you like those genres and a calm game to play in between breaks or whenever you like, this game will definitely entertain you.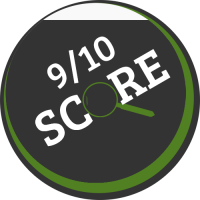 Download
If you want to try this game yourself, you can download it here. It's only available for Android at the moment.
If you want to check out the developer's work, you can find updates and new projects on the official website here. Let them know if you enjoy their games as well.


Similar Apps