Word Search Quest – Tutorial, Review and Download.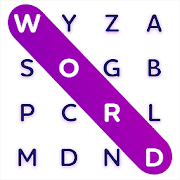 Heads up! Blackout Lab, the developers of the puzzle games "Slide Block Puzzle" and "Pop Breaker" have recently released their third Android App, "Word Search Quest", that just achieved a true breakthrough by becoming one of the trending games on Google Play's "Word" category.
With over 100.000 installs and almost 2.000 mostly very positive reviews, Blackout Lab now has a rising star in its portfolio, that also revolves around our favorite category: Mobile Word Games!
In this puzzle game, you have to go through thousands of levels with increasing difficulty in order to unlock sweet rewards and discover new words. If you're not in the right mood for a challenge, you can start the RELAX mode, in which it's possible to play at your own pace on a smooth and easy difficulty level. The game features 16 languages with more than 3000 words per language, ready to get discovered.
Are you also ready to accept the challenge? If not, check out our Review and decide for yourself, if this app is worth a try. If you don't need any kind of decision guidance, feel free to download it right away. And lastly, if you're already totally into it and just need some help, check out our Tutorial and learn how to master this game. Let's go!

Tutorial – How To Play Word Search Quest
If you're looking for a tool or cheat to master every level, I am going to disappoint you: There is no shortcut and no fast and easy way to master this app. We can, however, provide a couple of useful hints to help you ease into it without any hassle.
Word Search Quest Clues
Think in every direction! No, this isn't meant in a metaphorical way, you can take this literally. Unlike other games, Word Search Quest puts the hidden words from left to right, right to left, criss-cross, top to bottom and vice versa. The words are placed every which way, as long as their paths are somewhat straight (No side steps!).
Scan for single letters! This is a very helpful technique to detect words in games like this. For example, if you're looking for "Raccoon", it makes total sense to look after the least common letter or the least common letter combination and follow its path across the game board. In our example, this would be "cc", which is noticeable and detectable on top.
Use the hint button! Have you already spotted the little magnifying glass in the upper right corner? If you click on it, it will highlight the words you are looking for. In exchange, it will also consume some of your in-game coins, but nothing in life is free!
Ask us! In order to win every game, word-grabber.com should be your port of call for help and place to go for help or advice. So if you're stuck at a certain level, let us know and we are eager to help you out with your problem!

Word Search Quest Review – Where are Waldo's Words?
To come straight to the point, "Word Search Quest" is nothing else than a hidden object game with words. If Martin Handford, the creator of Where's Waldo, would have developed a word game for Android, it might be something under the umbrella of what we are going to review today. But will "Waldo's Words" also stand the acid test of word-grabber.com? We'll see!
Graphics (2/2)
"Word Search Quest" is a well-designed and well-animated mobile game without any graphical flaws, unmatched fonts or illegible texts. It comes along with a straight-forward, yet bright and happy color scheme, giving the app a fresh and modern look.
Sound (1/2)
Speaking of straight-forward things, I would say the soundscape of this app is best described as unagitated and unexcitedly. There is some calm and relaxing music playing in the background, but it neither pushes you forward nor does it annoy you in any way so that you have the urge to mute it (which you can do on the start screen). A bit more variation or any stimulating tunes to mobilize your sluggish gray matter would be a great help to make some faster progress, but for now, you have to rely on your Spotify for this.
Balance (1/2)
The game is neither too easy nor too difficult, simply because it comes along with four different difficulty levels. The range goes from very easy beginner-friendly levels to some hardcore brain snacks for the pro-gamers around. The only thing unsettling the balance is the lack of options for getting more in-game coins. As I've mentioned above, they are urgently necessary to get hints, so why is there no shop where I can buy more coins? Seems like an untapped source to monetize the app and a bottleneck that could frustrate many players.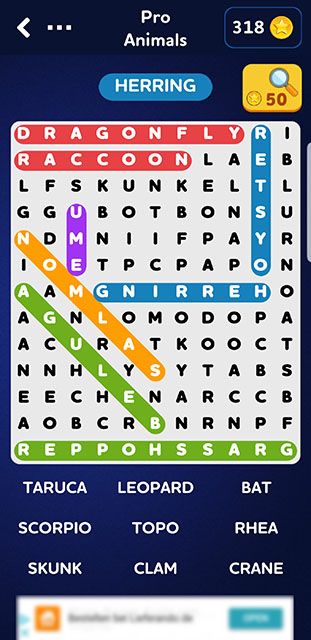 Controls (2/2)
The controls of "Word Search Quest" are as easy as possible. Simply swipe across the game board to highlight the words, that you have found. Since there are no alternative controls (and I don't even ask for some), I can give 2 out of 2 points for this category.
Gameplay (1/2)
The gameplay of this app wouldn't win a prize for creativity. It is, however, a fun game and due to its many, many themes quite rich in variety. The localized version (I've played the game in German as well) isn't that good since there are a few typos, which is not insignificant in a word game.
The Verdict (7/10)
Overall, I would say that "Word Search Quest" is a great word game with perfect controls and a treat for the eyes.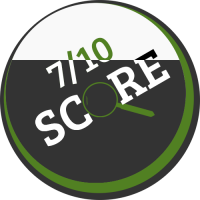 Download
If you want to try it out for yourself (or in case my review has encouraged you to do so), you're free to download the app by clicking on the download button below or visiting the Blackout Lab website. It is available for Android/Google Play.


Similar Apps