Word Heaps: All Levels – All Answers – All Clues
You might need to take a second look at the Word Heaps Icon to find the secret message hidden in the tasty letter salad. But even if you've found it, you might wonder why Fantasy Word Games, the development studio behind Word Heaps, hands a paramount example of the Grandma Finds The Internet Meme to us on a shiny silver platter.
Anyway, if there's a new trending word app on the market, we're along for the ride and ready to deliver a review and a tutorial for you.
Plus, if an app has more than 100.000 downloads and a 4.7-star rating from about 1.500 reviews, there must be something about it, right? The audience is absolutely in love with the app and only criticizes the "irritating" and "annoying" ads.
Will we be able to find more weak points? Stay tuned and read our review. Are you just looking for the answers? No problem, click here! And if you just want to dive right into the action, click on the download button below.

Tutorial: Answers and Clues
It's actually not that hard to master Word Heaps, if you've got the knack of it. You just have to highlight the hidden words by swiping across the screen. The grayed out spots at the top of the screen also indicate the length of the words you search for. Also, the white border indicates which words you have to tap first to solve the puzzle in the right order. Let's take level #3 called "Ordinal Number" as an example.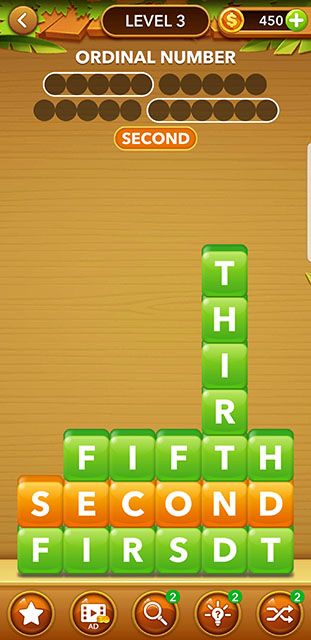 There are two possible inaugural moves. You can start with "fifth" (five letters, highlighted with a white border) or "second" (six letters, also highlighted as seen in the screenshot), which I chose to solve the level. After you've correctly swiped across the screen, the according word disappears from the game board and the other letters rearrange in a Tetris-like way. This is why the hidden word "third" can't be chosen right after starting the level since it needs "fifth" and "second" to disappear first. According to this basic game principle, it is not only important to know which words are hidden in the letter salad, it is also important to know the correct order to unscramble it.
Speaking of unscrambling words, feel free to try out our letter sorting tool, that can also be used for all levels of Word Heaps.
The icons on the bottom side of the screen are also definitely helping you to master each stage. If you click on the star icon, a bit of general advice pops up (like "Every letter is worth one point), if you click on the ad video icon, you'll get the opportunity to earn 25 extra coins, that you can invest to get more hints.
On the bottom right side of the screen, you see three hint buttons all helping you in a slightly different way. By clicking on the magnifying glass, the game shows you a starting point for the next hidden word by colorizing the first letter. A click on the light bulb will fill out the blank form on the top of the screen with one letter (and many to follow, depending on how often you click on it). Lastly, if you click on the twisted arrow icon, it will shuffle the game board and rearrange the letters making it easier for you to detect the remaining words.
However, if all of these small hints and clues won't help you, don't worry: We will show you two ways out of your misery. At first, please take a look at our word unscrambler above to master every level of Word Heaps. Secondly, as we go along, we will also provide answer boxes showing you the exact words hidden in each and every stage.
Level 1
Level 2
Level 3
Level 4
Level 5
Level 6
RED
ORANGE
YELLOW
GREEN
BLUE
VIOLET
Level 7
Level 8
Level 9
LEVEL
PLAYER
SCORE
WINNER
TIMER
PRIZE
Level 10

Review – The Creme de la Creme
We are not getting paid by Fantasy Word Games for writing a (favorable) review, but – damn – finding the weak points of Word Heaps is like finding a needle in a haystack. Anyway, let's storm the barn and see what we can find!
Graphics (2/2)
The visual concept of Word Heaps is absolutely top-notch. I like the coherent color scheme, the flashy animations, and visual effects. However, despite the elaborated graphics, everything is perfectly readable and neatly arranged.
Sound (1/2)
Just like the superb graphics, the soundscape also leaves nothing to be desired. Well, this is actually just applicable to the sounds as the music is okay-ish, but kind of dull and boring. This might not be an important factor for the game itself, but I won't give 2 out of 2 points here since I know so many games with a breathtaking soundtrack I have to pay tribute to.
Balance (1/2)
To answer the initial question: Yes, I consent with the reviewers on Google Play by disagreeing with the ad frequency of Word Heaps. I know it's an essential requirement for a company to make money, but offering hints in exchange for money, displaying an ad zone below the game board and adding interstitials between the levels is a bit too much.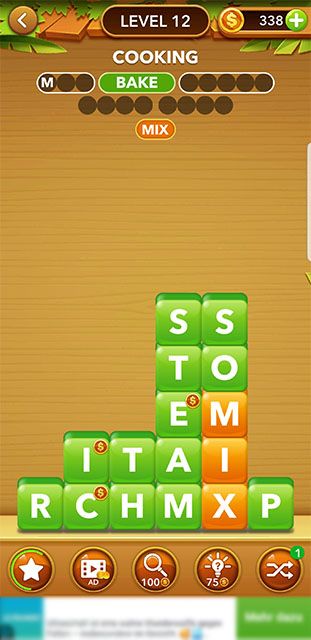 Controls (2/2)
Playing this game is as easy as it possibly can get. Just swipe across the screen to mark words and tap on the icons to activate them. Simply good!
Gameplay (2/2)
I have to leave it to your discretion to see if this game matches your taste, but if you're also into this genre, you'll get a full-packed word game with more than 2000 levels here. Two thousand levels! That'll guarantee a whole bunch of fun for half a lifetime.
The Verdict (8/10)
Word Heaps isn't perfect, but it's flawless, smooth and absolutely jam-packed with thousands of levels guaranteeing a lot of play time.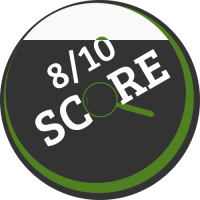 Download
Just like the other games by Fantasy Word Games, Word Heaps is only available for Android. Click on the link below to download it!


Similar Apps