Word Games are as rich in variety as life is. There are crossword games, Scrabble clones, hangman apps and – of course – logo quiz games, a sub-category that is getting more and more popular with each and every day. That's why we've decided to crawl through the Google Play Store and Apple's App Store to detect the best logo quiz games of all time.
Just in case you do not exactly know what's the topic here: In Logo Quiz Games, you usually have to identify a popular brand or product while viewing a picture, that is representative of it. Such as a big bottle with a red cap and banderole, which is filled with a dark beverage that stands for Coca-Cola. Or the shape of a white ghost in front of a yellow background is the logo of Snapchat. Most commonly, you can also choose from a predetermined selection of letters, making it a bit easier for you to get the right connotation. If that's not enough, our letter sorting tool will help you out in case it's a matter of putting the letters into the right order.
Anyway, as long as you've lived a life of a good customer, who knows a lot of different brands, has seen various advertisements and tried out the full range of products available on the market, you're good to go.
So, put your Marx aside, 'cause we won't break with consumerism today. Microsoft, McDonald's and Mercedes-Benz, here we come!

This one's so big, that I'm pretty sure most of you have already played it before. "Logo Quiz" by "Bubble Quiz Games" has got more than 60.000.000 (!) downloads worldwide and might be one of the highest-grossing word apps of all time.
It's playable in 15 languages and lets you guess more than 3.000 logos. After submitting the correct answer, you'll also learn a few fun facts about the brand or product, which is a nice addition to the game. Very cool: There are different game modes available such as a Food Quiz (where you have to guess the food of popular companies), or quiz games, in which you have to guess the color or the slogan of a famous company.
Let's try it out: What's Finger Lickin' Good? Exactly!
Speaking of food – if you can't get enough of all that tasty treats, there is a whole single app dedicated to the most famous, popular and mouth-watering food!
And with more than 10,000,000 downloads around the world and over 6.900 items to guess, you're in the best company. The game is available in 8 languages and is presented with the finest state-of-the-art graphics. One of the best features of this game is its localization: Food quiz comes along with over 400 packs of food items organized into 25 countries. That means, you don't have to guess what's not available or common in your country, which is a big plus in my opinion. Does that apply to Kinder Surprise Eggs in the US as well? Who knows. 😉
This game is also available for iOS.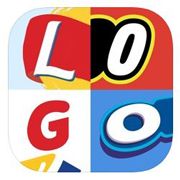 This logo game is part of our list, because many users, reviewers, and ratings appreciate the great gameplay of this one. Why? Because you have to guess the brand by only seeing a small part of the logo.
Plus, the developers of the Apple game called "Taplane" have created so many logo quiz games (take a look at their portfolio!),  so that you can be sure they know what they're doing. Although people complain about the ads so much, as if the developers bully the players into giving them their money. Come on, be a bit more sensitive! Maybe they just save every penny for incoming copyright disputes. 😉
Unlike all other games of this list, "100 PICS Quiz" doesn't have to add a disclaimer declaring that "the use of low-resolution images in this trivia app for use of identification in an informational context qualify as fair use under copyright law." Why? Because this game isn't (just) a logo quiz game, it's even more: In over 100 quiz categories, you have to simply guess everything, that can be represented with a picture, logo, sketch or icon.
So, if you not only love to guess brands and logos, check out this game asking for flags, landmarks or animals as well. Nice addition: The developers have published the game for iOS devices, too.
Size matters! At least, if we talk about the size or scope of an app. And if you've mastered all the levels of all apps above and you're still longing for more, there's only one game left to be recommended. The final boss, "Logo Quiz World" by "MSI Apps".
This game has – and that's no exaggeration – 10.500 worldwide brands to solve, localized for 21 countries. The con side of this massive scope is the limited value of brand recognition. I mean, what the heck shall this strange bunny with a bow-tie represent? A talent agency for fluffy jazz pianists? Crazy, right? 😉
Unfortunately, it is only available for Android.

Here we go! You've made it through the list and I sincerely hope that you've found the best logo quiz game for your taste. If not, feel free to browse through the category on Google Play or explore more on the App Store to discover the right one for you. Since this is a rather young sub-genre, you won't find a lot of browser and flash games, but feel free to explore that terrain and let us know, if you've found some hidden gems, that should be part of this list. As a matter of choice, many of the games above are also playable via Facebook, so that you don't have to worry at all which device to use.
If you neither feel like playing on your smartphone nor your PC, you can alternatively go (online) shopping to buy a logo quiz board game, like this one here, published by the famous board game producer Ravensburger.
Nevertheless, no matter if you play offline or online, with your mobile device or office computer, have fun playing the logo quiz game of your choice!