Word Fables – Prison Break – Tutorial, Review and Download.
The background story of today's app is rather tragic: After the murder of his wife, our hero gets wrongly accused and placed behind bars. But he doesn't give up and tries to escape and prove his innocence!
Out of this concept, the developer studio "REFNEX Studios" created the game "Word Fables – Prison Break", a fun and challenging word game!
After more than 500.000 downloads and a great rating of 4.5 stars by almost 29.000 players, it is our turn to check out the app.
If you are curious what's our opinion, check out our review and decide for yourself, if this app is worth a try. If you are already convinced by the game concept, you can download it right away by clicking on the button below. And in case, you've already installed the game and are in dire need of some help (or a cheating tool ?), read the following tutorial and learn how to beat every level. Let's get going!

Tutorial – How To Play Word Fables – Prison Break
No matter if you're just looking for all of the answers or a tool to cheat to master each level, you came looking in the right place. But first things first: Let's take a look at how this game works and which tools it provides in-game to help you solving every puzzle on your own.
Like in most word games, to make the words, you need to tap the letters in the correct order to form words. If you misplaced one, just tap on it again to remove it. It is really just as easy as that!
Nevertheless, you will probably need some help sooner or later. To refresh the order the letters are arranged in, just tap the Shuffle button. In case that is not enough, use the Hint button. Each one will cost you 70 coins – quite a lot if you consider that you'll only get 10 coins for each completed level and probably rather spend them to decorate your cell. However, you are able to gain even more if you watch ads, share your results, invite friends or complete offers by partners. You can also buy coins of course.
By all means, it is nice to support the developers, but if you can't afford that right now, we suggest to use our Unscrambler tool.
How that works? Just type in your letters and voilà: All possible answers are presented to you, sorted by word length. Just try a few and we are sure, you'll find the right solution! Maybe you'll even find the bonus words, which grant you additional coins. A win-win situation!
Here are two more hints: If you find bonus words, a few letters usually disappear, making it easier to find the one solution that is necessary to proceed. Secondly, think of the environment you are in: a lot of words (at least during the first levels) have a connection to prisons like Handcuffs for example.

 Word Fables – Prison Break Review
Prisons quite often make an appearance in pop culture: from music, to books to dramas to movies – and now even in word games. What an interesting combination. Let's find out if this game is a great breakthrough or rather stays locked behind the download button.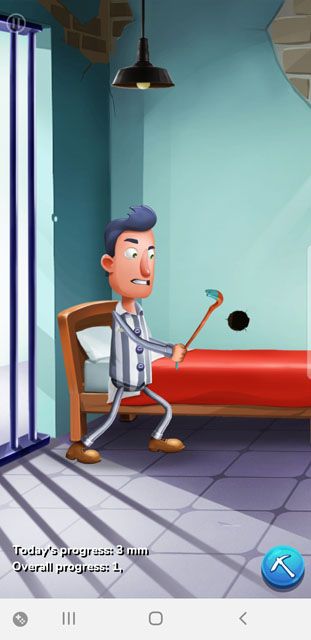 Graphics (2/2)
If you think of prisons, you might expect a dark and gloomy game, but instead the developers went for a refreshingly colorful design in comic style. And yet it is still fitting. Perhaps the reason lies in the matching overall design: The character designs, the logo, the buttons, the fonts, the colors, the animations- all of it adds up to a coherent composition. There is nothing bad to say about the design and graphics: 2 out of 2!
Sound (2/2)
Speaking of composition: If I wanted to describe the music in a few words, I'd list the following words: mischievous, playful, comedic, secretive, jazzy and catchy. Or in short: fitting! The tunes underline the design of the game wonderfully and even though there is not much variation, it doesn't get annoying. On the contrary, I was even humming it after I've closed the app. The other sounds were chosen just as well too. Still, in case you need to play quietly, you can turn off both, the music and the sounds, separately.
Balance (1/2)
While this game doesn't belong to the easiest word games, it is also not impossible to solve. Personally, I'd like it if more bonus words would be counted, even just for the sense of achievement in between finding the right solutions. But I'd say it is a balanced difficulty level. I also like getting the daily bonus coins, since you'll never have enough of them.
You can play this game without ads if you pay for it or turn on the flight mode. Since that's not an option for everyone, you get to see ads. Which is the usual practice and fine in moderation, but I still need to deduct a point because of the commercials: You see an ad at the bottom of the screen at all times. You also get to see some between levels every so often. A bit too often, since you can also choose to watch ads to gain more coins. Sometimes they even appear after starting the game, before solving the first puzzle. The current amount is on the line between alright and too much, but I'd rather see it more in the alright territory.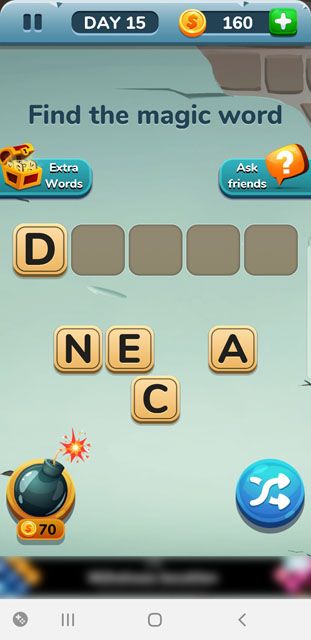 Controls (2/2)
As already described in the tutorial, the controls of "Word Fables" are as easy as they can possibly be: Simply tap on the letters or functions you want to select or unselect. There is no other way to use the controls and I don't think they are necessary as well. Therefore the game gets another 2 out of 2 points in this category.
Gameplay (2/2)
The gameplay is great: not only do you get to solve over 1000 word puzzles and find bonus words alongside the main ones, but you can also decorate your cell with new furniture, trade with other characters such as the prison officers, and dig yourself out of the lock-up millimeter by millimeter each day.
Another bonus is the variety of localized versions: There are 31(!) languages available. I've tried the German one as well and the translations weren't too bad besides a few issues with commas.
The Verdict (9/10)
Overall, this game a fun word game that is well worth a try!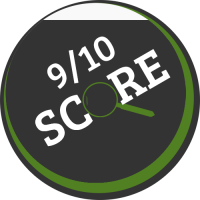 Download
Give it a go, if our review convinced you, and click on the download button below. Unfortunately, the Apple Store link on the developers' homepage doesn't work and we couldn't find it either, so, for now, the game is only available on Google Play.


Similar Apps