You like Word Chums and want to develop your skills? You'd like to know the important words and best strategies? In fact, I can give you some guidance and helpful Word Chums words, because most of the things I learned as a Scrabble player are valid in the Word Chums context too. Here are my five tips.
1. Learn Two-Letter Words
The best tip I got as a Scrabbel novice was to learn and use two-letter words. This sounds silly, but it is very important even in Word Chums. These tiny Word Chums words open up so many possibilities and they will give you lots of points. These are the words with two letters that you MUST know :
A AA, AB, AD, AE, AG, AH, AI, AL, AM, AN, AR, AS, AW, AX, AY
B BA, BE, BI, BO, BY
D DA, DE, DI, DO
E ED, EF, EH, EL, EM, EN, ER, ES, ET, EX
F FA, FE
G GI, GO
H HA, HE, HI, HM, HO
I ID, IF, IN, IS, IT
J JO
K KA, KI
L LA, LI, LO
M MA, ME, MI, MM, MO, MU, MY
N NA, NE, NO, NU
O OD, OE, OF, OH, OI, OM, ON, OP, OR, OS, OW, OX, OY
P PA, PE, PI
Q QI
R RE
S SH, SI, SO
T TA, TI, TO
U UH, UM, UN, UP, US, UT
W WE, WO
X XI, XU
Y YA, YE, YO
Z ZA
2. Build Walls
Now I am going to tell you where and how to use these two-letter Word Chums words. Just build walls with them by putting one word parallel to an existing word on the board. You will get points for every newly created word. You see, when you know every valid two-letter word, you will find a lot of spots for your walls.

3. Build Hooks
You probably know that you can extend existing words on the board. Many words can be expanded, for example, by putting an S or a Y at the end. But you should go one step further and use this S or Y as a hook. This means building a completely new word with that hook letter. You can see an example in the picture below. This way you will collect points for two words in one move! Of course you should look for more than just opportunities to extend at the end of a word. Sometimes you can extend a word at the beginning and create completely new word meanings. For example, the word ART can become DART.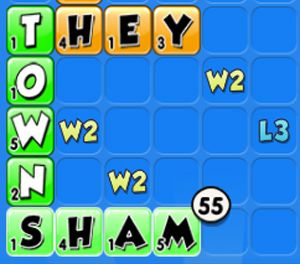 4. Find Hot Spots
Now you know that you can get a lot of points with hooks and walls. But the jackpot in a Word Chums game is a Hot Spot. A Hot Spot is a place where you can use a high bonus square for two words in a single blow. To achieve this, you need to build a wall or hook in the right place on a bonus square. Sounds tricky? Here's an example:

5. Don`t Hand Words to Your Opponent on a Silver Platter!
Now that you know the four key strategies, I will give you an important final tip: Don't give your opponent any good chances for Hooks and Hot Spots. You need to check every word you put on the field twice! The first check is of course: Is it the best word for me? The second check must be: Is it a good word for my opponent? If the answer to the second question is "yes" – try to find another word. For example, if your word opens up a path to a Hot Spot for an opponent, you'd better live with less points for this move.
We Can Help You To Find Great Word Chums Words
Our Word Chums Cheat will find a high-scoring word for every situation in your game. Enter your letters and a certain pattern from the board – and choose your word!
More Word Chums Tips
In my previous articles on Word Chums you can glean additional useful hints. You can find them here: