Do you know a fast word game which is like Scrabble? Yeah, first you may think of Words with Friends or Word Chums. But there are many more! One fast word game I found for my mobile phone is Wordox from the French IsCool Entertainment Group. A look it is worthwhile!
Stealing Points from Other Players
The premise of Wordox is easy: Two players divide a rack with six letters selected by chance. One after the other the players lay words on the game board. They can also pinch the other player's letters, and especially points, when they cross a word with another or they add letters to an unfinished word. The game ends when a player reaches 25 points. You can collect stars on the Wordox game board. If a player lays a word in one of the four play board corners with V, he releases a Vortex. This means that his collected stars are converted in points and the game board will be cleared. The other player, however, will lose his stars. A token must be used for every game. Within 24 hours you can get bonus tokens or presents from friends with tokens for playing.
Wordox Is Good Practice for Scrabble
Tobias tested Wordox for us too. He thinks that the game is strongly commercialized: "If you are not connected via Facebook, jokers can only be bought in the mobile variation." There are, however, a lot of technical errors for Android systems. For example: Wordox simply fails with no available internet connection. "But Wordox is a great option where you can easily train hook words for Scrabble", he added.
Another player named Thomas says: "It is absolutely possible to receive a joker for free. The friends can send daily Wordox presents; it is usually these small token amounts, but with some luck a joker may also be present sometimes." The fact is that there are no dictionaries or any other help to check which words can be laid down. In the game instructions it is only stated that proper names, abbreviations, acronyms, prefixes, and suffixes are not permitted.
Wordox Is Available on Facebook Too
When you play Wordox on Facebook you can chose two variants: you can play with friends and alone, or at the Wordoxcup. Here you have to use a minimum of 250 tokens for one game. With the solo and friends variants you will spend 50 tokens for one game. The play system is the same, but every player has only 60 seconds of time for one move. If a word is not recognized, the letters fall back on the rack and you have another try. If you don't know what to do next, you can forfeit. Then it is the other player's turn. If he doesn't know what to do next and forfeits too, you get new letters on your rack.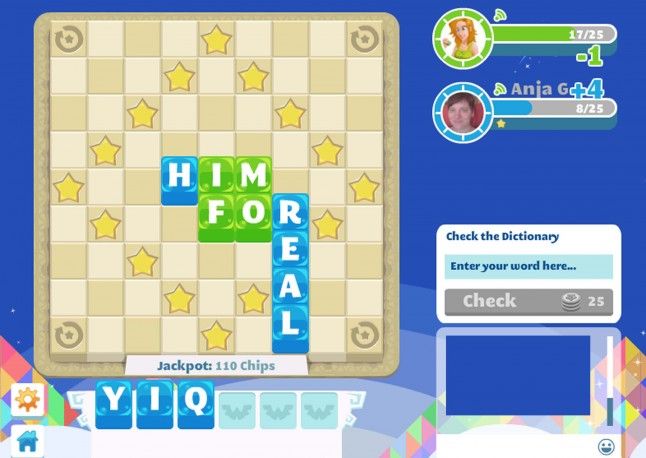 One Wordox Game Lasts Longer on Your Mobile Phone
The 60-second rule does not apply to Wordox for your mobile phone. Here you can wait up to 24 hours to take your turn. If within this time the other player does not take his turn or the other player leaves the game you will be the winner of the game and you get the recognition. You can play Wordox on your mobile phone with your Facebook friends or random opponents. Two players can also play with each other on the same device.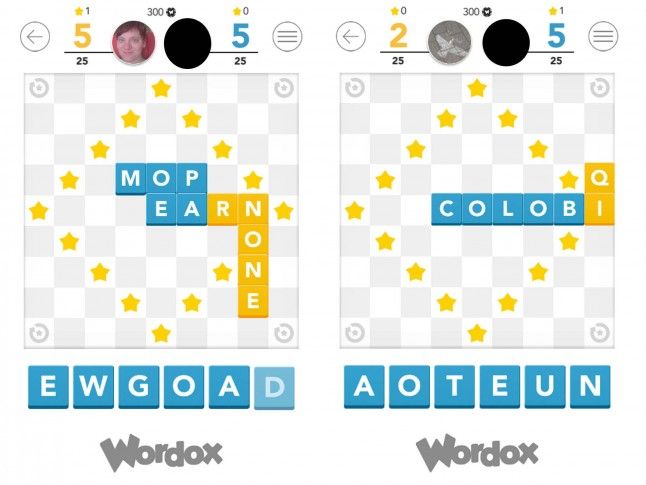 If a word is not recognized, the letters do not fall back on the rack. The player has to take a joker or forfeit the round. The point counts of the tokens are electable: When you are winning a game you can get 300 for 250 tokens, 900 for 600 and for an investment of 2,000 tokens you get 3,000 tokens. If the letters on your rack are impossible you had better pass your round. If both players pass, you get new letters for the next round.
Wordox Is Not Really New
Today you can play Wordox in English, German, French, Spanish, Italian, Portuguese, Dutch or Turkish. But the play concept of Wordox is older than this version. In 1999 the American programmer Brian Rothstein and Brian Fiete developed the first version of Wordox. More information about the original version can be found here.