At the end of the year 2012 a new mobile word game appeared on the market and after only three years many word game lovers became addicted to it: Word Chums. Because I love Word Chums too, I was keen on talking to the people of Peoplefun – the company that developed Word Chums. I am happy that Kenny Newell found some time to do so, a man behind Word Chums.
Kenny Newell – The Community Manager of Word Chums
Before joining Peoplefun, Kenny Newell worked in broadcast communications and marketing. He had already developed fan sites for other games. Now he is responsible for taking care of Word Chums fans and fulfilling their wishes and requests:
"I'm probably most involved in the holiday and monthly gear. I get feedback from what the fans want and then let our talented artists design it. I guess that I'm like a bridge between the fans and the team."
Kenny revealed to me some of the fan wishes that might come true:
"Hopefully we will have more chums in the future. It takes quite a bit of work to put new chums in the game. The most requested are elephants, monkeys and tigers. We will just have to see what the future holds."
Kenny also showed me some of the first drafts of Word Chums avatars: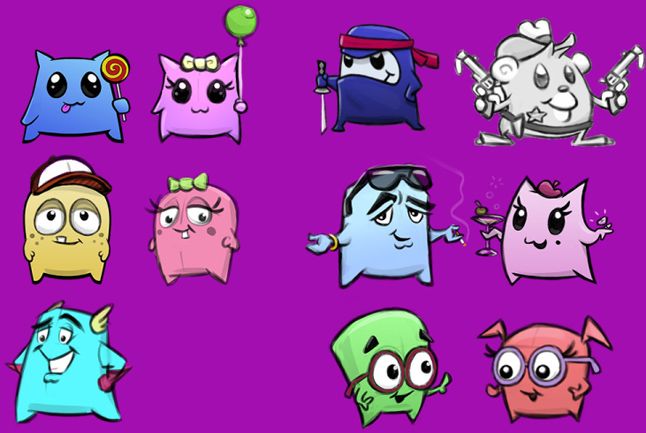 Word Chums – Just Another Mobile Word Game?
Word Chums is not the only popular mobile word game on the market. That's why I was wondering if it was hard to get a new one running on account of potential competition with games like Scrabble and Words with Friends. But Kenny told me that the developers of Word Chums are word game fans themselves that respect the success of other games:
"The team saw the big success of word games on mobile and loved playing them. And I guess you could say we have a connection to Words with Friends. The creators of Words with Friends previously worked with some of the guys on our staff at a company called Ensemble Studios. They are friends and colleagues. The Words with Friends team were trail blazers and created a great game with massive success. I personally have a lot of respect for their foresight and success in the mobile space."
The Word Chums team of course knew that they had to offer a new approach to the game with letters, so they invented something you could not find in any other word game – the chums:
"Word Chums is more fun with the chums jumping up and cheering with joy when a big word is played or pouting when they are losing. I think the game feels more personal and you get to dress up your chums and customize the game. Also, word validation. The words turning green when you find a valid word on the board is huge. Hearing that ding sound when you find a good word feels great. I hated when I would place a word in other game and hit the submit button and it rejected me. It just felt more positive to give players instant feedback when they found a word."
Kenny also told me that the first users were really surprised that Word Chums is different from other word games. He also remembers very well the moment he realized that Word Chums had becomeis a big success:
"I was in a coffee shop on vacation and saw a complete stranger playing Word Chums. It's kind of surreal when you are hundreds of miles away and walk past someone enjoying the game."
How Many Word Chums Levels Are There and What Are Their Names?
"How many levels are there in Word Chums?" This is a question that we from word-grabber are often asked – and of course Kenny knows this request as well. Here is what he has to say:
"The number of levels is top secret. It's currently 122 levels. Oops, I guess the cat is out of the bag. I don't think anyone has reached 122 yet. The good news is that we can always add more. There are some fans that are trying to figure out the names of every level in the game. Level 1 is Novice and level 122 is Interstellar Speller. The rest is still a mystery."
So you see, in this matter you never know what will happen. But there is a second question that you might be very interested in. I asked Kenny Newell if he has any tips on how to become a better Word Chums player. He told me that he recommends one special Word Chums feature:
"Get the four Star upgrade in the Word Chums shop. That extra star will help you out immensely and it will tell you when you have found the best word. The stars show how the word you have placed relates to the best possible word points."
This is How the Word Chums Stars Work
Every player has three standard stars that blink when you put a word on the board:
1 Star shows you have 0%-25% of the best word
2 Stars show you have 26%-50% of the best word
3 Stars show you have 50%-100% of the best word
Kenny Newell recommends getting the premium 4 stars upgrade in the Word Chums shop:
1 Star shows you have 0%-25% of the best word
2 Stars show you have 26%-50% of the best word
3 Stars show you have 50%-75% of the best word
4 Stars show you have 75%-100% of the best word
The best word indicator shows you are at 100% and have found the best word.
Thank you to Kenny Newell for this interview! With this expert tip I wish you even more fun with Word Chums. Maybe our Word Chums Cheat will help you sometime, too!
More articles on Word Chums
To learn more about Word Chums I recommend some of my older articles: