LEOTARD, MORIONS, FESCUES – three rarely used words with one thing in common. They all appear in Norman Wei's latest publication "Word Games, Anagrams and More". The book brings together more than 800 cartoons as well as lists and phrases to facilitate the learning of uncommon words for word games.
The Author: Between Environment, Word Games, and Cartoons
Norman S. Wei started playing word games three years ago and has now become an avid Scrabble tournament player. As a consultant for environmental issues and a trainer by trade, Wei has formerly published books and articles dealing with his actual work ("How to Make Effective Presentations", "How to Select Consultants") and runs an environmental blog.

Encouraged by his friends who also play word games, Wei decided to write down a lot of his mnemonic phrases to help readers learn new words. He records the main aim of the book in his introduction: "The purpose of this book is to help word game players remember obscure and uncommon words through their anagrams. This book is not about strategy. It is a set of learning tools." The cartoons were drawn by Norman Wei on his iPad Air. With their puristic shape the illustrations are shown in simple black and white and reflect the aim to concentrate on the mnemonic effect.
Anagrams and Cartoons Hand in Hand
The following chapters 1, 2, 3 and 5 cover more than 800 cartoons. The pictures, drawn by Norman Wei himself, are meant to illustrate the phrase set above. According to the chapter, this phrase combines 2 to 4 or more anagrams in a catchy sentence. Having nothing in common but their letters, these words are combined in a witty and graphic manner. The advantage of the cartoons is that you can memorize the noted anagrams in two ways: Firstly it calls on your ability to memorize uncommon phrases and secondly it makes use of your photographic memory. While the first two chapters contain cartoons with two and three anagrams, the third chapter deals with four or more of them. It is remarkable that the author brings more than four anagrams together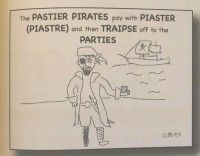 in a sentence that actually makes sense; e.g. "The PASTIER PIRATES pay with PIASTER (PIASTRE) and then TRAIPSE off the PARTIES." In chapter 4 "Other Mnemonics" Norman Wei mentions that he hasn't been able to create a cartoon for every one of his mnemonics yet. Some of them are even very abstract and hence difficult to draw. That's why he calls upon more than 500 bare catch phrases in this chapter. Maybe we will see those phrases becoming cartoons in a later publication from Wei.
Memorizing Special Prefixes, Suffixes and Word Definitions
In chapter 5 some prefixes and suffixes are introduced by bare mnemonics as well as cartoons. It shows how common words can be transformed to uncommon ones with these extra endings. An example would be the suffix WISE following the bold words: "ANY MAN who is a FAN of the SUN and fresh AIR will END up paying TAX." In this case the suffix is actually another word (WISE) that can stand on its own. But Norman Wei also lists bare endings like EN, following these 16 words: "The ALBUM shows HEATH – a STOUT SIXTIen year old YOUTH with SLICK and SLEEK hair eating a CRISP WHEAT sandwich and holding a FLANK steak under a GREAT BIRCH with a PLUMP BITCH BOUND for the peace MARCH."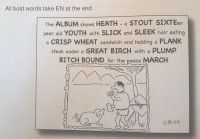 These examples may be helpful to you, especially when playing Scrabble. If your opponent (or you) has laid one of the above words, you can easily expand them with the suffix and receive a new score. Arriving in chapter 6 about "Common Word Variations" you will find a list of 70 (resp. 140) words that only differ by one letter, like in DREAMING and BREAMING. Wei claims that "if you get 6 tiles and a blank, you may well have a chance to play a weird word instead of the common word and get challenged!" This is because the first word is always a very common one, while the second word is barely used in language as you can see with DONATED and ZONATED. The last chapter gives you a special word list with some "Weird Definitions" that should be easy to remember due to their uniqueness. But notice that there are some R-rated definitions, which might not be suitable for every reader. People who are offended by those words/definitions had better skip some of the pages. Examples of weird definitions are "ADAMSITE – a place where Adam lived" or "CALVARY – a variety of California"
The Advantage of "Word Games, Anagrams and More"
The advantage of Norman Wei's book is that it provides the opportunity to learn visually. This is indeed a good support and a welcome versification in contrast to the usual list learning. The witty cartoons for the mnemonics will bring the anagrams closer to you by combining them in one memorable phrase. If you need a hand finding out whether a word has an anagram or not, you can also use the anagram-solver on word-grabber.com. In the appendix Wei also gives "The complete List of 7-letter Words with 2 Anagrams from Michael Thelen's Zyzzyva",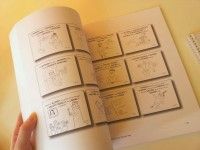 well-known among word game and Scrabble players on the internet. So all in all "Word Games, Anagrams and More" – with its mnemonics, cartoons and word lists – is a great help for players of different word games, especially Scrabble and Words with Friends. You can even take it as a general expansion to your vocabulary with many uncommon words – a helpful book for hobby players as well as experts.
Win the Book
The book was published in February and is purchasable at Amazon or Norman Wei's homepage. But you will also have the chance to win a copy of Norman Wei's "Word Games, Anagram and More"! To take part in the prize draw you only have to find the highest-scoring scrabble word possible. The happy winner will be announced on our Facebook-Page and contacted via email. Good luck!