After it was released Scrabble quickly became the most popular of the word board games. Its enormous popularity induced creation of the ever increasing number of games based on it. Several of these Scrabble clones are exclusively played online.
It can be rather difficult to make time in our busy schedules for a game of Scrabble or your Scrabble friends may not be living near you. Playing Scrabble online allows you to avoid these difficulties, although it can limit your interactions with other players. Having that in mind we are sure that there is a suitable way for every one of us to play Scrabble online, at least sometimes.
There are a lot of sites to play Scrabble online, but in this article I would like to recommend top 5 links that are considered to be among the best.
Facebook – most commonly used platform to play Scrabble online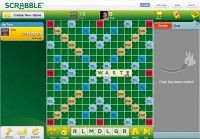 Facebook has large number of users from all around the World, which is probably the main reason why is it also the most popular platform to play Scrabble online. It is also quite easy to access the game using your Facebook account and Facebooks App Center. With it you can challenge one of your Facebook friends or play against random Facebook user if no one dares to accept your challenge.
However the rules of Facebook Scrabble are somewhat different than of the regular board version. Main differences are that you have unlimited number of tries to find valid word, you do not lose points for invalid words, there is no time limit and you can not challenge your opponent.
While playing Scrabble on the Facebook you have to keep in mind that your opponent might use sites like Scrabble Cheat in order to gain additional advantage. Because of this, competitive types might want to look at some of the other options to play Scrabble online.
The Pixie Pit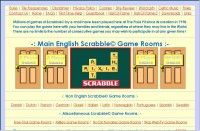 The Pixie Pit, created in 1998 is probably one of the first sites to offer online Scrabble games. The game on this site is played by sending your words over the e-mail. In addition to classic Scrabble games Pixie Pit also supports Super Scrabble versions of the board game.
This site supports several different dictionaries, one of which you can choose for your game. You can also challenge the words played by your opponent.
You must make your move within seven days after your opponent plays his word or the game will expire. This can lead to quite long games spanning several weeks. Also the policy of this game is that it is free to try, which means that after the trial period you have to make some payments in order to continue playing Scrabble online at The Pixie Pit.
Scrabble 3D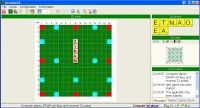 In order to play Scrabble 3D you have to download and install Scrabble3D program. With this program you can play classic Scrabble (15×15 fields), Super Scrabble (21×21 fields) or Scrabble3D (15x15x15 fields). In addition of playing the game online via the game server, you can play it also offline against the computer or your friends.
Interesting thing about this game, aside from the possibility of playing the Scrabble in 3D, is to change the game parameters like position of the premium fields, frequency of the letters and their values, dictionary, interface language and design. With these options you can basically create your own Scrabble clone.
Internet Scrabble Club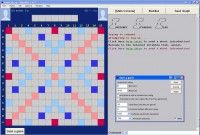 Internet Scrabble Club is probably one of the best places on the Internet to play Scrabble in the tournament style. Here you can play Scrabble in English, French, Romanian, Italian or Dutch. To play you will need to complete free registration, after which you must download and install Wordbiz program.
The game starts by sending or accepting a "seek". The "seek" is a request for a game with some predefined parameters, such as opponents ratings, time limit, type of the challenge and dictionary. For the more detailed instructions about this game you can visit ISC introduction page.
Quadplex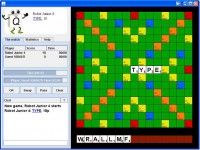 Quadplex is a very easy to use site where you can play a classic version of the Scrabble game for free. When you come to the site you will see two sections. The first one is for the guests and the other one is for the paying members.
Great thing about this game is that you do not need to worry about the parameters of the game. After going to the guest section of the site you will get the popup window with only one button (Autostart) and the game can begin.
If you choose to become a member you will get some additional benefits, such as: playing without ads, chat, playing against the computer, access to statistics and forum, using more settings, using a challenge option and others. Prerequisite to use this program is to have Java software installed on your computer.