Words with Friends, the hit game released in 2009, desperately needed some new features. Zynga has brought new life into this popular game by releasing a new version with amazing new features. The update was implemented after months of polling, and as a result, has delivered an excellent end result. Next to the long expected Solo Mode, you'll also find player statistics, better player match-ups and a much needed Words with Friends dictionary in-game.
Zynga introduces in-game dictionary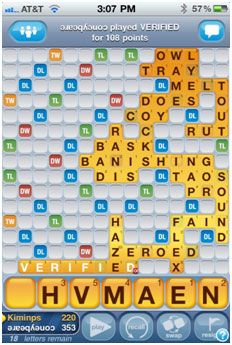 One of the more prominent features in the new update is the Words with Friends dictionary. Zynga decided to partner up with Dictionary.com and give their users an extra tool to enhance their game play. The Words with Friends dictionary offers more in-depth game play, even for the most experienced users. The new in-game dictionary can also help beginners to increase their skill.
How does the dictionary work?
The Words with Friends dictionary is relatively easy to use. When playing the game, the dictionary will tell you if a certain word is eligible for play and also gives you the definition and rarity of the word. The rarity of a word is determined on how often it is played in Words with Friends.
It certainly looks like Zynga has pulled out all stops with this dictionary, because it provides some remarkable extras, polishing our language skills at the same time. It gives the game an additional educational value by offering a searchable dictionary, including audio pronunciations and a word of the day. If you are familiar with Dictionary.com already, then you will certainly appreciate this little extra.
Other Features
The updated Words with Friends comes with a new "Solo Mode" as well. Players no longer have to connect to the internet to enjoy a game. Now, they are able to play offline against an AI opponent. This mode also takes your skill level into account, as the AI will be programmed to match your personal skills.
Players can also test their worth online, just like in the original version of the game, and can explore the "Smart Match" and "Community Match." They can choose players from their area, or simply go up against a random player with a similar skill level.
The new update also offers head-to-head statistics, ranking players on the leader board. This was not only implemented to make skill match-up easier, but also to make the game more sociable. Every player has a strong desire to win and Zynga has certainly played on that fact by using more advanced player statistics in the new update.
Conclusion
The new update of Words with Friends has made the game more user friendly. The dictionary enhances the gaming experience, while also improving the user's vocabulary skills. Players who bought the previous version of the game do not need to worry though, because the update is free to download online. As the hype for Words with Friends starts building again, many players will find their way back to their all-time favorite mobile game.