December 1st will be an important date for Scrabble players in the U.S. and Canada. From that point the new Scrabble dictionary of the NASPA (North American Scrabble Players Association) will be in effect. We'll give you a short summary of the official changes in the new edition.
The Official Tournament And Club Word List (OTCWL)

The OTCWL (Official Tournament And Club Word List), short TWL, is the official Scrabble dictionary valid for all NASPA competitions. Contrary to the Collins dictionary, that is internationally valid at English-speaking tournaments, the TWL is only used in the USA and Canada. Since 2009, the year of the establishment of the NASPA, the dictionary committee has been working on this 3rd edition of the OTCWL that will be in effect on December 1st, 2014.
The Changes in the New Scrabble Dictionary
Nothing has been deleted in the new edition of the Scrabble dictionary, but a lot of additions were made. The new words were taken from three different word sources: the 11th Collegiate Dictionary of Merriam-Webster, the 2nd edition of the Canadian Oxford Dictionary as well as the 2nd edition of the Oxford College Dictionary.
Four 2-letter words were added: DA, GI, PO and TE.
The 3-letter words increased even more. There has been an addition of 66 new words, from which the following 41 are back hooks for 2-letter words:
DAS, DEP, DOH, EMO, EST, FAH, GIF, GIS, HOM, HOO, LAH, LOR, MAM, MEH, MES, MMM, MOI, MUX, NAV, NUG, OIK, OMA, OPA, ORG, OWT, PAK, POS, REZ, SHO, SIG, SOC, SOH, TEC, TES, TIX, TIZ, UMS, UNI, YAS, YER and YEZ.
And, for the first time the OTCWL will be listing 15-letter words.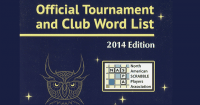 Availability of the New Scrabble Dictionary
The 3rd edition of the OTCWL will only be available for NASPA members at the official NASPA shop. If you're interested in a more detailed description of the different Scrabble dictionaries and word lists, you can look up in our interview with John Chew.