Name: Catalin-Eugen Caba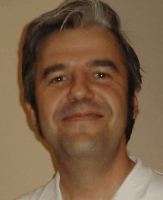 Age: 40 years old
Country: Iaşi, Romania
Education: Gh. Asachi Technical University of Iaşi, Faculty of Electrical Engineering
Employment: Head of the Department in Smart SA
Scrabble Club: Preventis Iaşi
Next in our Scrabble interview series is Romanian player Catalin-Eugen Caba. The director of the A.C.S. PREVENTIS in Iaşi is very committed to working with junior players. His primary concern is to teach pupils in English Scrabble and to prepare them for competitive tournaments. In part 2 of the interview, he also discussed with us the past and present Scrabble situation in his home country Romania.
From Anagrams to Scrabble
Caba found his way to Scrabble through other puzzles like rebuses (picture puzzles) and anagrams. Word games have interested him since he was a teen, so it wasn't a big stretch to start doing Scrabble. At 14 years of age, Caba started playing competitively. Now 40 years old, he had his premiere in 1988 when attending a Scrabble contest at the Informatics College in Iaşi. In the contest "they proposed a thematic duplicate game to us based on words from our domain – I remember COMPUTER, OPERATOR, PROGRAM and so on." Caba won it and became more and more confident in playing. At the age of 16, he won his first B-division competition in the National Romanian Championships and his Scrabble career took off from there.
Experience in International Scrabble Tournaments
From the 1990s to the new millennium, Catalin Caba gained a great deal of experience in competitive play by visiting a lot of European Scrabble tournaments. He played Scrabble contests in Romanian as well as the English language, which is not always easy to separate in your mind:
"I must admit that playing in English and in Romanian is not that simple, as my mind often plays tricks on my word knowledge. For example, one of the last phony words I tried was
SOBRANIE
. I quit smoking in 2008, when they were not available in my country. But as most of the Scrabble players do, I use to look at the labels. So perhaps I read it on a pack of cigarettes. When I was about to play those tiles I was sure it wasn't a Romanian word so it must have been a nice English word. So I played it safe and then exploded when it was proved to be wrong."
In 2008 Caba "decided to remain on our national Scrabble scene as a referee", after winning twice at the National Club Championships and once at the National Cup with his team University Cluj. Some of his English Scrabble highlights were the Malta Open in 2009 (1st C-rating) and 2010, as well as the Israeli and German Open in 2013.
Caba couldn't attend as many international contests as he wanted. But in 1999 he had the chance to take part in the World Scrabble Championships, incidentally making contact with a famous Scrabble author:
"I was completely untrained, having announced in the last moment that I will play in the main competition. I finished last, but the guy who annoyed me during the tournament by standing behind me almost every game, gave me a great and pleasant surprise after a while by describing the adventures of the Romanian team in a very picturesque manner. It was Stefan Fatsis, who wrote one of the best (not just Scrabble) books of all times – Word Freak."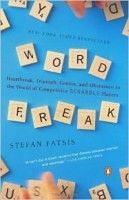 Visiting Scrabble tournaments abroad is also an opportunity for the Romanian player to travel and get to know other countries: "That's how I discovered the beauty of Malta, the holy places of Jerusalem, Bethlehem, or Nazareth, the old castles in the Heilbronn area, Melbourne, and the wonderful place at the end of the world where I could grow old." Something else that Caba enjoys at international contests is the "etiquette that governs the English Scrabble tournaments" like "the self adjudication of the words, the fair play and courtesy" or simply "the coffee breaks".
"I mean all the little and nice things that used to happen before, during, and after a game, like meeting a new opponent, the usual wishes of "good luck" or "enjoy the game" […]. Or when both opponents analyze some of the words played or congratulate each other at the end of the game."
From Tournaments to Local Scrabble Work in Iaşi
Catalin Caba explained to us that Scrabble was introduced in Romania in 1983, a period when the country was living under Communism when the "TV programing ran 2-3 hours a day, nothing to read in the newspapers, so people were hungry to find new things to stimulate their minds." So it was no surprise that Scrabble became famous in the country. Four clubs were even founded in the region of Iaşi. Caba joined one of them in 1989. Then in 2000, when political conditions had changed, a reorganization of the Scrabble clubs followed:
"A new law of sports has been adopted and all the clubs had to be reorganized as non-profit organizations, to be certified by the Sports Minister, with many formalities that cost a lot of money and time. That's why a lot of clubs have disappeared and the active Scrabble players have to find solutions for playing in official tournaments by following stronger clubs located in other areas."
This also meant a change for Caba's play, he went from the Horizon club to Argus until 2006, and then played for University Cluj, "the third most important sport club in Romania and the best in Scrabble competitions" as he states. Besides playing tournaments, Caba also discovered his passion for teaching Scrabble and began his local Scrabble work:
"I discovered that a little local club called Preventis Iaşi has Scrabble in their sport certificate, the owner has plenty of enthusiasm for affiliating the club with the Romanian Scrabble Federation, thus giving us cause to start doing just that in 2012. We are mainly focused on training young players in Romanian and English Scrabble."
The Junior Scrabble Projects in Romania
As mentioned above, Catalin Caba is very active in teaching junior players in Scrabble. He is also personally involved through his son Cristian, who became a Scrabble enthusiast at a young age too. A proud Scrabble father can tell:
"He was so brave to finish his first official duplicate game without any zero points or miscalculation at the age of 6 ½ years. Then winning his first national title at the age of 7. Now he is going on 10 and attends our weekly club training sessions in Romanian language."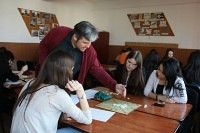 The fact that his son got captured by enthusiasm for the word game just like he had encouraged Caba to get more involved in training young players. Nevertheless, it's not all that easy to raise an interest for Scrabble activities outside the usual school program, "but once they have been infected with the 'Words Microbe', Scrabble gains future champions." He came to teach English Scrabble at the Miron Costin High School, where a multilingual school Scrabble contest was held in 2013. The scholar project is organized by the English teachers of the school. Caba works pro bono at the scholar project, spending two hours per week.
"When I read about it, I said to myself: It's impossible – nowhere in the world would English, French, Spanish and Italian Scrabble been able to coexist in the same tournament. I went there and discovered over 100 teens, most of them coming in contact with the Scrabble game and rules for the first time, playing in groups of four in all those languages. But I noticed there were more juniors trying English than Romanian. It was a miracle, because I didn't know any kid in Romania who would try English Scrabble and suddenly 40 appeared before me."
This scholar project became rather big and soon attracted more organizers and junior players:
"The teachers' colleagues from some departments of foreign languages in other lyceums [high schools] fromIaşi heard about our activity and sent their pupils from time to time to learn Scrabble principles for playing there. That's how we have teens ages 12 to 18 playing in the German language at Vasile Alecsandri High School or in the Spanish language at Dimitrie Cantemir High School."
Being keen on this event, Caba decided to continue teaching English Scrabble and even more schools were infected with the idea. Many of the junior players got hooked and have started to visit tournaments.
"We have already taken part in two tournaments in which 14 young players took part, more than in similar UK championships for youth if I'm not wrong. Well, no one is half as strong as Jack Durand and might never be. But they loved the spirit of competition and improved their skills and that's all that matters."
This subject, which is so important to Caba, is constantly growing. A second youth competition was organized for Eurolexis where more than 100 young players took part, adding a sixth language to the multilingual tournament. "For the first time in Romania, a complete game of German Scrabble was played," Caba emphasizes. Special thanks for that goes to Ben Berger and the German Scrabble Association, who sent him "original games, tiles and lists, which will help our kids to continue studying and playing German Scrabble."
The second part of the interview will be published on October 1st.