At Scrabble tournaments everyone is usually busy making the right move. Looking into your opponent's eyes and trying to catch their next move. Between games, photographer Roger Cullman caught some Scrabble players and persuaded them to pose for a portrait. That's how Cullman's Scrabble Players' Gallery started.
A Photojournalist and His Enthusiasm for Scrabble
Roger Cullman is a freelance photojournalist living and working in Toronto. He was originally born in Johannesburg, South Africa, but moved to Canada when he was 5 years old. In Toronto he visited Ryerson University and finished with a degree in journalism, followed by a diploma in photojournalism in Belleville, Ontario. In his photographs, Cullman portrays numerous cultural aspects of his home: from a report on the Toronto Motorcycle Show to a Canada's Next Top Model audition and several music events, like a concert of the Simple Minds.
Stefan Fatsis' book, Word Freak, awakened Roger Cullman's enthusiasm for Scrabble, that's when he started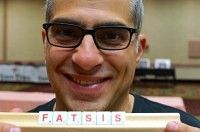 playing the famous word game 13 years ago. From 2005 to 2013 he even ran a social Scrabble club in Toronto called Scrabble in the City. After his passion for the word game arose, Cullman didn't wait long to combine it with his work as a photojournalist. He began to document the local Scrabble scene, which was continuously growing in town. Cullman says, "There are a lot of active competitive Scrabble players in Toronto, with lots of nearby tournaments every month." A good basis for his upcoming photographic project.
The Scrabble Players' Gallery Was Created
The idea of photographing famous Scrabble players and creating a gallery of it came to Roger Cullman spontaneously during a tournament. For his portraits he tries to catch the players in the few breaks at a contest. This is "the trickiest part" of it, Cullman explains on his homepage, because the players "often [have] little time between games." The players pose in the photographs like their mug shot is being taken, holding their names in Scrabble tiles before them.
Up to this point, Cullman has collected 89 photos in his gallery. Because the project is doing so well, players and photographer are keen on continuing the gallery. Down below you will find some examples Roger Cullman provided to us. Enjoy it!


The Scrabble Player Roger Cullman
Apart from his work as a photographer Roger Cullman is also a professional Scrabble player. A week ago he competed at the National Scrabble Championships in division 2. The passion for the board game runs in the family. Cullman's cousin Steven Gruzd, who lives in Johannesburg, is a five time South African Scrabble Champion. Suitable conditions for a future Scrabble career. Nevertheless Cullman succeeded in combining his work and his hobby, something you can't take for granted.
We thank Roger Cullman for providing some photographs of his Scrabble players' gallery and wish him best luck for catching new pictures!