In our series "Interviews with Scrabble Players" we recently spoke with NASPA co-director John Chew, German player Brigitte Brath, and world record holder Toh Weibin. The next one to be included in this lineup is Shan Abbasi, the co-director of the Mississauga Scrabble Club (NASPA Club #422) in Canada.
Scrabble – "My Appetite for it was Insatiable"
The 27-year-old Canadian has been a very active Scrabble player since he was a boy. His mother introduced him to the popular word board game at a young age and Shan was hooked on it from the first moment on.
"I'd plead for someone to play with me. To this day, my brother claims I ruined board games for him from overplay. I used to do the Jumble, cryptograms and other puzzles in the paper. My appetite for it was insatiable."
Shan Abbasi, who is currently a student in community development, started searching for professional Scrabble games when he was 13 and first visited the Mississauga Scrabble Club:
"I attended a few times, but didn't continue because at the time it was too far from home. However, I always had it in the back of my mind that I would go back. While studying in university I eventually did return to the Mississauga Scrabble Club and started playing tournaments in late 2007."
What fascinates him the most about Scrabble is that it's not only "a puzzle game, but it's also an art." Every game is individual; you will never have two games that resemble each other. Abbasi's way of looking at Scrabble is nearly poetic: "The words stretch out like a spider web and by the end it's like a snowflake. It connects so many dimensions of knowledge and intelligence." Nevertheless, this point of view hasn't inhibited the young student from gaining a professional status among Scrabble players.
The Most Successful Moments as a Scrabble Player
For many Scrabble enthusiasts the key to becoming a good player lies in competition with other professional players. Shan Abbasi has taken this route and it turned out well for him:
"My immersion in the game has allowed me to learn words and techniques from many good players and I get plenty of practice. I have always pushed to play tougher opponents and now I'm fortunate to be able to play in the top groups at most tournaments so that I can see some brilliant Scrabble."
Next to his achievements in Scrabble tournaments, the Canadian player also had some especially memorable moments of play that he'd like to share:
"There was a Human versus Computer Showdown and I managed to eke out a timely, lucky win against the best artificially intelligent simulator player,
Quackle
. I played a game against the best player in the worlds, Nigel Richards – the outcome was predictable. I have made some cool plays which I brag about if anyone cares; turning LOO into FLOODGATES, playing ID to set up TRAPEZOID, SPRAWLIER and other words longer than eight letters."
Even though the student lost all of those games, he is grateful for the experience he gained and the great opponents he was able to meet there. "I'm not one of the best players, but I'm happy to get in their way," Abbasi states.
The Other Side of Scrabble: Being a Club's Co-Director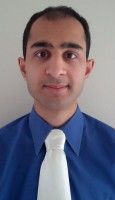 The Scrabble enthusiast characterized himself as "bringing chaos to order" on his twitter profile nightscrabbler, a quality that probably helps him co-direct the local Scrabble club. In 2009 director Craig Rowland temporarily withdrew from the position for a year to take a break from his grueling schedule. Since then Abbasi has co-directed the Mississauga Club, first with his friend Jean Barinque at his side and then again with Craig Rowland, who returned after a sabbatical year. The work behind Scrabble tournaments is quite a bit more extensive than a Scrabble player would imagine.
"The club is a lot of fun, but directing is a significant time investment for me. I think about the club every day. It's a continuous challenge to work on growing and bettering the club without taking away from the atmosphere that has made it special for over twenty years. We've run many tournaments, tested alternate venues, produced club shirts, created a comprehensive website (
www.mississaugascrabble.com
), established a Board of Directors and joined an affiliate program with the City of Mississauga. All this amidst our weekly meetups."
There is more to the administrative work at a Scrabble club than meets the eye. It also covers the organization of several tournaments a year, which are partly forecast by NASPA. "I cooperate with other area directors so all our events can succeed," Abbasi explains. For example, the Mississauga Scrabble Club offers an annual open one-day tournament, a club challenge versus the Toronto Scrabble Club called Trillium Tile, as well as an one-day tournament in the winter and a multiday summer event. Information for all events can be found on the club's homepage. But still it seems that the young co-director can never have enough work to look forward to and is ambitioned to bring the game closer to other groups of people:
"I am also part of a group called
School Scrabble Canada
that is trying to grow the game as an educational tool in schools. In 2012, I started the
Brampton Scrabble Club
, which attracts a lot of beginners and is a very lively and diverse group. So there's no shortage of tasks ahead, but I look forward to it."
How to Prepare for Scrabble Tournaments
After going through Shan Abbasi's play and work record you might think that he prepares a lot before attending a Scrabble tournament. But the opposite might well be so.
"Part of that is lack of discipline, but it's mostly the fact that I already spend more time on Scrabble than is sensible and it is primarily spent on my directing work. However, I review words intermittently and play against the computer and friends at Scrabble clubs, so I stay sharp."
Finally Abbasi can give young players advice to not "over prepare". The main aim should still be to have fun playing the game and to "keep your expectations reasonable and enjoy the perpetual perplexity."
We thank Shan Abbasi for the interview.