After talking to Scrabble legends like John Chew and Toh Weibin, next in our players' interview series will be Evan Cohen. The linguistic lecturer is considered to be responsible for the re-establishment of the Tel Aviv Scrabble Club in 1998, which he now chairs. We talked to him about his Scrabble experience and why the Tel Aviv Scrabble Club changed from the Tournament World List to the Collins Dictionary.
Being Introduced to Scrabble
As a linguistic lecturer at the Tel Aviv University, Cohen has a special interest in language. Even though he states that it was never connected to his Scrabble play, the "sounds in languages, how we produce them, and more importantly how we perceive them" is fascinating for him. Like anything that deals with language in general. So perhaps the sound of words could have somehow bolstered his enthusiasm for the word game.
Cohen, who was originally born in Durban, South Africa, was introduced to Scrabble as a child. At first he just played the famous word game at home with his family. That all changed for him at the age of 18. Then a neighbour of his, who was a competitive player, persuaded him to visit a Scrabble club. "I haven't stopped since," Cohen says, and that's how his Scrabble career took off in 1989.
From Tournament to Tournament
In 1991 Cohen won the Israeli National Championships, giving him the opportunity to represent his adopted country in the 1st World Scrabble Championships. And so the regular attendance of Scrabble tournaments took its course: "I won the Israeli Championships several times after that, and represented Israel four times in the World Scrabble Championships. My best performance was 15th in the 2013 WSC (though I finished 12th in 1991, it was a different system)."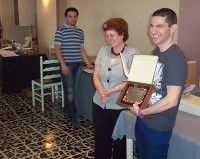 Cohen can also count the 1st and 2nd German Open Scrabble Tournaments, both of which he won, among his great achievements.
Playing abroad at international tournaments is something the South African born player quite enjoys for "meeting dozens of international friends and playing the best of the best." When he attended the World Scrabble Championshipsin Prague recently, Cohen had the chance to win against some world-class players:
"In Prague, my highlight was the final day of the event, when I managed to win my last five games in a row against five magnificent players. Including a former World Champion, a former #1 rated player in the world, the winner of the 6 Nations Event in the UK and two of the best players in Asia/Oceania."
The Re-Establishment of the Tel Aviv Scrabble Club
But next to his participation at international Scrabble events, Evan Cohen is also involved in local Scrabble work. The current director of the Tel Aviv Scrabble Club (TASC) was responsible for the re-establishment of the club in 1998. The former club was closed due to "very poor attendance" as Cohen states. Luckily he was able turn the new found TASC into a place frequented by many with an international reputation. The reason for this change may be found in the way that the members look at their club nowadays. As seen on the TASC homepage:
"The Tel-Aviv Scrabble Club is not just statistics, divisions and Scrabble boards, but a group of wonderful people who get together every week to enjoy their favourite pastime."
A very special extra to be found on the website of the TASC are Scrabble poems composed by Liliane Servier, who we were sad to hear had passed away this year. Her poems are meant to help in memorizing words for Scrabble play, as Evan Cohen explains:
"Liliane Servier RIP, one of the founding members of our club and the person who, to date, still holds the record of the most games played in the club, used poems to help herself remember words. She suggested I publish these weekly on our website, which I did – players loved the idea. Some of her poems were also put together in a book compiled and given to players as prizes. So she's left an impressive Scrabble legacy all over the world."
Here you can find a lot of Liliane Servier's poetic work.
The Switch from Tournament World List to Collins Scrabble Words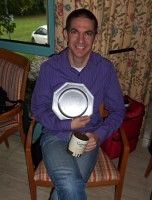 As a chairman of the Tel Aviv Scrabble Club, Cohen initiated a discussion concerning if the club should change its official list of words used. Originally the TASC used the Tournament World List (TWL), which is a list developed by the NSA Dictionary Committee in North America. It is mainly used at NASPA Scrabble clubs (USA and Canada), as well as in Thailand and parts of Israel. Evan Cohen explains how the switch started:
"After participating in the 2005 World Scrabble Championship, when Israel still played the "American" book, we discussed switching in order to open up new possibilities for Israeli players (particularly in the UK and Europe). We took a vote, and the overwhelming majority wanted to switch. Ever since, dozens of Israeli play in internationally rated events."
Unlike the TWL, the Collins Scrabble Words (CSW) is a list that is internationally valid at English-speaking tournaments. The switch really might have been one of the elements that helped the TASC members to improve their chances in international competitive Scrabble play.
Time for Improvement?
Next to the administrative work at the Scrabble club and in addition to his employment at the university, it is hard for Evan Cohen to take enough time for Scrabble practice. "Though I try to maintain my level of Scrabble, I don't have time for significant improvement. Besides, I'm "old" already." But even if he claims to have been shelved, his last tournament credits tell a different story. After winning the first two German Open Scrabble Tournaments, he is looking forward to attending the third one.
Scrabble Tips for Starters
But how do you become a world-class player in competitive Scrabble? For Evan Cohen "Scrabble has nothing to do with luck. Or, as I often put it, word knowledge is important – no doubt. The more you know, the "luckier" you get." But other than that you also need a kind of "board sense" in Cohen's opinion; which means "understanding how the board works and the ability to project what the opponent's best possible moves are."
Something that goes hand in hand with hard practice is patience. Cohen explains that it will always "take time to get good. It may be weeks (or longer) before you even manage to win a game, but that the more you play and study, the better you'll be." Because only by playing again and again will you be able to exchange views with more experienced players. In Evan Cohen's view, the essence of practicing lies in "understanding how Scrabble minds work."
We thank Evan Cohen for the interview and wish him many more successful years in competitive Scrabble.