In early January Brigitte Brath, a German Scrabble tournament player, attended the UK Open. Between returning to Germany and taking off to attend her next tournament, the Israeli Open, she gave us an interview about her tournament experience and offered tips for Scrabble players.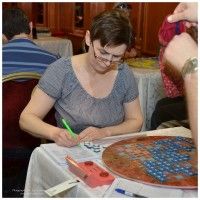 The Personal Value of Scrabble
Brigitte Brath began her Scrabble career 4 ½ years ago. She has always played from time to time, but then in 2009 she found out about the existence of tournaments and got swept up into the world of Scrabble enthusiasts. "I immediately took a fancy to it," she explains. What Brigitte Brath finds especially valuable about going to tournaments and playing Scrabble in general is that you get to know a lot of different people from all over the world. Meeting so many different characters and travelling to places one never would have considered before is a great experience the international tournaments offer. The German Scrabble player knows that.
"I don't think I would have gone to Romania without Scrabble. The fact that there is the chance to beat someone who is actually a better player is also attractive. That is always a highlight. And somehow every game is different, it never gets boring. At  my level at least, I can always improve."
Brigitte Brath attended the UK Open most recently from the 2nd to 6th of January in Solihull and with 13 wins – 17 losses she was ranked 14th in division C. The British tournament took place for the 7th time and brought together 58 competitors at the Ramada Hotel. Pictures of the event can be found on British Scrabble's Facebook page . Peggy Fehily and Brigitte Brath were the only two players from Germany. A determining factor for their participation was the convenient date in early January.
"So Peggy and I decided to take part. Totally naive after maybe one year of competitive Scrabble. It was like going from your local tennis club straight to Wimbledon. But it was a pleasure from the first moment on. One unexpected win or another enhanced the enthusiasm. And the competitors were much fun. The schedule was pretty tight. Game after game, only 30 minutes for lunch and then after dinner games. Still, after the last game you think you would like some more."
Playing Scrabble in Other Countries
The question arises of whether it's not a disadvantage to play in a different language. This is because there are words and wordlists to learn not only in your mother tongue, but also in another language. As a teacher of engineering and economic English at a university, Brigitte Brath does not have a problem with that: "I use the language on a daily basis and it pleases me."
But apart from the language, are there more differences when you play professionally abroad? Generally all tournaments have the same rules and time restrictions, e.g. every participant has 25 minutes for all his moves. The German player found the things that all tournaments have in common most notable.
"The array of players is always international, that's actually a delight. It means that everyone speaks English and the playing room looks pretty much the same everywhere. You ultimately recognize where you are through the meals. All in all, the tournaments I visited were all organized well."
Out of all the different kinds of people you meet at a tournament there is always an opportunity to play against a much younger player. Like Jack Durand, a 13 year old boy from England, who also participated at the UK Open. It might be pretty hard to play against someone who has played Scrabble professionally since his childhood. Brigitte Brath, who just started playing professionally some years ago, doesn't shy away, but sees the benefit in it.
"Indeed I had the chance to play against him [Jack Durand] three years ago at the BMSC [British Matchplay Scrabble Championship] in the UK, and I lost. This time [at the UK Open] his mother played in the same division as I. The chances to win against someone like him are indeed small. But someone like me can learn a lot in these games and in spite of the loss, it was a real pleasure to play against someone like him. Those kinds of young Scrabble players really play in a different league, and it is right so. There is always a profit if you get to be coached by a good player."
The Other Side of a Scrabble Tournament
Besides taking part at international tournaments, Brigitte Brath has seen the other side of Scrabble events as well. In 2013 she was part of a team who organized the 2nd German Open in Bad Wimpfen. Never underestimate the facilities required for such a huge tournament.
"Credit for most of the organization goes to Peggy Fehily. Beate Holder and I supported her. I, for example, took care of the departure of the participants, looking for the right rail connections. Or I did research for a hotel that could hold the tournament. And of course we all try to promote the event. While I do that for other tournaments I visit as well… and I enjoyedthem. Which happens pretty much always."
Strategies and personal tips for Scrabble players
For a tournament player it is essential to keep some strategies at the ready. If you stick to a careless playing strategy, such as just looking for tiles with high points to throw in, you won't make much progress while playing against professionals. It is more important, for example, to look for the intrinsic value of a tile or word. In other words, the value of how many possible words you can make out of the given tiles. Very common letters like AEINRST do not have a high value, but it is easier to build a lot of words with them than it is with high-value tiles like JQX. This is a strategy you will learn in time and usually don't use in your first Scrabble games.
Another common strategy among professional Scrabble players is to learn two, three, or even four letter words by heart. Nevertheless, every player might also have a personal tip to offer, like Brigitte Brath.
"Learning with lists is not my thing. Not even with German lists. I try to find a method that fits me personally. For example, I have a so-called hook book, where I collect words that I encounter in games. These are words that I already know, but which you can change with a front or back hook. I collect words like this that were totally unknown to me before, e.g. I can append an O to VIRE. It often happens that words from my hook book are actually doubted, even by native speakers."
And of course there are always very personal tips and tricks that will only work for you since you have a connection to a word and its combinations. But as a strategy it can be used by everyone.
"Concerning small catch phrases or mnemonic sentences: There are still a lot of them circulating. But I also invent my own, like 'what goes in front of AKA – that's HKTW.' I memorize that with "Hochschule Künzelsau (Fakultät für) Technik und Wirtschaft" [Künzelsau University Department of Engineering and Economy]. Because I work there, it's easy for me to remember the first letters. Or the bingo letters OUAKARI – 'ow u a curry'. I got that from friends in Israel and memorized it immediately. Of course these are special phrases, they don't work for every word."
Many Scrabble tournament players are often asked if they have a favourite word or a word they appreciate for its sound or oddness. Brigitte Brath doesn't really have a personal favourite, but mentions "actually I prefer words that are funny, like VOWEL DUMPS. It was one of the first ones I learned. And EUOI – 'either U or I' – it is easy to keep that in mind with that phrase. I like it to this today."
In Preparation for the Next Tournament
The next tournament is right ahead. In February Brigitte Brath will attend the 6th Israeli Open in Tiberias. And here again is proof that Scrabble has brought her closer to other people and countries.
"After the tournament I will stay in Israel for a little while longer. I am taking up a friend on an invitation they extended to me. Without Scrabble this friendship never would have arisen and it is possible we never would have met."
Unlike others, she is not the kind of Scrabble player who sits down and learns for weeks before a tournament. For Brigitte Brath it is more about the delight of the game and the atmosphere at such an event. Nevertheless, she can't participate without any practice.
"When I hear how much time some people invest, I always get kind of a guilty conscience. Shortly before the tournament I'll update my hook book and make small quizzes to repeat my hooks. For that I go through the various notes I have collected and write down the new hooks. I am afraid there is no system in that, although I preach to my students that regular repetition is the key to memorizing vocabulary."
We wish Brigitte Brath the best of luck at the Israeli Open and we want to thank her for the interview. This article leaves us with the impression that Scrabble is not just a sophisticated game, but also something that brings together the most diverse people from all over the world.
If you have a favourite professional player you would like to have interviewed or have even met one and would like to share the experience you had with him or her, let us know in the comments below.