Even though Christmas time has passed now, we are happy to be giving presents to select readers of our site. At word-grabber's Happy Holidays Raffle you had the chance to win a Scrabble Deluxe Edition as well as Amazon and iTunes vouchers, and other things. Read how our first prize winner Jeff Kelley, a passionate Scrabble player, didn't really get first prize – but was lucky after all.
First prize: "something that was fun, not just a necessity"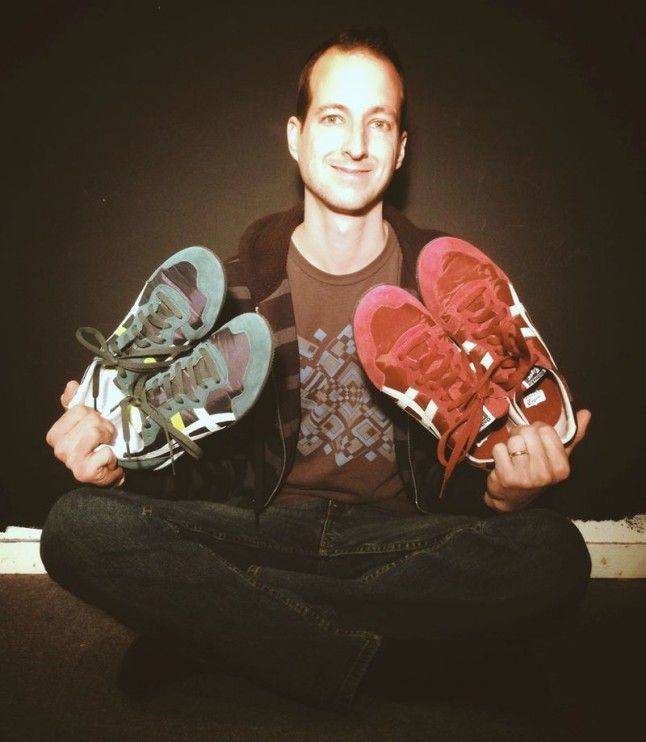 Until January 1st every reader of word-grabber.com had the chance to take part in the competition's last round by sharing the link for our Holidays Raffle on Facebook. Originally first prize was an Ouya game console, but unfortunately the console was no longer available in January. So we asked our winner what he would like to have instead.
Jeff Kelley, a postman from Northampton/Massachusetts, was the lucky winner. When he heard that the Ouya console was sold out, he wasn't sad at all: "Truthfully, I was greatly surprised I won anything at all! And I was happy to be able to choose something else. I really wasn't expecting it." For the substitute present the avid Scrabble player chose two pairs of sneakers. But why?
"I'm really bad at buying things for myself. I tend to find one or two things that fit well and stick with them. Having a couple of pairs of colorful sneakers is kind of extravagant for me, so it felt like a good choice. I wanted to get something that was fun, not just a necessity."
Torn between board and online games
The 39-year-old letter carrier fancies Scrabble and other language-based games. By attending the local Scrabble club (NASPA club #667) and competing in online games, he plays Scrabble and Words with Friends on a regular basis. "I would say that I play online more than in real life. I do really enjoy the real live board games, but the time factor makes online games much easier", Jeff explains. Language is a fascinating thing for him. He is especially taken with assorted word games, like Words with Friends and Boggle: "It's been fun to find different ways to play other games online, where there is a greater assortment of skill level and competition."
The addictive nature of Scrabble
Anyone who has ever played the game surely knows that once you start playing Scrabble, it becomes addictive. For our Happy Holidays Raffle winner there are several factors which make Scrabble so extraordinary.
"One is the fact that having better word knowledge makes you a better player. That, for me, is a fun thing to be able to work on. After that, there is the strategy component. Just knowing words is most important, but knowing where to play them on the board and which ones to play is very challenging and exciting. And lastly, I just enjoy the competition factor. It's fun to win! And when you don't win, it's fun to try and get better! Sites like yours are great tools for improving word knowledge and improving my skill in word games."
Jeff Kelley sees opportunity in playing Scrabble online. Here you have the chance to check out if you missed a word with a better score. But he doesn't use the given online tools and generators against his opponent. It's more for the personal benefit of learning after your turn, not to cheat on other players. "I actually have a list of words that is always being added to, especially any time I miss a really good or interesting word. I want to be able to know it for next time!"
We're happy to hear that our lucky winner is such a passionate Scrabble and word game player and we thank him for the brief interview.