WordTrap Dungeon is at first sight a very unusual game mix. A word game in dark dungeons? Magic and monsters? The small Polish developer, Crunching Koalas, mixes two very different genres. But the mix works and it's not just coincidence, it's good work from ambitious programmers.
Still in Progress
WordTrap Dungeon is a game for home computers. It hasn't officially been released yet, because it's still in development. Nonetheless, you can play the game already in the form of a beta version (an unfinished version of the game). The finished game should be released in September for PC, Mac, Linux, and the upcoming android console Ouya. Even versions for mobile systems are planned.
We participated in a beta test to gather information before the release of this promising word game mix. Everybody is invited to test the game. If you want to participate in beta testing, you can visit the official site of developer Crunching Koalas. There you can gain access to beta testing and start playing. The developers only ask in return that you allow them to see your game results and participate in a small survey. Accordingly, you will be asked to fill in a questionnaire after your play session has ended.
If that's too much work for you, just visit Crunching Koalas' official YouTube channel and take a look at the official videos.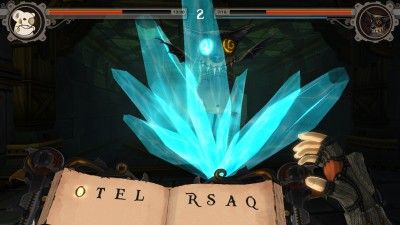 Let's Go to the Dungeon
In WordTrap Dungeon you play the role of a magician who is wandering through a scary dungeon full of monsters such as goblins, beholders, or robots. You won't know what exactly his goal is in there. The developers want to integrate a proper background story into the final version though. Your magician has a book in which you can find various letters. The evil monsters which will cross your path can only be defeated using the magic spells in his book. To cast a spell, you must form words by clicking the provided letters with the mouse.
The longer the word, the mightier the spell. And they have to be mighty, because the monsters won't just stay in front of you to await your magic. They will battle you. If you want to get some help you can use our word generator on word-grabber.com. Just pause the game, search for words and wield them against your enemies.
You cannot reuse words which have already been used once. To make it more difficult, the letters will always be the same in a stage. Since you have to fight against a lot of monsters in a single stage it can be quite challenging to find all possible words. At the end of a stage, you won't find new words very often. All the same, it becomes more satisfying to discover new terms.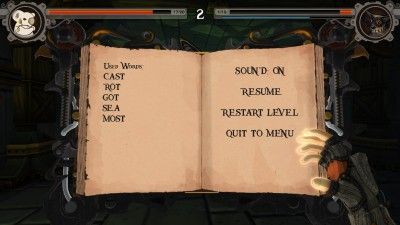 Mighty Words
The rewards you receive from defeated monsters varies. You can get potions, which are very important to regenerate yourself between fights so you don't end up dead in the dungeon. While you are stuck down there, your magician would be automatically walking toward the next monster. You may also get colorful letters with special abilities that you can use only once. You can freeze your enemies into an ice block by using blue letters, for example. This will give you more time to find the next word. Green letters poison your enemies while red letters steal their life energy.
All in all your abilities are very well arranged. Although everything is repeated very fast, the search for words is always exciting. The most satisfying moments happen when you have found a word and you smash a mighty spell into the face of your enemy.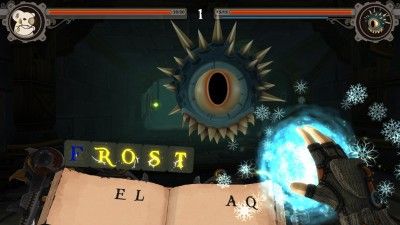 A Terrifying Dungeon
Developer Crunching Koalas is making efforts to generate a spooky atmosphere. Though the 3-D-graphics are not high tech,they are acceptable and serve their purpose. The cost of developing WordTrap Dungeon well exceeded that of other word games.
In the first playable stage, however, we were bored by the repetitive background. Everything looks very static, as if you were on a conveyor belt. This occurs because the movements of your character all take place automatically. Even though it looks very robotic, the game's appearance is acceptable. We are excited to see what the final game will look like when it's released. Right now you can play WordTrap Dungeon in two languages: English and Polish. The developers are also planning to release German, French, Italian and Spanish versions of the game.
What else is coming?
Crunching Koalas has ambitious goals for the game, a good thing considering that WordTrap Dungeon currently looks a bit unfinished and empty. The developers want to build in a real story and role-play elements such as statistics, experience levels, special boss fights, and different loots. A mode called "Arena" should boost the competition between players by counting the monsters they have killed. This mode sounds interestingas does the announced level editor and dictionary, both of which can be very useful.
If you have requests or ideas yourself, you can visit the official forum. There you can vote on the elements you want to be incorporated into the upcoming game. If you read the posts in the forum you will see that the developers care about the wishes of their fans.
What's the price for WordTrap Dungeon you're asking? As much as you want. Crunching Koalas developer Tom Tomaszewski told us that there will be a "Give What You Feel"model. Which means you pay as much as you feel it's right to pay. We think that's a great concept.
Looks Promising
Because of the unfinished status of the game, we can't form a final opinion about WordTrap Dungeon quite yet. What we can say so far is that the mix of role-play game and word game is unusual, but works out very well. It is nicely done and entertaining. Although the battles and the game mechanics might appear flat at first sight, they prove themselves to be very exciting. We can't wait to play the final version of this fresh and original word game.
What are your thoughts about WordTrap Dungeon? Which system do you want to play it on and what are your suggestions for the developers?