Players who enjoy their daily dose of word games often find themselves going back to the old classics. Boggle Free from EA Swiss Sarl is a word-search game that is certainly worth going back to. Some of you will enjoy the nostalgia evoked by the name itself – remember those lettered dice cubes and the sand-clock timer? But even those who haven't played the game before will love the digital version. Available for the Android market, Boggle is suitable for players of all ages – it can even be a great educational device for those just learning how to spell!
Boggle – The Game
The rules of Boggle are simple enough. You start off with a set of 16 tiles arranged in a 4×4 grid. Each tile has a letter on it, and the player's task is to swipe across adjoining letters – horizontally, vertically or diagonally – to create a word. Like most word games, Boggle only accepts words that are 3 letters or longer, and the bigger your word, the better your score. There's a 3-minute timer on top, and your goal is to try and make as many words as possible before it runs out. While swiping across the tiles, a tap on the last letter will indicate you've finished making the word. To cancel a word, simply go to the first letter and tap on it.
Boggle's Wow Factor
There are many features that keep the game interesting. For instance, in the Quick Play mode, you can avail three different "Power Ups" – a 10 second time-out, a handy hint, and a triple score bonus option. There are certain time targets that, if met, will win you bonus points. Unlike most other word games, at the end of every challenge, Boggle lists all the words that could possibly have been made from the grid. This gives you an idea of what to look for in your next game, and you also get to know the words that could have fetched high points. Moreover, a tie-up with Dictionary.com enables you to see the word definitions – an invaluable feature for those using the game as a learning device. There are multiplayer modes too, where you can share the excitement with up to four friends. If these pre-set modes are not your thing, you can custom-create your own challenges. Set your own time limit, choose the option where an all-new set of tiles appear for the last 20 seconds, or select the mode where once you finish creating a word, the first and last letters switch places, thereby giving you an opportunity to make an infinite number of words. To crank up the excitement even further, like in Words with Friends you can challenge your friends on Facebook.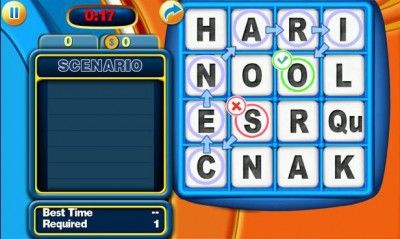 Scope for Improvement
While I found Boggle to be quite charming and user-friendly in most instances, there are certain things that left me wanting more. For one thing, the small 4×4 grid can be quite limiting, and you find yourself wishing that the game was more challenging. The instructions, too, could have been a little more explanatory. For example, some letters in the grid are underlined and some tiles change colour, but there's nothing in the instructions to explain that. I found the availability of dictionary definitions very impressive. However, some words like "rote" and "ono" are listed (and accepted), but have no definitions available. Also, the constant marketing of other games and products after each challenge can get a bit tedious, though of course that is probably to be expected from the free version of any given game in the app market.
The Overall Experience
Little shortfalls and confusions aside, Boggle is a great game. While it accepts small words, there is also the challenge of trying to come up with bigger words using the same panel of letters. This makes the game really quite addictive, and you'll soon find yourself trying to beat your own best score or target time. And of course, once you challenge your friends, there is no looking back! EA Swiss Sarl has ensured that the production value of this game is high, despite it being a free version. This version of Boggle is well worth downloading, and is overall a very enjoyable pastime for toddlers and word-smiths alike.