I already presented one of the largest English online Scrabble League, the Facebook Scrabble League, to you in a past review article. One of the main issues that has become apparent to me as a player is: Who checks that nobody cheats in the FSL?
It is Daniel Stembridge! Since 2013, when the FSL was launched, he has been the admin who pursues any cheating suspicions. When I asked if I could get an interview with him, he was understandably skeptical: A website with a Scrabble Cheat wanted to talk to him? We are glad we were able to convince him that word-grabber.com is not just a website with a Scrabble Cheat and that we'd also like to present the people of the Scrabble scene. And of course we also believe that there should be no cheating in a competition like the FSL!
This is Daniel Stembridge, Admin of the FSL
Daniel Stembridge is a family man, enthusiastic writer, and, of course, a Scrabble player. He told me that he has been playing Scrabble for 30 years now and started when he was ten years old. He grew to be a pretty good player:
Having been unbeaten for most of those years, I presumed I must be some kind of genius. So with the growing popularity of Online Scrabble, I joined Scrabulous, expecting to beat all comers. Notions of my own brilliance quickly dissipated as I was soon being resoundingly pulverised by many players. Disconsolate, I disregarded Scrabble for some time and turned my hand to Online Boggle variants, with limited success. Players there were brilliant, too. It was pointed out to me that it was likely that some users were cheating – using anagram software to find words, and that it was equally likely they were doing the same at Scrabble. I no longer felt so bad about my game and so returned to Scrabble, forming a Facebook league with some like-minded 'word nerds' including respected 'real life' players Cheah Siu Hean and Akshay Bhandarkar.
Anagram software exists for several popular word games – Scrabble cheat, Words with Friends cheat and so on… and this knowledge brought Daniel back to the game he loves. He is known to be an extremely defensive player, who always tries to block possible bonus areas on the board. He only uses Scrabble cheat software to find out if other people are cheating.
Scrabble Cheats are Thorns in His Side
The first Facebook League Daniel Stembridge formed with his friends was not the now well-known FSL. Daniel got to know a guy called Elliott Manley. He created a Scrabble scoring app that simplified a certain time-consuming aspect of the previous Facebook leagues: The players had to send their results to a guy, who then documented everything on spreadsheets. All this work could be fully automated with the new scoring app. In the year 2013 the Facebook Scrabble League as we know it was born and grew to be the largest group of its kind. There was only one job left! Someone had to check whether people were using Scrabble cheats. I've talked to both Daniel Stembridge and Elliott Manley and asked them how cheats can be detected:
Daniel Stembridge: It's usually straightforward to spot where an anagram generator is being used, for instance through the wastage of blanks or the disregard of sound tactics. We always try to discourage their use, but it is difficult to police. A large percentage of our regular players are elite players and deserve better than to compete against someone who is not considered genuine.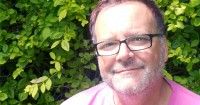 Elliott Manley: With a little experience it becomes fairly easy to see who is cheating. I won't go into details in case doing so teaches people to be better cheats! The admin process at FSL consists of examining details of reported games, deciding whether there appears to be a case to answer, and if there are multiple reports of the same person, approaching them with the claims. Very often they will leave of their own accord. In minor cases we ban them for a period of time; more serious cases earn a lifetime ban.
Of course, detecting cheats is not the only job Daniel has to do as an admin of the FSL. Sometimes technical problems occur and players have all kinds of questions on the subject of Scrabble. But Daniel is not left alone with these questions, he told me: We are fortunate that many of our players are very experienced with how FSL and the scoring app work so to a certain extent, we are all admins. If someone raises a query on the forum, someone will usually answer it quickly, whether they are an admin or not. The amount of 'real' admin work is actually very little.
"The Facebook Scrabble League is a happy place"
As you can see, Daniel is not spending all his time detecting Scrabble cheats. He told me:
I like the fact that the vast majority of our players really enjoy what we do, and it's wonderful to see new friendships formed. We always try to encourage online players to join a Scrabble club or enter some tournaments and many have, which is always very rewarding. All in all, the FSL is a happy place and one in which you are going to develop as a Scrabble player if you are willing to apply yourself.
700 players from all over the world play the FSL every day. The greatest distance recorded between two players was 19,773 km. So the Scrabble League is truly a success and of course, this great project needs fair players!
Would you like to join the Facebook Scrabble League?
I have tried the FSL for you. Check out my review.
Here you can find the Scrabble scores website Elliott Manley created.

Want to become better in your favorite word game?
Get to know new words and find better solutions with our anagram software: