Playing Words with Friends can be fun when you know a lot of words that are allowable for the game. You can learn new words with the wordlist of course, with our help, or with so-called Words with Friends Cheating Apps on your smartphone.
Anja on Cheating in a Game of Words with Friends
 I think it`s okay for beginners to use these apps, because cheating can be used as a way of learning new words. Of course it is only fair to let your opponent know that you are a beginner and that you need some help from time to time. That`s why I would speak with the other player in the chat or only play Words with Friends with real live friends who know you well.  Nonetheless we have tested some apps for you.
1.    Words with Friends Cheat from Scappy Apps
The app Words with Friends Cheat from Scappy Apps is free. It uses the newest dictionary for Words with Friends. You have three different options. First the Word Finder, then the Word Validator, and at last Learn a Word!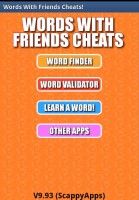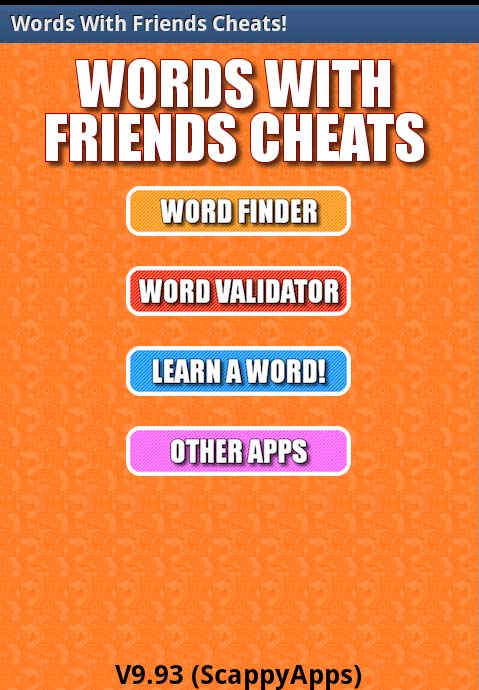 When using the Word Finder you have to enter your letters and the finder shows you the possible words with the points you can get for each one. A question mark can be used for a blank tile. Under the task "search options" you can set the word length or if the new word must contain another played word. To see the definition for a word you can simply click on it in the list.
In the W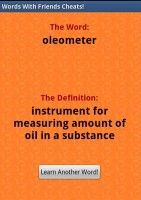 ord Validator you can enter a word to see if it can be played in Words with friends.
Under Learn a Word! you get a word and the definition for it, so you can train new words.
But while playing Words with Friends you won't be able to easily switch to the app. You have to remember your letters every time. Since it is not possible to copy the letters from your rack to the clipboard.
2.    Word Breaker from Firecracker Software
Word Breaker is a free app that helps with more than just Words with Friends. It also has a Scrabble, Wordfeud, Angry Words, Wordsmith, Classic Words, Word Chums and Words by Post cheating option. So you have to first decide which play you will use. For that you can download the dictionaries you need for playing.
For using it in a Word with Friends game you have two different options: The Classic Mode and the Board Solver Mode.
Classic Mode is a word builder. You enter your tiles and Word Breaker finds all possible words that can be formed. Blank tiles can be set by question marks or periods. You can tap a word to see its definition.
In Board Solver Mode the Word Breaker app calculates all options for you. When you make a screenshot you can import it and the Board Solver Mode searches for the best fitting word with the best points. I think this is real cheating and it is not a good option when you seriously want to play Words with Friends. That`s why I don't like to use it. But it can be used for checking to see if your word was the best afterwards. For that option make a screenshot before placing your letters in Words with Friends, then play your letters and check the word in the Board Solver Mode of the Word Breaker app.
3.    Words Builder for friends form Yellotechnology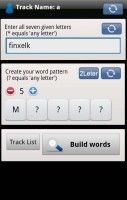 Words Builder for friends is as simple as our first Word with Friends cheating app we had to introduce it to you.
All you have to do is enter your seven letters from your rack. For a blank letter here you use * . Now you can set the number of letters and choose which letter is given. The other places are filled out with a question mark. After that the Word Builder will show you which word will fit best.
In Word Builder from Yellotechnology you will also have to remember your letters every time. There is no option to switch to Words with Friends directly or to use a screenshot from your play.
Which Word with Friends Cheating App is Currently the Best?
For players who want to train new words, using Word with Friends Cheating apps our first app in this article, Words with Friends Cheat from Scappy Apps, would work really well. With the Word Validator and the option Learn a Word! you can easily expand your vocabulary for Words with Friends.