Word Chums is a very social mobile word game – you will meet and play with a number of people from all over the world and get to know a lot of different types of players. The main difference between the players of course is how they find words in the game. There are a lot of strategies. I found out that there are five word-finding types in Word Chums. Let's see if you know these types, if you feel like you belong to one of them – or maybe you even know of a type that I've forgotten?
Type 1: Will Find Words via Trial and Error
The good thing about Word Chums is that you can put any word on the board and you will immediately see if the word exists and is valid in Word Chums. This allows you to find words via trial and error! PLANY sounds like a word? Well then just try it! (To make a long story short: no, PLANY is not a word, but we show you in our Word Chums Cheat which words are possible with P, L, A, N, Y)
Type 2: Learns Word Lists by Heart
This Word Chums player type may have word lists pinned up on his walls at home. Which words with two letters can I play in Word Chums? He knows them all – and you can do so too! In another article I have already shown you the two-letter words you can use in Word Chums. They are also very useful to build word walls and this way you will easily find words that will give you a great many points.
Type 3: The Cat, House, Men Type Will Only Find Easy Words
Sometimes you meet Word Chums beginners in some of your random opponent games – and you will recognize them because they use easy words and maybe they will ask you some questions about your words. They might not know, for example, that not only can you play the word EASY, but you can also play the inflection EASIEST. Maybe you can help them and give some good advice!
Type 4: Will Find Words with Hints and Cheats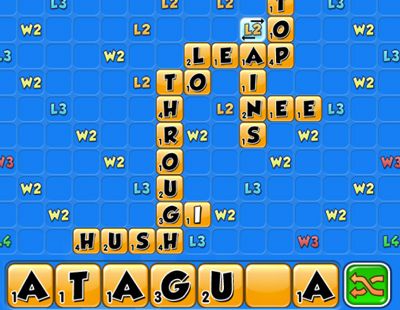 I guess this is no secret for you: tThere are opportunities to use help and cheat in Word Chums. You can find words by using the Word Chums hint function. It will show you the place on the board where you can play the best word. But then you still have to find the word on your own. You can also use our Word Chums Cheat to find out which words you can play with the letters on your rack. The crux is: You might not be able to place the best cheat word on the board because there is no space for it – and you yourself are responsible for finding where to play cheat words. So the kind of player that combines hints and the Word Chums Cheat can be really successful! Of course you can also use our Word Chums Cheat as a tool for learning new words – by checking your letters after you've played a word.
Type 5: Does Not Find Words – The Words Find Him!
There are also Word Chums players that are simply good! They are human dictionaries and find words that you didn't even know existed. They are passionate readers and word lovers and playing against such people is so much fun, because you will learn a lot!
What Kind of Word Finder Are You?
I must admit – I find words like player type one. My strategy is to search the board for a good place with good bonus squares and then I sometimes just put my letters on the board and hope that they make a valid word. It works quite well for me!
Would you like to tell me how you find words in Word Chums? Then please leave a comment here or write us on Facebook.