A very popular Scrabble clone these days is Words with Friends, which can also be played as an app on your iPhone. In our review at wort-suchen.de, we were so impressed by the game produced by Zynga that we decided to stage a face-off with the official Scrabble app. So here is our special comparison: Scrabble versus Words with Friends:
Graphics
Both apps look very good on the small devices. They are well-arranged but don't offer much in the way of effects or eye-catching graphics. The version you prefer depends on your taste for color. Do you like the red layout of Scrabble or the cool blue from Words with Friends? We couldn't decide which one looks better. That's why we gave them a draw (0:0) in this category.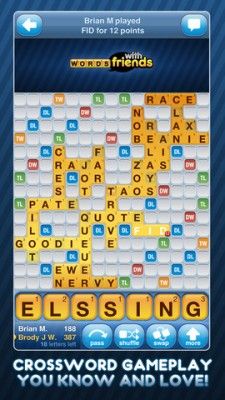 Playability
Both apps are connected to Facebook. There are, however, several other ways to find new opponents, like using your email list or just randomly asking people who are playing it already. The Scrabble app has a little bit more to offer on that point. It has the capability to find players via the Origin service. Menu navigation is uncomplicated on both apps. But you get bothered by commercials if you have the free versions. If you play the Scrabble app, you will notice that it works a little bit slower than Words with Friends. This round goes to the original. While Words with Friends is only playable in English and has no official word lists to offer, the Scrabble app offers seven languages and three official English word lists (The Tournament Word List, the Merriam Webster Wordlist and the Collins-Dictionary). One point for Scrabble. (1:0)
Fun
Scrabble and Words with Friends are fun and enjoyable. We had the most fun when we played them with the Pass N´Play function against an opponent right next to us. Both apps offer this function, which is why there is no winner in this category. Draw. (1:0)
Miscellaneous
We liked the tutorial shown in the Scrabble app more than its counterpart in Words with Friends. The free mentor is also a big plus. This feature shows you the best possible word combinations and optimizes your game. You also get a free word list and a point counter. This makes the Scrabble app the best choice for competitors. There is no tournament function like in Words with Friends though. In the end, the point goes to Scrabble. (2:0)
Conclusion
Our comparison ends 2:0 for Scrabble. Although the score looks clear, it's not as obvious as it may seem. The games aren't all that different. If you look at them in terms of graphics and playability they are nearly identical. The biggest arguments for Scrabble are the official word lists and the free features like the mentor and the point counter. That makes Scrabble perfect for players who like to compete in real tournaments.
So don't get disappointed. Words with Friends is still a good game, but Scrabble is slightly better and ends up ahead of the game.
Which game do you prefer? Have we forgotten any arguments? Tell us your thoughts on this comparison.