By now there are countless versions of Scrabble on the Internet. An especially popular English language variant is Words with Friends (WwF), which can be played in its basic form for free on a smartphone or through Facebook. We have now taken a closer look at the Scrabble variant built into Facebook.
Words with Facebook Friends
In order to have the ability to play Words with Friends on Facebook, you must ideally have a profile established with Facebook first. The version is playable on all computers with a modern browser such as Mozilla Firefox. Anyone wanting to play Words with Friends on mobile devices like tablets or smartphones must download the free app carrying the same name.
You can start using Words with Friends on Facebook by visiting the official Facebook page of the game. In order to do this, simply type "Words with Friends" into the search bar in Facebook and the appropriate site should be offered to you.
Playing with others on different platforms isn't a problem. If my game partner is currently sitting at home in front of the PC and I am out and about, for example, I can continue to play with him using my smartphone. Game manufacturer Zynga has connected many functions of the game with the capabilities of the social network Facebook. These include the search for teammates, the sending of challenges, and many other options that we will introduce in the trial. More on that later.
Simpler Introduction to Words with Friends
Matches can be played in Words with Friends with one other player who also has a Facebook account. If you are starting a game, you can even comb through your Facebook friends list in search of other players. This is quite practical, since you have a ready-made collection of friends to access. This way you don't have to first piece together a friends list as you might have to on other game websites. If you want you can also allow the system to randomly assign an opponent to you.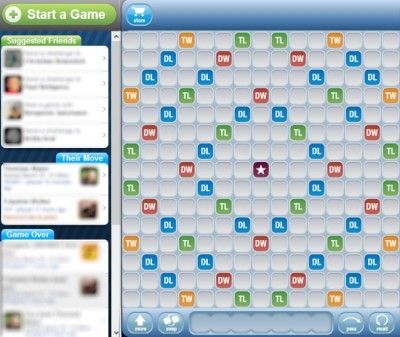 WwF – The Scrabble Clone
If you have started a match, as Scrabble experts you should quickly be able to find your way around. Written game instructions are also available for those who are not familiar with the game. For the purpose of giving game strategies, we have compiled a collection of how you can boost your score in Words with Friends.
You start out by first placing the seven letter tiles provided horizontally and vertically on the board so that they form English words. There are also empty tiles. With these "wild cards" you can choose the letter it represents yourself. If you are unable to build a word with the letters, you can either shuffle them again (accomplished with the smartphone by shaking) or you get one chance to exchange as many letters as you want for new ones. The game will then provide you with randomly chosen letters. The match ends as soon as you have collectively laid down 90 letters. If your words lie across certain fields, you will receive bonus points.
You must start laying down your tiles in the middle of the playing field and from then on you must always build upon letters that have already been played. The play sequence is familiar from other Scrabble clones.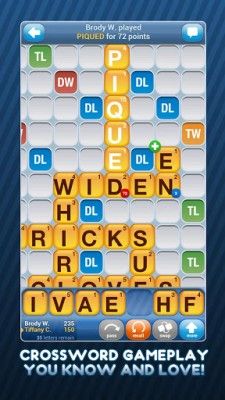 Halting Game Progression
When you have finished a word, you can end your round and send the word. Now it is your fellow player's turn and he or she will receive a Facebook message. The game can either be continued immediately or at a later time.
It is essentially a very simple system. All the same, this is where it gets stuck something fierce. Occasionally it is necessary to start matches over because the system refuses further moves for no discernible reason or requests aren't received. If it takes too long for a player to answer, you can also invite other friends to a new game. This way you can have up to 20 games running simultaneously.
Facebook Through and Through
A connection with Facebook can really be found in just about every single thread of the game. If, for example, you have just laid a word you can post a snapshot of it on your wall. If you experience certain successes, such as being in the lead during the game, you can also post this on your wall. Even a chat function and a link to Twitter have been incorporated. The capabilities are indeed really nice. All the same, the constant requests for challenges or to upload snapshots becomes annoying very quickly. The game mainly just wants to involve you in as many ways as possible.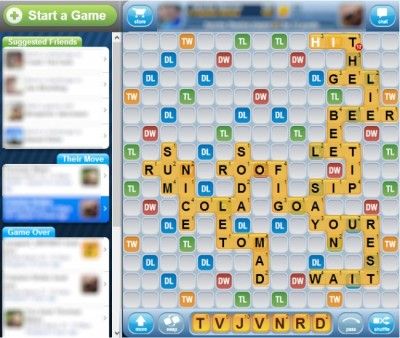 Information Box
Words with Friends in other languages?
Words with Friends continues to be offered only in English. It uses 173,000 words from the Enhanced North American Benchmark Lexicon (ENABLE). In the meantime four years have passed since its creation and no other language version of the game has been announced. We will of course keep you updated should a new announcement be made in this regard.
The fact that the game is currently enjoying a great deal of popularity and has even made it into television is reported on in more detail in an article published on our site  Namely,Words with Friends has made it into the popular US sitcom "The Big Bang Theory". 
No Game without Advertising
Since Words with Friends is played on Facebook, you will of course be bombarded by advertisements. This is especially annoying with the smartphone variation, which plays an advertisement video after each move and the video can only be closed after a certain amount of time has passed. This is of course bothersome while playing and can make it difficult to concentrate. Aside from that, the playing area is pretty for a free game and is very clearly arranged. You will be able to get your bearings quickly in the mobile and stationary versions and the operation actually hardly leaves any questions unanswered other than the sometimes confusing organization of the matches.
For game manufacturer Zynga, the monetization of the game doesn't stop with advertisements. If desired, players can buy game assistance or extras using a virtual currency in the form of tokens. Game assistance can include revealing the remaining letters, a point counter, or simply a new playing field background. The aids are not, however, essential for the playing experience. If the advertisements between moves annoys you, you can even free yourself of that burden with a paid version of the game.
Communicate with Words with Friends
Anyone who wants not only to participate in an exchange of ideas with other players via chat, but also to stay up-to-date regarding the game scene can poke around in the in-house forum. Here you will also find an official channel for new announcements or information about competitions. In any case, you can also just stick to exchanging ideas with others on any topic concerning Words with Friends and informing the developers of any errors.
Conclusion
One of the greatest advantages of Words with Friends for Facebook is surely the use of the Facebook friends list. It could hardly be any more convenient to find the players you are looking for. The easy operation and the short time needed to familiarize yourself with it make it a success. Its at times somewhat confusing progression of play and the rough notification system represent areas where it is lacking. In addition, the constant requests from the system to start a new match or publish your moves are rather annoying. If, however, you are someone who enjoys publishing your successes on Facebook, this function would be perfect for you.
It is of course a shame that only an English language version is available at this time. We are not the only ones eagerly awaiting another version.
How have your experiences with Words with Friends for Facebook been? Would you also want a Spanish version to be released in the future?