Word-grabber.com always tries to present new word games where you build words from letters like Scrabble or Words with Friends. The other day we came across a game we have never heard of called Word Mole. Word Mole is most likely familiar to BlackBerry smartphone users since it is one of the most played games for BlackBerry devices. Unfortunately, there is no Word Mole online game available. But recently the Word Mole game has been released for iPhone due to its great success. Maybe this is a chance for word-grabber.com to learn more about this phenomenon.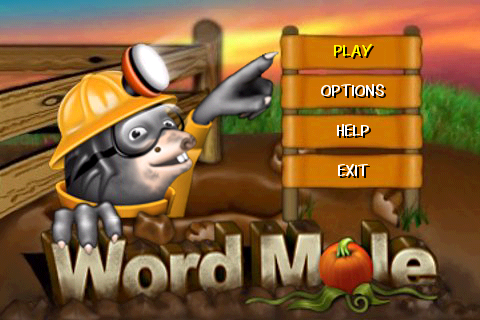 What is Word Mole?
Word Mole is a word game which focuses on a little mole and his garden, which is divided into 36 sections. Each section contains a letter. All letters can be used to form words and earn points. You have to try to form a word using letters directly above, below or next to each other. If you do it this way, you will receive updated sections which can be used to make words with these letters. There is also the possibility to use words that are not directly above, below or next to each other. This leads to holes in your garden though. To get rid of those nasty holes just try to use a letter that is beside a hole when making another word. Players can choose between a single-player game and a multiplayer game.
Word Mole Single-Player Version
If you need a bit of distraction while working at the office or waiting for a bus and you like to make words from letters, the single-player version of Word Mole is the perfect game for you. To complete a level in a single-player game, you always have to achieve a certain score. There is also a timeframe in which you have to achieve that score.
Word Mole Multiplayer Version
To get in contact with other players who are as crazy for Word Mole as you are, we recommend the multiplayer version of Word Mole. In multiplayer games you compete against other players without time pressue. A nice feature is the ability to chat with your opponent while playing Word Mole. Unlike in single-player version of the game, you can earn awards for certain achievements in the multiplayer version. These are, for example awards, for submitting the longest word or receiving the least number of holes.
Scoring in Word Mole
There are different ways to receive points by making words from letters Word Mole provided. You not only get more points for the longest words, but also for using less common letters. If you are very fast and don't need all the time allowed, you receive extra points for that as well.
Word Mole Bonus Letters
You have a special watering can in your garden. This is to grow so-called vegetable bonus letters. Using these vegetable bonus letters in a word earns you extra points. To gain even more of these extra points, multiple vegetable bonus letters have to be used in a single word. Before you can grow vegetable bonus letters and put them into play, you have to fill them with water. Do this simply by using water bonus letters in a word. Additionally, star bonus letters gain extra points and time bonus letters gain extra time.
Word Mole on Android
We wanted to give Word Mole a try on our Android systems. There are many external pages offering Word Mole for Android, but none of them actually worked for us. There is also no reference to Word Mole in the official Android Market Place. We are not sure if there ever was a working Word Mole Android version or if it was just an attempt to get attention from those people searching for it. If you should get lucky and find a working Android version, please write us.
Word-grabber.com wishes you good luck finding words on Word Mole and if you are searching for alternative word games have a look at our word game article section.