Word Candy is your typical swipe-and-win word puzzle game, with a touch of sweetness. The game was developed by Big Cat. It has a theme that is all about candy. You will notice it from the bright colours that make you feel as though you are in a candy store. In addition to great looks, it also delivers brilliant fun once you start gaming. The more you play, the more the words become tricky and challenge your deduction skills. The objective of this game is simple: Complete the number of words in each puzzle and move on to the next level. Anyone can enjoy all that this game has to offer, as it is compatible with all devices.
Gifts That Keep on Giving
When you get started playing this game, you will notice that there are plenty of free gifts that can be won. To begin with is the daily gift. Here you will be rewarded with jellybeans each day that you log on to the site. In addition to this gift, there is a daily puzzle. It has a total of three levels: easy, normal, and hard. You can choose which one you want to try out based on your level of skill.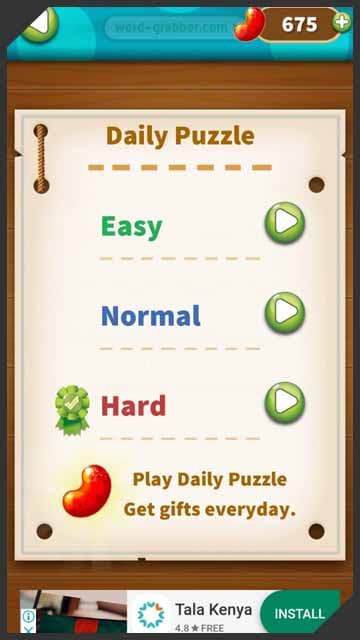 It is also possible, however, to try out all the levels and get gifts for each one that you complete. Once you have completed the daily puzzle, you can shape the way you want to play.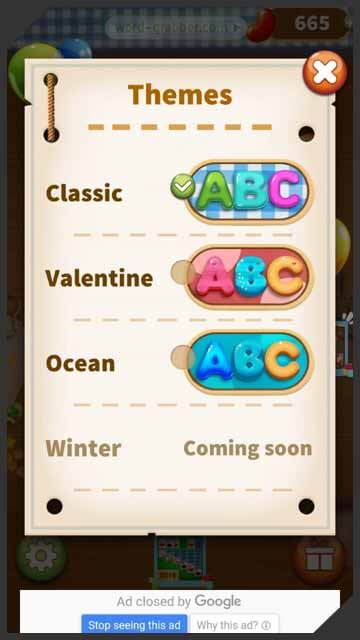 Before you play, you can decide on your preferred theme. There are three available: the classic theme, Valentine theme, and ocean theme. The classic theme features multiple colours and gingham design as part of the background. With the Valentine theme, the tones are pinker and more feminine with large circles being used in the background. The ocean theme features various gentle blue hues in the background. In the spirit of always evolving, the game continues to periodically introduce new themes, with the winter theme being the latest one.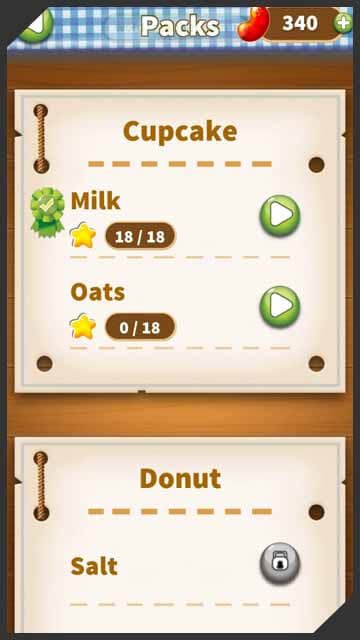 Once you have chosen your theme, press play on the welcome page. When you do so, you will immediately be taken to the game so that you can start solving. There are packs and within each pack are layers. The packs are ordered as follows:
Cupcake
Donut
Éclair
Froyo
Gingerbread
Honeycomb
Jellybean
KitKat
Lollipop

Within each pack, you will need to pass through several levels and each level is an ingredient with puzzles that need to be won. Once you have completed the levels, then you move to the next ingredient. The ingredients will remind you of a recipe for delicious treats.
Working Your Way Around the Puzzle
To get started with the game, you will see a circle at the bottom of the screen. Within this circle, there will be several letters in random order. You need to link the letters together to create words. To determine how many words and how many letters are in each word, have a look at the top of the screen. There you will find a rectangle and within the rectangle, squares in horizontal lines. The number of squares within a line is an indication of the number of letters that are within the word.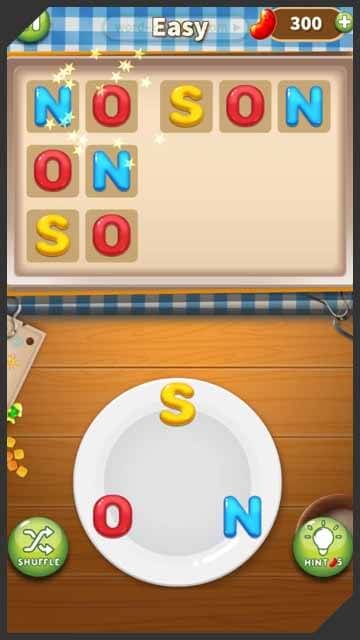 The better you become at the game, the easier it will be for you to figure out even the more challenging words. In the event that you get stuck and cannot figure out the words, you have two options to explore. The first is choosing the shuffle button, which will move the letters around making it easier for you to figure out a new word. If this does not work, you can choose to add a letter to the blank squares. This is possible when you press the hint button. Each time that you select the hint option, it will cost you five jellybeans.
You may use your beans faster than you can replace them. If this happens, there is no need for stress or worry. It is possible to get more free gifts of beans within the game. At the top of the gaming page is a box that contains the number of beans available. When you select that box, you can watch a video and thus get a free gift of some beans.
When you have completed the level, you will get a congratulatory message that features a bright star to urge you forward. You can then move to the next level of the game.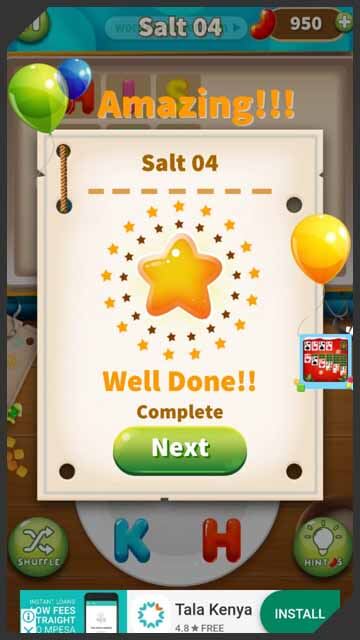 Nibble Your Way to a Win
Once you are in one of the packs, you will find several ingredients. Each ingredient represents levels to experience and complete. For example, the first pack is known as Cupcake, and has two ingredients – Milk and Oats. Within Milk, there are 18 levels, and in Oats, there are another 18 levels. As you move from one pack to the next, you will find that the number of ingredients increases within the pack. The second pack, Donut, is a good example. Here, the ingredients include Salt, Eggs, Flour, Sugar and Nutmeg. Each of these will have several levels to be achieved.
You can get a snapshot of what you will find in each level once you start a new pack. This will give you a clue as to the number of letters within the puzzle and you can start solving them even before you unlock the game.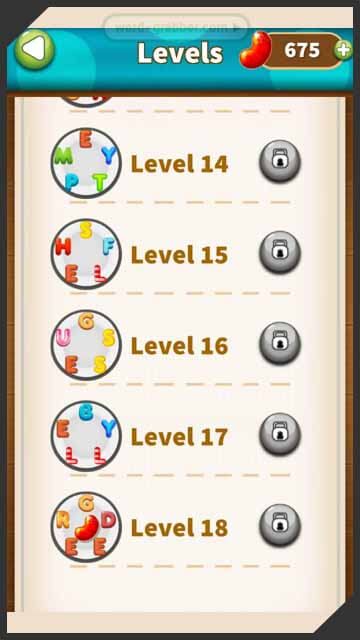 There is So Much More to Come
You are bound to spend hours on this app, moving from one level to the next. After some time, however, it may seem a bit redundant. This comes from what you are moving to. When you get started, there is excitement moving from one level to the next. After some time, there is not much new to look forward to. The bonuses remain the same, giving you the chance to use a few beans to fill a space on the board. Then figuring out the word and filling it in.
Pic: Making the Game more Interesting
The developers do make some effort to make the game more interesting. That is by making it possible to try out different backgrounds while playing. The change in visual is meant to make the games much more interesting, however, the essence of playing swipe and score remains the same.
The game is meant to link with other players so one can observe their progress on a leader board. When I was playing this game, there was no option to join with friends for games, and there was no leader board. This was disappointing as it would have made the game much more interesting.
This game also has the benefit of allowing players to enjoy it without having to make any in-app purchases. This is great especially when one runs out of the lucky jellybeans. It is possible to get more simply by watching a few videos or waiting for the daily puzzle.
Word Candy is an interesting game that is bound to keep you occupied for some time, but there is still lots of room for improvement to make it stand out from other similar games.
Advertisements When Playing
There are not too many advertisements when you are playing on this site. For the most part, they last for around five seconds and then you can skip the advert. What you will find annoying is the adverts that appear as a horizontal strip at the bottom of the screen. They are not large enough to obscure the game, but they are large enough for you to notice them.
Everyone who plays this game has a different experience and you can as well. Take a moment to try out what this game has to offer. You will find that you can enjoy hours of gaming with ease, as you move through all of the many levels. Experience everything that Word Candy is about and get ready to play lots of games with everyone in your family.
image sources
title – logo with candy via getstencil for word-grabber.com
picture 1 – 7 screenshots of the word game app word candy for word-grabber.com