Word Beach is a fun modern game brought to you by Kooapps. This game is all about going on a journey, which will take you to brilliant islands all around the world. Experience all the best beaches of these islands through amazing word puzzles. This game shines when it comes to simple communication, so that all you are focusing on is building the words. When you are on the welcome page, you will see the scenery of a beautiful beach. Then you can select to play, where the level you have reached has been highlighted, or check out your boat level and the number of points you have acquired. If you need to see more, there is a menu as well as the store where you can get some more coins to give you a leg up.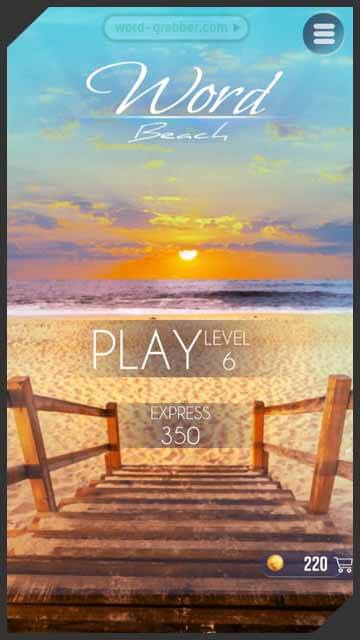 Discover the World's Finest Beaches
The levels of the games are divided into island categories. Each category names a famous place. Within each category, there are several levels. Each level is the name of a famous beach on that island. As you learn about stunning beaches from level to level, your word power is being built up too.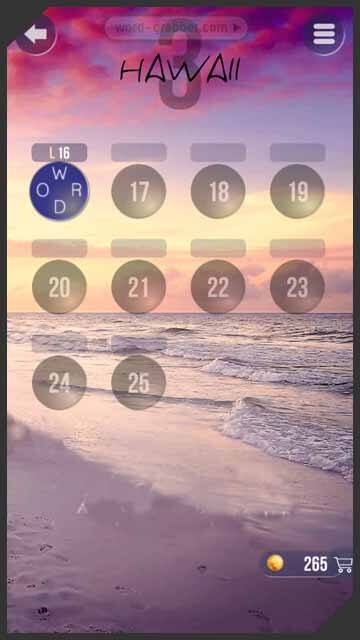 Some of the islands that you can look forward to experiencing include:
Hawaii
Bora Bora
Aruba
Jamaica
Bahamas
Fiji
Koh Tau
Key West and much more
The game begins with players in Hawaii, moving through three levels to get to the beaches. In each level, you will find a few word games to solve. The first beach to be unlocked is Maui. When you unlock the beach, you get some information on it so that while you are playing, you are learning as well.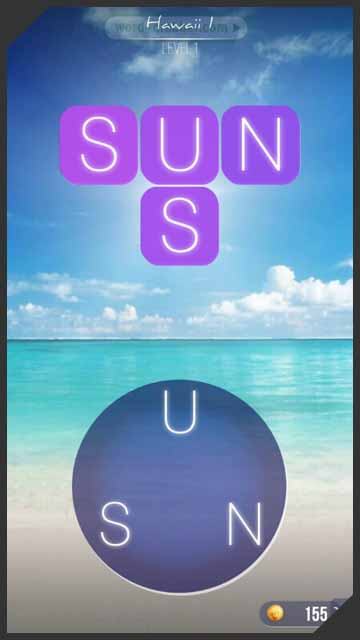 Here is how you get started with this game. Once you are on the level, the screen is divided into two. At the bottom of the screen, you will find a circle with letters in it. Your task is to swipe and connect these letters to create a word. Once you have done so, the letters will appear in the boxes in the top part of the screen. You need to fill in all the boxes with words to complete the level and move forward to the next.
Two things could happen when you are doing this. The first is that you create a word that does not exist. When this happens, the boxes will not be filled up at all. If you create a word that does exist, but is not in the puzzle, it is counted as a bonus word and you get a star at the bottom of the screen. Every time you create a bonus word, you receive awards in the form of coins.
As you progress from level to level, the games become more challenging. This means that the words become longer and more challenging, so you spend more time figuring them out. As a beginner, you get to develop your skills, moving from two-letter words all the way up to even six-letter words.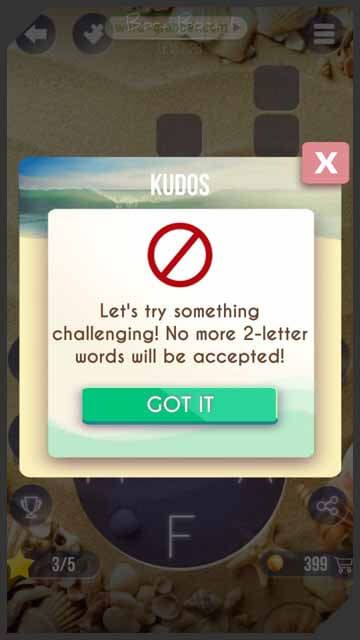 Lots of Buttons to Help You Along
This game aims to win and there are plenty of buttons to help you achieve this goal. At the beginning of the game, there are no buttons at all. As you progress through the levels and categories, more buttons are revealed. This adds to the element of surprise and discovery as you continue your word puzzle journey.
To begin with, there is the shuffle button. This one should be chosen when you cannot make sense of the letters and mixing them up may make it easier for you to find a word. Should you still find that you need more help, then you can choose the light bulb button. This will randomly place one letter in one of the boxes to make it easier for you to figure out a word.
There is another button that has three bulbs in it, and you will only get this one once you have passed several levels and completed an entire category. With this one, you can fill in an entire word on the board.
You can also get the first letter of the word placed within a specific box by picking up the finger button. This may be the edge that you need to complete the level much faster.
The next button you will see is a little fraction button, which will have some stars next to it. It is in this area that all the bonus words are credited. When the fraction shows a number that is more than 1/1, then it is full. Make sure to open it so that you can get the coins rewarded. When you choose the bonus word option, a small pop up will appear. Here, you have the choice to collect all the coins, or you can choose to double them. If you decide to double them, you will be redirected towards advertising and, within a few seconds, you will have more coins in your wallet.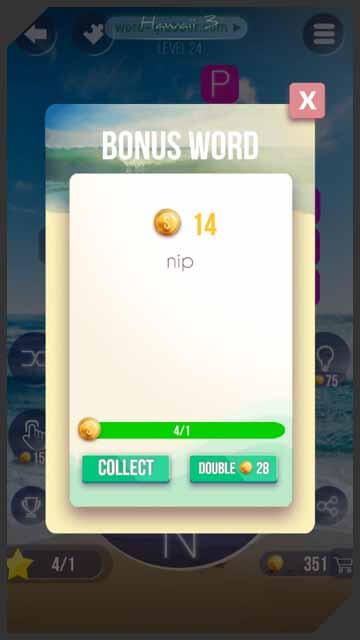 There is plenty of encouragement when you get something right. This includes words such as superb, well done, and excellent. You will always see an encouraging word when you complete a level.
Why keep all your positive progress to yourself? You can quickly share your achievements on social media by selecting the share button close to the bottom of the screen.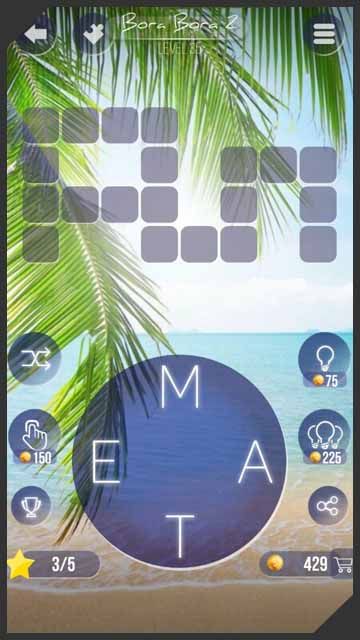 Discover Brilliant Boats
There are several boats for you to discover while you are playing this game. When you get started, you have a little boat and the more you play, the bigger the boats become. The first boat you can get is a simple express boat. Each time you complete a level, you will be given a few points. To get the boats, you need to get the full number of points allocated. The Express boat, for example, requires a total of 1999 points. Once you have acquired enough points, you will earn the boat and can aim for the next boat. The other boats that you can receive as you earn points include the Flybridge, Sky Lounge, Sports Cruiser, Sport Bridge, Tri-Deck and more.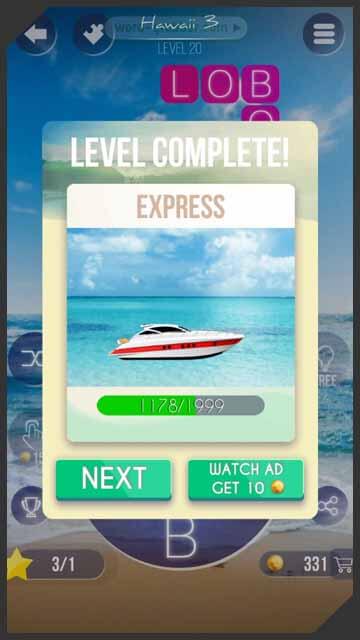 The Secret to Getting Lots of Coins
This game features many quests that give you a chance to win some coins. In fact, the more that you play, the more extra coins you can get. Almost all the actions that you take in the game will reward you in one way or another. Reading the tutorial, for example, will give you ten coins. Playing daily can give you up to 100 coins. The more words you spell, the more coins you can win.
The quests can be found in the little trophy icon. When there are some coins for you to retrieve, you will see that the trophy starts glowing. Simply select it and claim your bonus points with ease.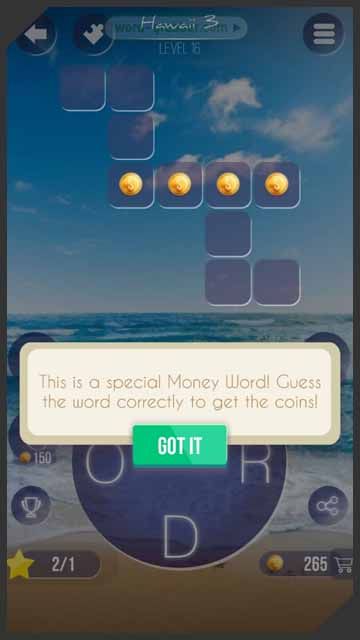 Advertising
You will love playing this game, because you do not get interrupted with lots of adverts when moving from one level to the next. You can use the adverts to your advantage the more that you play. When you watch them, coins are added to your account, making it easier for you to move from one level to another.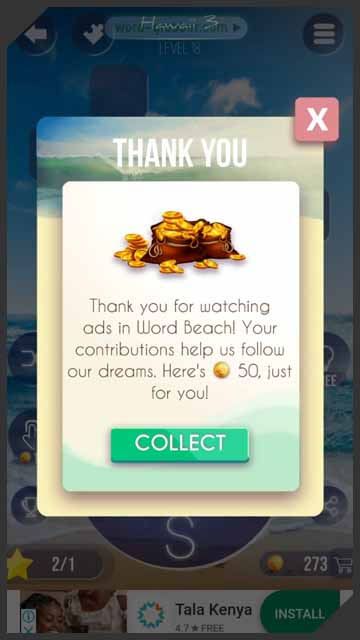 Little Touches that Could Make All the Difference
This is a solo game, meaning that you cannot play with your friends or have competitions. The most that you can do is share your accomplishments on social media so that your friends can see your progress. Adding that element into the game could make it more interesting so that one does not feel like taking a break after the first few levels.
Changing the Face of Swipe Puzzles
Swipe and puzzle games tend to get a little boring, since players simply move from one level to the next. In Word Beach, you look forward to completing each level, as when you do, there is something that you discover about a new beach. It doesn't end with this discovery, though. You are also working towards unearthing brilliant boats to carry you along the rest of your journey.