The New York Times crossword has something for everyone and is bound to keep your mind occupied for hours. It has been the staple start to the day for many people who love to purchase their daily newspaper. Now, the daily crossword is available on your phone at any time, simply by downloading the New York Times Crossword app. One of the best things about playing on the app is players get to experience the crosswords the evening before they appear in the daily paper. Each day, the puzzles are available from 10 pm E.T. and on the weekends, at 6 pm E.T.
Starting the NY Times Crossword Week
At the beginning of the week on Monday, the puzzles are easy and simple. As the week progresses, you get to really build you word power as they become more challenging. Here is what you can expect:
Monday – An easy puzzle to start off the week and get the mind in motion after a restful weekend. .
Tuesday – An easy puzzle with quick clues and solutions. .
Wednesday – Medium difficulty puzzle that causes some head scratching and 'aha' moments. .
Thursday – Trick puzzle with twists and turns, and unexpected surprises. .
Friday – Hard puzzle for really building your word power and proving you are a word maestro. .
Saturday – Hard puzzle to take your time and figure out carefully so you get it right. .
Sunday – Medium puzzle to wind down at the end of the weekend, relaxing and mind-strengthening at the same time.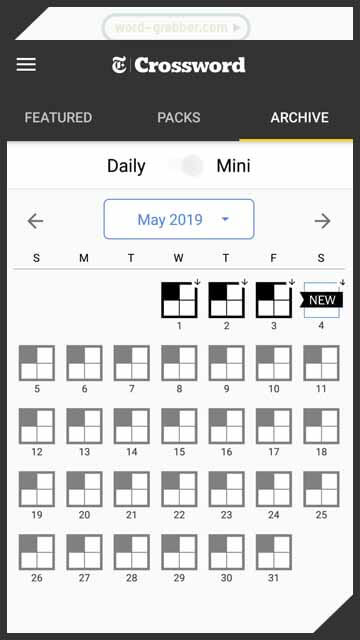 The great thing about these puzzles is that they are timed, so as you move from week to week, you can gauge your skill on whether you take less time to complete a puzzle. You may find that at some point, you can't think of any answers to fill in the blank spaces. You can take a break and when you come back, the timer will continue from where you left off. If you finish your puzzle for the day and still want to keep going, it is possible to play a puzzle from the archive. The archive can take you back a day, or even years. All you need to do is select the month, year, and date of the puzzle that you would like to play.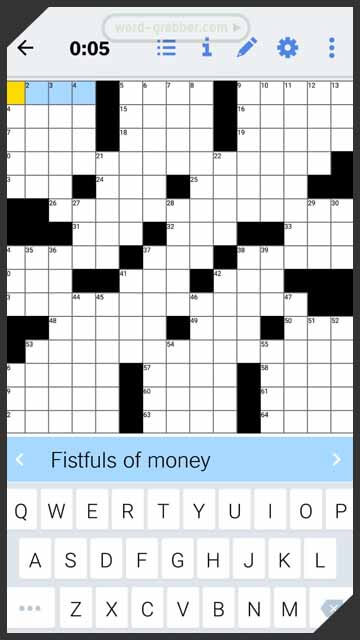 For the tough puzzles, you need to have a subscription after the 7-day free trial. Then you will be able to continue to enjoy them. If you do not have a subscription, you can still play the mini crosswords, which are much easier to solve.
Sussing Out a Great Crossword Puzzle
Will Shortz is a mastermind when it comes to being creative and playing with words. He is the main constructor and editor of the puzzles that you will find on the NY Times Crossword. It seems that his mind is always racing with possible word combinations, riddles, and mysteries. He puts all these together and then uses them to create amazing puzzles. His efforts have helped to open the world of puzzles to a younger generation, where in the past they were mainly for players aged over 50. Teenagers are creating puzzles now, so the options that you will find in the NY Times crossword will be current, interesting, and relatable.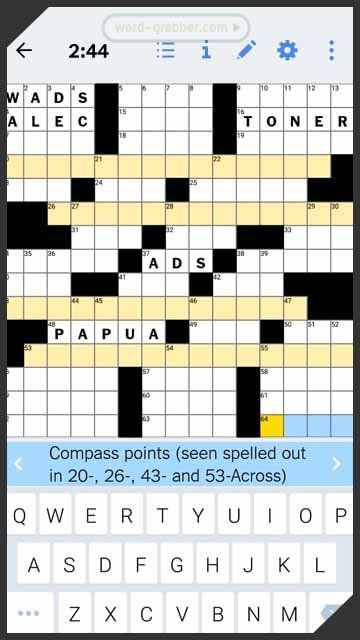 If you need help for finding an answer for one crossword clue, try out our
crossword solver
on word-grabber.com!
With a great crossword puzzle, you need a great player experience. Customize yours by choosing puzzle preferences you can relate to. Here are a few you will find in the app.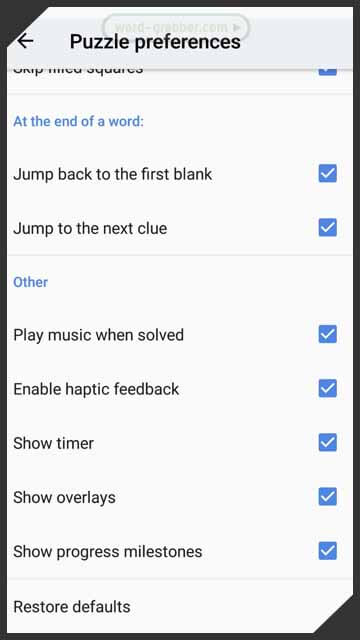 Take a Small Crossword Bite at a Time
Building your grammar skills can be done, even with the mini crosswords. These crosswords are ideal for you if you want to enjoy crossword puzzles, but do not want to pay any charges. You will find a new one each day as well. Since they are smaller crosswords and so much easier to play, you may finish them faster. You can choose to download puzzles from months before to keep you occupied and continue building your word power.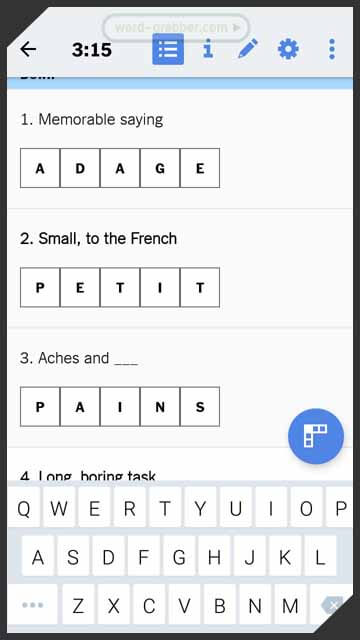 It is also possible to spend a little to get some more mini crosswords. For around $0.10 each, you can purchase a bundle of 30 puzzles, with the first one being available for you to try for free.
Play as You Want to When You Want To
When trying out the crossword puzzles, for the most part you must be online. There are times when you want to play and lack a proper online connection. This may happen, for example, when you are taking a flight and there is no access to wireless internet.
You may also want to have access to puzzles at any time, wherever you are, without worrying about connection issues. To cater to this, the New York crossword offers packs. Packs enable you to download multiple puzzles at a time so that you can play while offline. You can choose to play packs that cover general knowledge or instead opt for a pack that has a specific theme. Some of the themes that are available include Comin & Superhero Midis, Black History Year Midis, I Love the 60's, California Dreams, Summer Memories and more. You can also choose to create a collection of crosswords to help you suss out everything you can about a topic. If you know that you may not have access to the internet, this is just the solution that you need.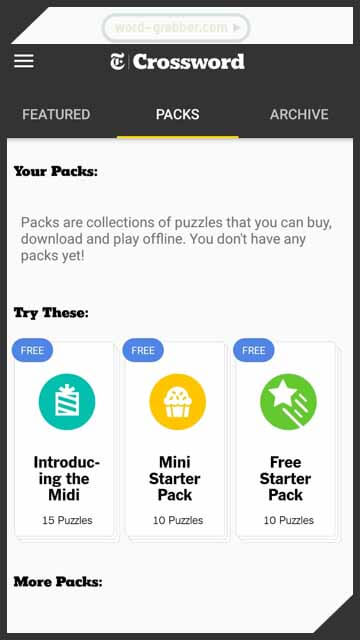 At NY Times Crossword, Size Does Not Matter
There are midis as well as minis that you can get in the packs. The midis are larger than the minis, but less complex than the daily puzzles. This is because the minis will typically have a 6 x 6 grid, while the midi has a 9 x 9 grid. The daily puzzle will have a grid that is at least 12 x 12, though it is possible for them to be larger. These puzzles are the perfect quick crossword fix when you have just a few moments to indulge. It may be challenging to decide which of the packs that you want to try out. For all the packs, you can try one crossword for free, then make the decision to download the rest.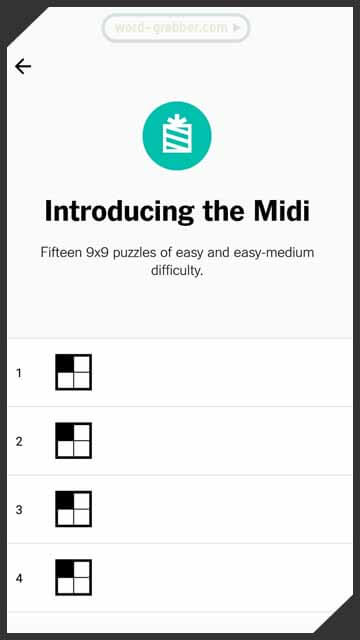 After you download the app, you will need to create an account so that you have a subscription. This makes it possible for you to keep track of your progress when you are playing on different devices, or if you just want to connect to the internet and keep going.
Play Your Preferred Puzzle with Ease
As you keep playing puzzles, you may find that you prefer puzzles created by a specific person. For the most part, the puzzles of the NY Times crossword are edited by Will Shortz. To find out the creator of the puzzle, just check out the name of the author, written underneath the month and the date. You will also see who the puzzle editor is.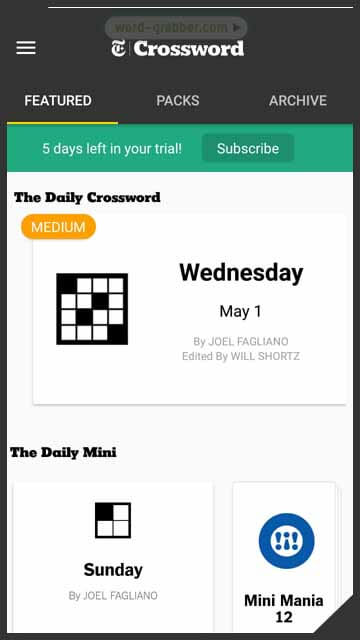 If you are looking for puzzles from a specific creator, then the archives are where you need to spend most of your time. Here, you can simply swipe and scroll through hundreds of different crosswords, until you find the one that you like.
Don't Waste a Moment, Subscribe Now
There is one way to enjoy all of the NY Times crosswords on your phone. That is to subscribe. When you do so, you get benefits that are worth your while. You can subscribe each month or you can choose an annual plan. The annual plan makes much more sense at just $39.95, while the monthly plan costs $6.95. Once you choose your plan, it will be renewed automatically each month, unless you decide to disable this feature.
With the subscription, hundreds of the daily puzzles will be available for you. You can look forward to hours of enjoyment, as you will also have access to games in the 20-year archive. Build your word power, challenge your brain, and enjoy every experience that the NYTimes crossword has to offer.
image sources
All pictures are screenshots of the NY Times Crossword App by word-grabber.com