If you are someone who appreciates Word Games, but find that crosswords are much too challenging when you are seeking light entertainment, then the Word Search solver game is just what you need. This game is offered completely for free by AppDrac & Notyx Games. Word Search is a game that can keep you occupied for hours, leading into days, as it has so much to offer. It is also wildly popular, which is evident from the more than 50 million downloads that it has to date.
Choose Your Topic and Your Difficulty
When you open the application for the first time, you will see four drop down menus that you can choose from. The first of these is topics, where you will find more than 15 categories to choose from.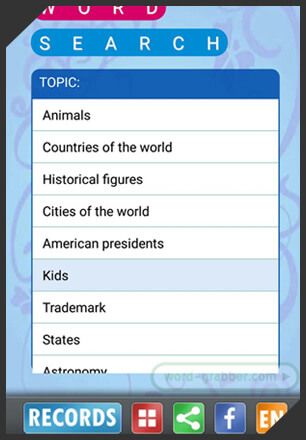 This is followed by the difficulty drop down menu, where it is possible to choose your difficulty based on the size of the grid or you could also choose for the "auto adjust" option. The next drop-down menu is for the number of words. Here you can choose to have them limited by the size of the board or all the possible words. The fourth drop down menu enables you to decide whether you want the help option to be available to you or not.
There are so many different combinations that you can choose from, that you are bound to find hundreds of games to keep you occupied. In fact, with the options available, you can start off with easy options, and the better you become, the more complex the game can become as well.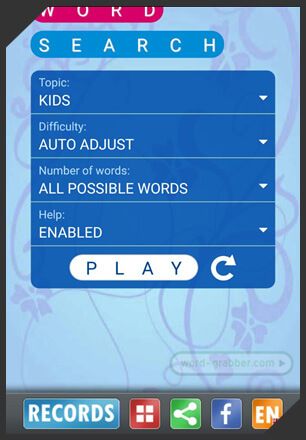 How the Word Search Game works
Once you have decided on your topic, difficulty, words and help, you will be able to select the Play button and go straight into your first game. Here, you will see the Word Search grid, and at the bottom of the screen, the list of words that are hidden within the grid. The words are available in all directions, including vertical and horizontal, as well as diagonal. You can also choose the words spelt out forwards or backwords.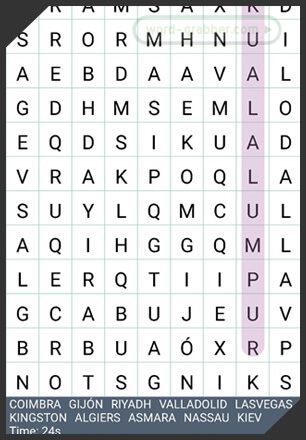 Below this list of words is a timer that counts how long it takes you to complete a game. With this feature, it is possible to see whether you are getting better and faster at the game, your time is featured on the top of a leader board.
Now, what happens when you find the words? Well, this is where the colour of the game shows up, adding to the overall joyous experience when playing this game. With each word that you find on the board, the word lights up and each word has a different colour.
After playing the game for many different rounds, I have never come across the same crossword first. Every time that I play, there is something new to look forward to and to learn.
Building Up Your Skills
If you are really into learning, then you will love playing when you are experiencing this Word Search.
There is learning that you can experience from the available topics, and then the surprises come in. These occur on special occasions, where seasonal categories and words are available. Some of the options that you can look forward to are the Christmas Word Search, the Thanksgiving Word Search and even the Halloween Thanksgiving Word Search.
Quirks, Words in Words and Advertisements
The reason that this game appeals to more than 50 million gamers comes down to the fact that it is open to people from all over the world. It is available in seven different languages including Catalan, Spanish, English, Italian, French, Portuguese and Russian. However, there is an interesting quirk when it comes to this. The instructions for the word search are available in the respective languages, but when you go into the games you will find that the actual word search is in English. This would be ideal for people who are looking to learn the English language, but for other players, not so great. They will be fitting words which are unfamiliar into the grids but can still have some fun without needing to do any deep analysis.
Another thing that you may find is there are words within the words. For example, when playing an animals word search, you may find that you have to find the words Dormouse as well as Mouse. It would be great if this could be avoided within the game, but it does not take away too much from the excitement of the game.
There are some advertisements that you will find within the game, but they are not so many that they become obtrusive. For the most part, after a few seconds, you will also be able to skip the add meaning you can have an almost uninterrupted gaming experience.
The ingame Words Search Help
Normally, when you see the help option within a game, the expectation may be that you will find clues or tips within the game that will help you get higher scores with ease. When I started playing this game, I looked out for this type of help and did not actually see this happening. For this reason, I chose to switch off the help option (disable it) and see what would happen.
That is where I realised that Word Search can be a really difficult game and really build up on memory and analytical skills. When you switch off this option and go into the search, you will notice something very important missing: The list of words that you are meant to find. Instead, you are told how many words are within the word search, and now you must find them. That`s challenging, but manageable.
Conclusion
Word Search is a game that everyone in the family can play since it has so many different levels, categories and stages in difficulty that one can experience. It is consistently being upgraded, so you can look forward to the fact that it is always getting better. It also has the added benefit of being totally free, so players do not need to worry about being locked out of levels or finding that they cannot progress from one point to the next.
Want to read more reviews?
Just check out our other reviews about word games like Crosswords With Friends or Wordscapes. Do you need help for one game try our Word Finder Tools!