Players who love word games will find that there are plenty of options out there: Word-finding games where words are finger-wiped together and classic word games in which words can be placed on a board like the new one called Word Domination.
The game easily stands out from all the others you may have tried. This is a game that offers thrills from the moment that you get started, all the way until you finish one game. With millions of people choosing to enjoy what this game has to offer, you can count on the game being brilliant. In fact, it is getting better and better each time you choose to play.
The game has been designed by MAG Interactive and has one main objective: Helping players to enjoy word games with other players online through challenges, or by playing with friends that you can make while gaming.
How to use the Bonus Tiles
The game is set over a magnificent board that has 9 spaces for tiles on each side, making up a square. Within this square there are some plain tiles, while there are others that have some letters. The letters represent bonus tiles and making the most of them will help to elevate your score as you are playing. The letters you will find are DL, DW, TL and TW.
If you place a word on the DL, you will double the value of the letter on the tile, while TL will triple the value of the letter. Then there is the DW which wills double the value of the entire word, while TW will triple the value of the word.
All the letters of the alphabet are dealt for the game, and each letter is allocated a value from 1 to 10. The most common letters are rated one, the rarest ones ten. The aim of the game is to lay down words with the help of seven letters from your rack.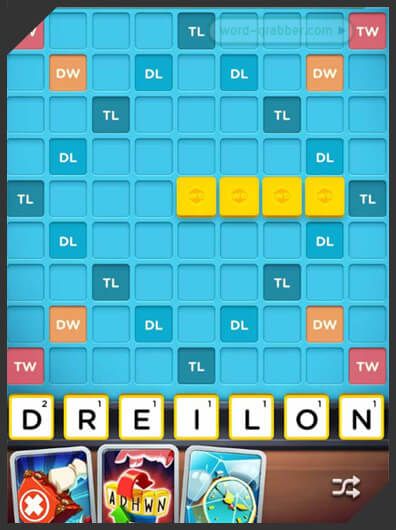 A Healthy Dose of Competition
One of the most fun parts of playing Word Domination is being able to enjoy the games with your friends. You will also find that you can make new friends while you playing the game.
First: This is a two player game. When you start playing, the game looks for an opponent for you. Once the opponent is found, you move towards the board. You can play with someone new at every game. You can also choose to play with your friends. And another fun, you can share a short comment with a friend when playing. This includes saying hello, thank you, or giving kudos for a round well played. But it is not possible to chat with your opponent and to speak about other things.
Trophies, Coins and Prizes in the Game
When I started playing this game, I found it has lots of dimensions. The first is being able to play with an opponent.
The game is quick, with each person having to create five words. The one who has the highest points wins. Once a person wins a game, they get points, move up levels, win trophies and can also get coins. Coins can be used to buy things, trophies move you up skill levels too.
There is also the chance to play at tournaments. You need to win several games to get prizes. The more games you win, the better the prize you can receive. There are new tournaments to play in each month.
Hidden Cheats? The Boosters
With many word games online, players are on the look out for cheats to make it through. Instead of cheats, this game has boosters. Boosters give you a few tricks that you can try out to get an edge over a competitor. Some of the boosters allow you to switch tiles or add bonuses. Others can speed time or speed up time. You can also increase the number of points you get for each play.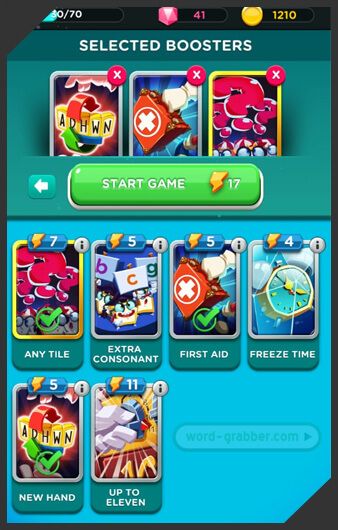 There is another way that you can boost yourself, and that is by playing the daily challenge. Each day, you have a chance to get more bonuses. This is by making sure you meet each challenge.
One more cheat that you can look out for is when the tiles glow green. If your tiles all line up to a correct word, they will glow green and in the top left corner, you will see how much they add up to. Why this is a cheat is because you may not have any idea what words can be formed, especially the short words. You can just place your letters on the board and see whether they light up. This is a great way to fit some of your letters into the tightest spaces with ease.
As I have noted, the usual vocabulary is used. That's why it's good to train. This is best done with our WWF cheat.
A Deeper Look at the Letter Scores
A key part of your strategy is creating words that will give you the highest points. This is where understanding the tiles come in. Each time of the alphabet is represented. With other similar word games, there is often a blank tile. On this game, there is no blank tile. Each tile has a letter and a value.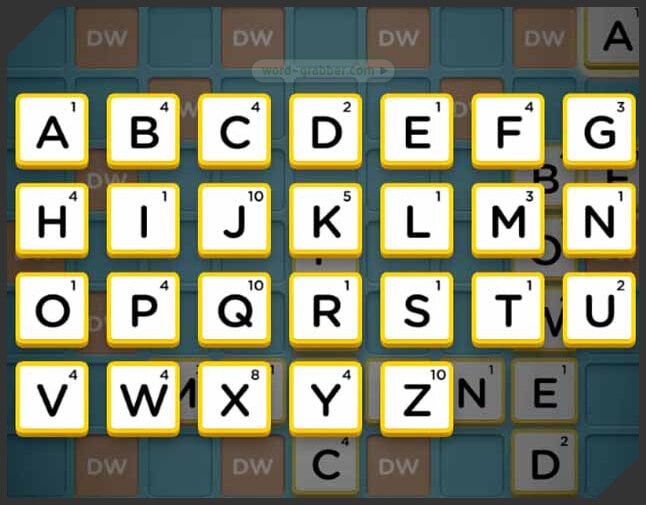 All the vowels, A, E, I, O and U have low values – possibly because they are the most numerous. A, E, I and O are all valued at 1, while U is valued at 2.
The other letters that are worth one point are L, M, R, S T and U. There is one other letter worth two points and that is D.
There are those that are worth three points and they are G and M.
The letters which are worth four points are B, C, F, H, P, W and Y.
The one which is worth five points is K.
There is one that is worth eight points and that is X.
Then the high value letters that are worth ten points are J, Q and Z.
If you want to win, it is invaluable to know which tiles are available and what their value is. This may also give you an idea of what your opponent may have in hand.
If you really want to enjoy a massive amount of points, you should try playing all seven at a go. With each hand, you will get seven points. If you make a word that uses all the letters, you get a bonus of fifty points. This may be just what you need to tip you over the edge with your opponent.
Some of the Disadvantages of Word Domination
This game is brilliant if you are looking to enjoy gaming. However, there are a few things that need to be tweaked. To begin with, it is impossible to pause a match. This means that you need to think quick. You also need to have a stable connection, or you might lose.
Another thing to watch out for is your energy. Energy is linked to the bonus cards. For each game that you play, you need to choose three bonus cards. Each card has its own value that costs energy. You have limited energy in the bar, so when it runs out, you need to give it time to come back up again. Or, you could keep watching ads to bring the energy up.
If you are like me, you may not be a major user of the bonus cards. If you do not use them, then it is simply a waste of energy. So, in a way, you are forced into using the bonus cards with each and every turn.
You also need to collect gems so that you can use them to increase your energy. Gems also buy bonus cards. They are hard to come by, but you will find and earn them when playing different levels.
Advertising in the Game
This is a free to play game. With this, you can expect to find a large number of adverts playing. In fact, each time that you finish a game, you will watch an advert. If you want extra energy, you need to watch an advert. On average, the adverts last for around thirty seconds.
Conclusion
Word Domination delivers, especially when it comes to a thrill. The fast pace of this game will keep you on your toes. You will make friends and challenge your friends for enjoyable gaming. You can play this game for free, and if you want some more benefits, buy them. Make the most of the boosters, because you have to. Try out the tournaments if you love a good challenge. Brace yourself for hours of unforgettable play. It is amazing, addictive and unforgettable, with lots of twists and turns.
image sorces
titel – Screenshot of Word Domination with figure by 1337 UGC GmbH via getstencil
pic 1, 2, 3 – Screenshots of the App Word Domination developed by MAG Interactive