Christmas is nearly here! What could a Scrabble fan want more than a good game of Scrabble with his whole family under the Christmas tree? A round of Scrabble with one of the many special editions of course. So here are a few gift ideas for you this year. You might even want to put one of these games on your own wish list!
Scrabble Nostalgia Tin
It looks old, but is absolutely new! A Scrabble game in a beautiful tin box. The design is based on the first Scrabble edition from 1948. At that time the game was obviously not in a tin box, but rather in a cardboard box.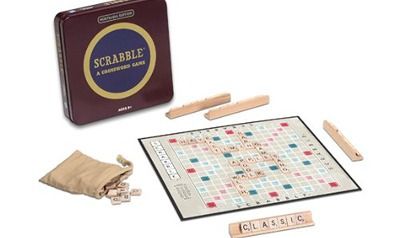 Scrabble Diamond Edition
In 2008, Scrabble turned 60. In that year, the "Diamond Edition" was published. It transformed the game into a kind of Scrabble case. When you open it, the Scrabble board opens up. Incorporated into the board are little drawers with the letters and racks. The racks are not straight, but curved. By rotating the game board, each of the players is able to look at the board right-side up. This edition is a beautiful gift, even after the 60 year anniversary!
Scrabble Glass Signature Edition
The Glass Signature Edition has a rotating playing field too. The game is made of solid glass with perfectly matching black letter tiles.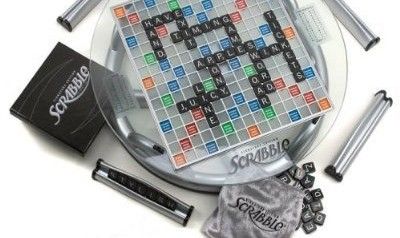 Scrabble Platinum Edition
This is a quite expensive, but elegant edition! The beautiful platinum silver metallic design invites you to play.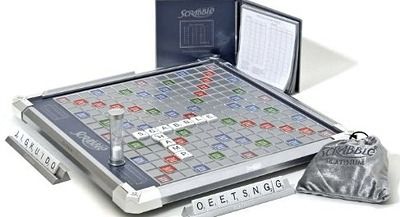 Scrabble Pearl Edition
If you were to ask me, I wouldn't be able to decide between the Nostalgia Tin and the Pearl Edition! The Pearl Edition has colorful letter and word value fields that stand out beautifully on the pearly white game board. The notepad with the star print is also very nice.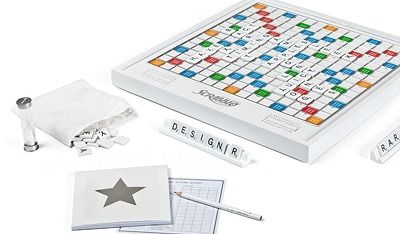 Scrabble Luxury Edition
I guess it's not only fun to play with this Edition – it might also be used as a decorative piece on your shelf: The Luxury Edition is made of beautiful dark walnut wood with a leather tile bag. You can store the game pieces in a compartment under the board.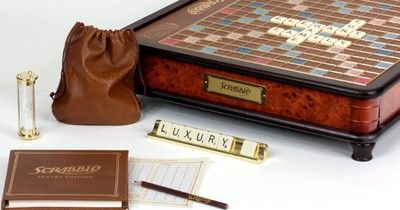 Scrabble Onyx Edition
Like the onyx stone, this edition is all black with some white and silver highlights. The tile bag, for example, is made from a silver colored silk fabric. Très chic!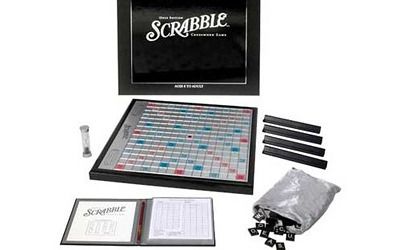 Scrabble Travel Deluxe Edition
You probably already know the Scrabble Travel Edition. But how about this deluxe version? It is a little fancier than the ordinary travel edition – but the game board will still prevent your letter tiles from slipping off the board while you're playing in a car or train.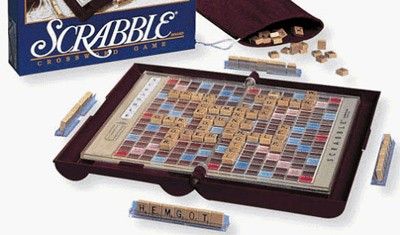 Deluxe Wooden Edition
If you liked the Luxury Edition, also take a closer look at this board. It is made of mahogany wood with golden details. You can also rotate the board in any direction you like.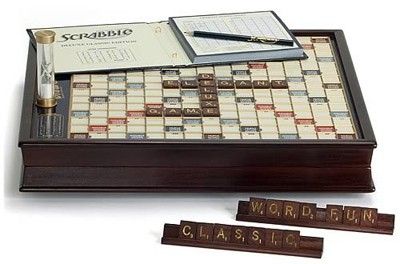 Isn't it amazing how many Scrabble editions there are? I hope my list helped you with your Christmas planning and you'll have lots of fun purchasing gifts and playing Scrabble on a beautiful new Scrabble board.