Players from around the world participated in the annual Malta International Scrabble Open, enjoying stiff but sweet competition in a lovely setting. This year the MISO returned for its 10th edition in the vibrant tourist village of St. Julians. The event has retained its structure featuring an Early Bird, a Main Event, and a Late Bird tournament. We dropped by for the main tournament of 25 games to have a look at the boards and a chat with the players.
The Game of the Tournament – Webb against Berofsky
Just like its predecessors in 2015 and 2016, this year's edition was structured as three tournaments: An Early Bird tournament of 9 games and a prize pool of €500, the Main Event of 25 games and a prize worth €1,800 and a Late Bird tournament of 16 games and €900 as a prize for the winner.
While there was a variety of exciting games to see in all three tournaments, it was the main event that attracted renowned international players such as Evan Berofsky of Canada, the defending main event champion David Webb playing for the UK, and Piotr Andronowski placing the tiles for Scotland. During the whole main tournament, it seemed that the next MISO winner would be the same as last year's: David Webb. After 24 games of a tight contest overall, however, the air got thinner and thinner around the tournament's two favourites, Berofsky and Webb. If Berofsky wanted to win the tournament, he had to beat David Webb with no less than 36 points.
Intense Final between Berofsky and Webb
In an intense final game between the two of them, it was Berofsky who scored a high win on the last board played that day and won the main tournament literally by a whisker with +1668 points overall and thus just five points difference from, and consequently the same number of wins as, David, who scored +1663 points altogether. The whole final game of the 10th MISO between Berofsky and Webb was livestreamed and recorded by the tournament manager John Chew and is definitely worth watching!
Theresa Brousson Back on Track
While some tight games between David Webb, Evan Berofsky, and Piotr Andronowski were expected, it was also a tournament that saw Theresa Brousson of Malta return from a hard two-year break, to show if she can still keep up with other competitive international Scrabble players. During her break, Theresa dedicated all her time to providing a home for stray dogs from Sicily to Malta and had no time to practice, let alone play in tournaments.
The MISO is her 1st international tournament since then and the expectations of her performance ranged from low to high among other players. As it turned out, Theresa still has all it takes to battle the best. Finishing the intense main tournament with +889 points and in third place, she proved all the critics wrong. What is more, she saved third place for no less than six consecutive last rounds.
With 15 to 9, Piotr Andronowski scored just one win less than Theresa Brousson, but did not get beyond the sixth rank due to two competitors with 16 wins each, with Steve Perry for England at rank four and Vincent Boyle for Scotland achieving the fifth position.
"Fantastic Playing Conditions" for the International Scrabble Scene
Playing Scrabble in a competitive, but sweet tournament such as the MISO is even more fun when the location has a prime view over the Mediterranean Sea and a conference room with plenty of natural light and space for the tables.
When some of the players were asked what they liked most about the MISO and Malta as a Scrabble tournament location, most of them agreed on the Maltese weather, beaches, and the ideal facilities. So did finalist David Webb, who we asked about what it is that makes the MISO 2017 stand out from other European tournaments:
"I particularly enjoy coming to Malta. What makes it different is the beautiful scenery and it is just fantastic playing conditions. This room is superb, it has natural light and lots of space between the tables and it is a really friendly tournament, but at the same time high-quality Scrabble."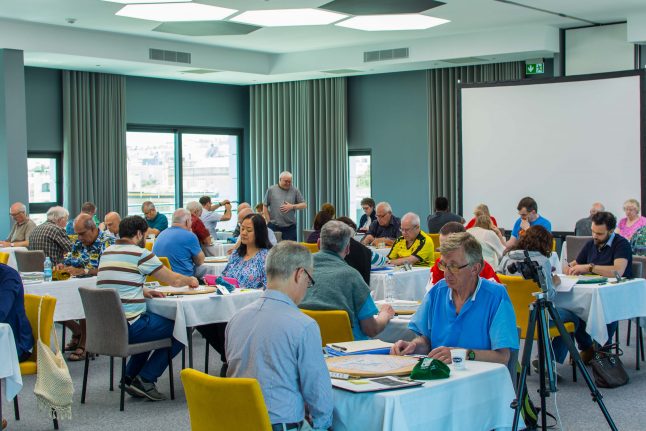 Scrabble in Malta: The 10th MISO Main Event in a Nutshell
The tenth anniversary of the Malta International Scrabble Open was definitely a blast for both the players and the tournament organisers of the local Malta Scrabble Club. It was a tournament of players and games with a variety of skills and paces, but definitely one with a very tight and exciting last game between the finalists, Evan Berofsky and David Webb.