Most of you probably already noticed the new word profiles. A few weeks ago, we launched detailed information on all the words you can find through one of our word searches. I just wanted to fix the last layout issues before officially introducing you to the word profiles.
The new content is huge. Every word has its own word profile now and you can access all of them on three ways:
from the results of a word search
through the index pages
through the direct word profile search
word profiles
The word profile pages contain information about the word and its appearances resp. validity in different word games including the basic points you can score with it. Scrabble players know the famous ZYZZYVA, the Scrabble word with the amazing score of 43. You can learn from the word profile that this word is also valid in Wordfeud and Words With Friends, but scores one point less in the latter.
You can also find the external links to Wikipedia or Wiktionary that you already know from the word search result lists. As you can see, we started to sort some of the words. You can find ZYZZYVA also through Words with Y and Words with 7 letters. The special word lists are still experimental, but should help not only professional players to learn the most important words.
Index pages
As mentioned above, you can access the word profiles also through the index pages. Simply choose Word Lists > A to Z from the main navigation.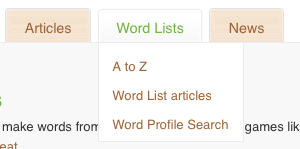 There are two different navigation blocks on the index pages. The first is to navigate using the next letter. So you can find the word ADACTYLOUS by choosing a.. > ad.. > ada.. starting from the upper level. This is great to find words with the same beginning or similar ones.
The second navigation block is just showing you examples for words beginning with the current letter string. This may also help you to discover new words.
Help us to grow the content
I hope you enjoy the new content so far. We are going to extend the information through the next months. Maybe you have ideas what we might add to the content. We would love to hear from you.