In the past few weeks we developed a number of useful features for our anagram solver and all other word searches. In this note we would like to introduce you to the renewals.

Empty input screen with one click
Especially on mobile devices it is inconvenient to delete the letters from a field. To solve this problem, we added a small cross next to the input screen of the word and the pattern search. With only one click you empty the field and retype your letters.
Pattern without letters
Another good modification ist that it is now no longer necessary to enter at least one letter in the pattern. Thus, you can find out a specific position of a word you already know. Once you enter at least one letter the search responses as usual and uses leastwise one of these letters.
Links to word profiles
Since from now on every word has its own word profile, you can find a direct link to it in all search results of the Anagram Solver and Co. You reach this word profile by clicking the word itself or clicking the more-Link on larger devices.  As usual you will get presented links to the Wikipedia and other sources. In the near future we are also going to expand the available information on profile sites.
Highlighting special fields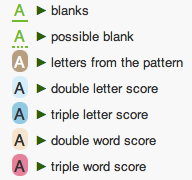 The most extensive changes took place in highlighting special fields. Sometimes, it is possible to put a Joker on more than one position. If that's the case, it will be highlighted from now on. In addition to these fixed display tools there will be some additional options. You can turn them on and off whenever you need them under the condition that you used the pattern in your word search.
Highlighting bonus fields
Once you use a pattern with special characters, you can now highlight them in the search results. Click on highlight bonus fields to highlight all double word scores and triple word scores in another color. The meaning of the colors can be found in a legend below the results.
Aligning by pattern
This feature has been finished just in time. After this change we are going to pause rebuilding the word search for a while to focus on other construction areas. Thus, the feature aligning by pattern will be the last one until further notice. With a click on this feature you align the results of a word search in a way that letters that have the same position on the board are directly below each other. The article image above shows the highlighted bonus fields and the rearrangement of the words.
We hope these changes will meet your approval. For us they seem to be necessary to provide a better handling and clarity of our word searches. Of course, our wish list of new features is much longer, but we are leaving this for next time.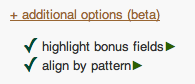 Not working?
We tried all features ourselves on different devices. However, it is still possible that your internet browser doesn't recognize the changes at first. Please try to reload the current page. This should help in most of the cases. If not, please tell us the problem your are experiencing using the feedback form. Therefore, we always need the type of device and browser you are using to access word-grabber.com.
By the way, the first two features are grounded on user requests. Thanks a lot for your feedback. Further requests are welcome. Just use the feedback form or leave a comment below this article.