If you have been searching for a game that will give you so much to experience in mere moments, then you need to try out Boggle With Friends. This offering from Zynga takes the much loved and classic board games, and completely reimagines it into a swipe and spell game.
So Much to Experience in Just One Game
With the power of your finger, linking words in almost any direction, you can get masses of points and create long interesting words. The best part of the game is you can play with your family and friends.
You have two options, to dive straight into the gaming, or to try a little practice first and build up your skill. Let's consider starting off with some practice. On this game, you will find that there is a coach, a little guy who likes like a professor ready to teach you how to get through a game of Boggle With Friends. With the coach, you can try out a game and it will count how many words you can find in a certain time, versus how many words the coach could find. At the end of the game you get to see a list of all the words that could be found, and the points that you have accumulated for each word.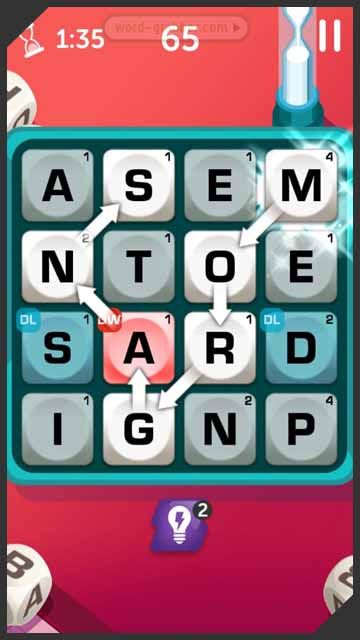 Get Challenged from the Get Go
It is in coaching that you will find out something very interesting. Each word has been allocated a certain amount of points, just like you would find with other word building board games. Even better, it is possible to play a game and experience Triple Letter or Double Letter scores on certain letters. For example, if a letter is worth 10 points and it has the TL sign above it, the letter will be worth an amazing 30 points. At the end of the coaching, you will discover whether you or the coach won over three rounds, then you can choose to rematch.
If you go straight into gaming, you can begin with the Daily Challenge. Here, you can tell where you are on the leader board before you begin so that you make your way to the top. Or, you could just go into play. There will be highlighted tiles throughout the game and you will need to make a word with these tiles. The total amount of time you will have is 2.00 minutes, and you will be given a number of tiles to get so that you can reach a daily goal.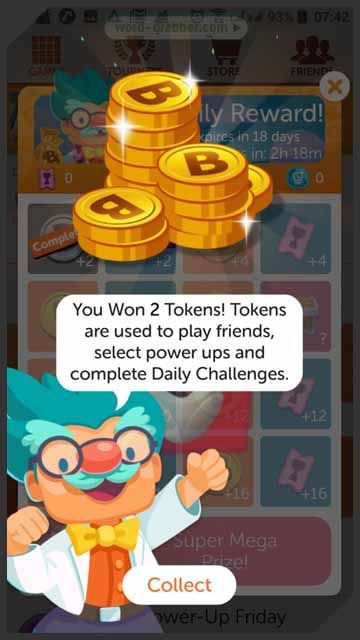 The Brilliant Power Ups that Build Your Scores
There are so many different ways that you can boost your scores when you are playing this game. One of them is by choosing a power up at the beginning of the game. When you get started, there are a total of six powerups you can experience. Five of them are available for free, except where you use your coins that come with each game. Two of them are known as Mega Power Ups and you need to make an in-app purchase to experience them. For each game, you get one Power Up completely free. They are Freeze, to stop the clock, Inspiration to highlight a word you are yet to find, Spin to rotate the board, Vision to present you with three unfound words, Mega Freeze to add one minute to the game and finally Mega inspire that will tell you 8 of the best words that you have not found yet.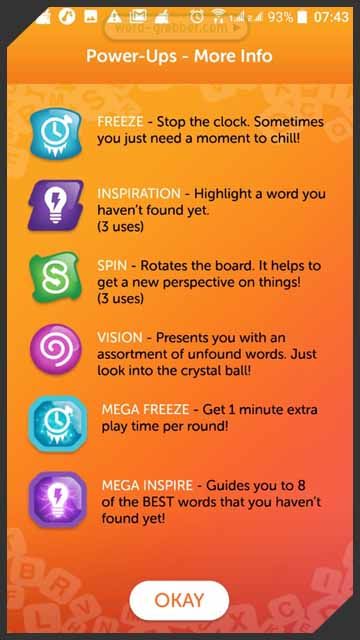 Boggle With and Make Friends in the Tourneys
There are tournaments that you can experience in this game. You will be given a whole 50-ticket at the beginning of each tournament. Each tournament is timed for two minutes, and each game costs one ticket. When you choose to play, you will see a countdown for when the tournament is to start as the game searches for players. Then it begins at the quarterfinals. When you win, you move on to the semi-finals and keep going to the finals. When you win here, you get an amazing reward, and that is one of the Mega Power Ups. You can play in the tourneys with your friends, or other people from all over the world.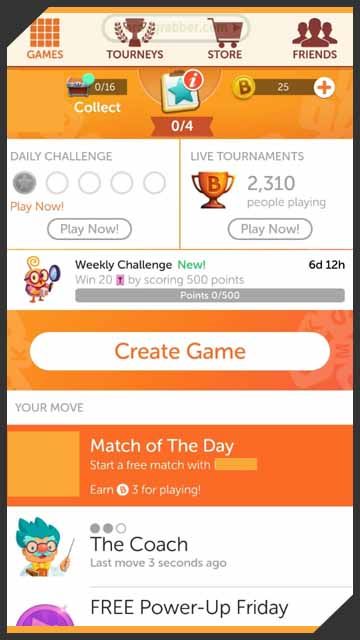 Bits and Pieces worth Noting
There are a few bits and pieces that you can take note of when you are playing. You can visit the store and choose to purchase Tokens, Tickets or Power Ups at great prizes. There are some advertisements that you should watch out for, but they are not too many that it takes over the total gaming experience. You can choose the friends button and decide whether you want to play with any of your friends from who are also a part of the game. You get to invite them too.
Conclusion for Boggle With Friends
Boggle With Friends has so much that you can explore, with plenty of ways that you can earn points. These include tournaments, playing with tough letters, playing the match of the day and taking on the daily challenge.
image sources
title pic: for word-grabber.com by 1337 UGC
pic 1 – 4: Screenshots of Boggle With Friends by Zynga made for word-grabber.com, 1337 UGC