When it comes to finding word games, there are few that match up to what this has to offer. Words of Wonders is a word game with an edge. At the most basic understanding, you will find that it is simple a swipe and connect game. Using a swiping motion, you connect a number of letters together.
Go and Explore the World with Words of Wonders
However, to really stand it, it offers a well thought out theme. This game is all about adventure, and you will notice this from the moment that you get started. Here is an idea of what you should look forward to on this game.
You need help with finding the right words in Words of Wonders? Try our
Word Unscrambler
! It is the best solution to your Word Puzzle problem by word-grabber.com.
Great Fun from the very Beginning
At the beginning of this game, you will arrive on the home page. On this home page you will find that you can choose from three options. These options are Play, Explore or the Daily Puzzle. When you select the Play option, you will be taken straight to the latest level that you have attained in the games so that you can keep playing. The Explore option will take you to the gaming maps so that you can see which level you have achieved. Then there is the Daily Puzzle which offers a little bit of an advanced challenge for players to figure out the simple clues.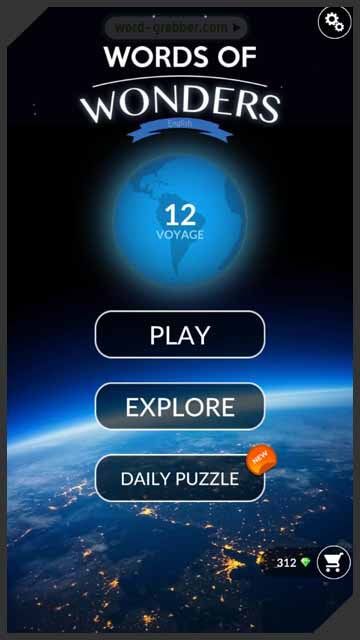 Once you have decided which game you want to start playing, there are some simple rules you need to remember. To begin with, remember that each letter can only be used once. Aim to fill in the squares that appear at the top of the screen. Once all the squares have been filled in, you will be able to move on to the next level. It is worth noting that looking at the number of empty squares will make it easier for you to discern how long each word should be.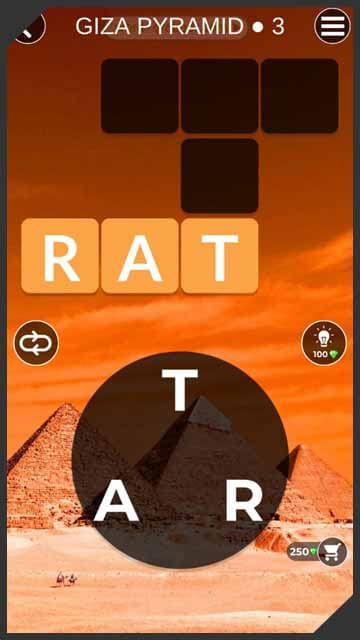 Earning Rewards along your Journey
As with any journey, you will find that you hit a few bumps in the road and need some help. This is where the bonuses come in. Each time that you play, you have the collect diamonds. Diamonds are given when you finish a certain number of levels, and also when you achieve certain milestones. Every day, you also receive a special gift, the choice of three magic boxes. Each one has a certain number of diamonds so you could be lucky and score big. When you get stuck within the game, the diamonds that you have collected will come in to be quite handy. You can use them to purchase hints, which are random letters that fill in the blank spaces. With the hints, it becomes easier to figure out a word when you may have figured out all that you could. The hints help you finish the entire puzzle and may help propel you to complete all the levels.
Discover Wonders all over the World
Words of Wonders begins in Egypt, where you have the chance to experience some of the amazing sights of this land. The first part of the word challenge begins in Giza, then you move on to the Sphinx and the Red Sea. After you finish all the puzzles within one wonder, you get a short and precise description of this wonder. Once you finish this area, you can move on to the next, which is France.
When you move to the second area to explore, the game becomes even more interesting. You can get a few free diamonds if you choose to take on a challenge to complete the game within 24 hours. Once you do so, you can retain the diamonds and look forward to some other benefits. To see how many diamonds that you have left, all you need to do is look at the bottom right hand side of the screen. There is a shopping cart there, and clicking it will show you the total amount you have accumulated.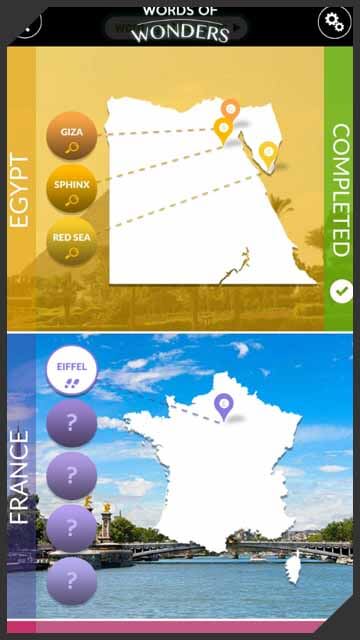 Special Visits through The Daily Puzzle
The Daily Puzzle is quite something in this word game. To begin with, it allows you to get plenty of gifts each day, as well as to uncover new destinations while you are at it. Each month, there is a new place for you to unearth. As you play, you will begin to bring colour to that destination with ease. The Daily Puzzle also resembles a crossword puzzle as well, making it more interesting and challenging to fill in. It is the ideal option to explore if you are looking to elevate your analytic and reasoning skills.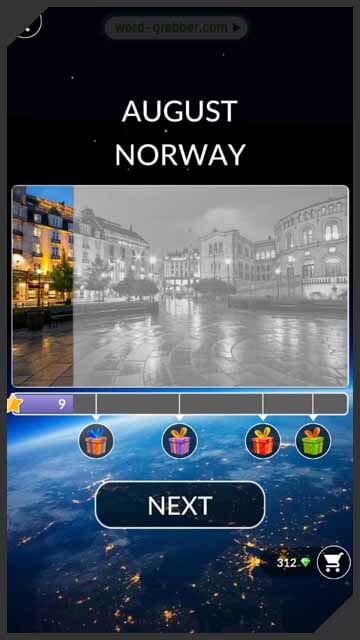 Advertising in Words of Wonders
This is a game that is available for free download, so you are sure to find that there is a catch to it. This is in the form of advertising. At the end of each level, you will have to watch an advertisement so that you can move forward. There is the option to skip most of the adverts after about 5 seconds, but there are those that you will need to see through.
If you do not want to be interrupted by the adverts, then all you have to do is make an in-app purchase. This way, you can remove the ads, as well as get some more diamonds to propel you forward.
Our Conclusion about the App
Words of Wonder is a game that is all about adventures. It is well thought out and bound to keep you enthralled from the very first word. This is the perfect game for anyone who loves to explore and can be enjoyed by gamers of all ages. It is quite simple and straightforward, so you will find understanding it very easy.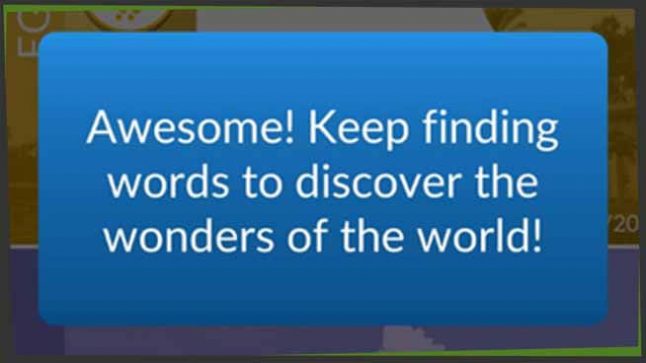 image sources:
All pictures are screenshots of the app Words of Wonders by word-grabber.com.