Wordsdom is an exciting word game that is highly addictive. It follows a simple principle, as a swipe-and-fill word game. At the beginning of the game, you will see some boxes that you need to fill up with letters to form words. To do so, you have to connect some letters that are contained in a circle at the bottom of the screen.
Wordsdom is described as one of the best word puzzles that you will find in the gaming world and it is actually pretty good. If you love to play games, form words, and analyse letters, then you will love what this game has to offer you. Do you need help? Try our
Word Unscrambler
on word-grabber.com!
Experience the Perfect Household in Words
This game is bound to keep you enthralled from the moment you begin playing. It features an interesting theme that has levels named after different things you can find in the home. The background of the first few levels resembles a kitchen in soft colours. After you have taken in the theme, then you can get started with the gaming.
How to Play Wordsdom
When you get started with the game, take some time to think and then fill in the squares to create words. There is a small circle at the bottom of the screen that features letters. These letters need to be joined together using a swipe motion, once per word, to fill in the boxes. The more you do this, the better you will find your vocabulary becomes.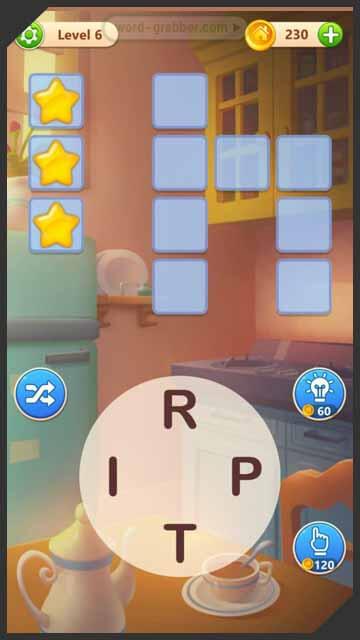 The more you play, the higher the intensity of the game. You will start off creating words with three or more letters and before you know it, you will be creating words with five to seven letters. If you have all the letters right for a word, then the tiles will be filled in and you will be able to move to the next level.
Simple Steps to Cracking Wordsdom
It is so easy to play this game, once you know how to go about it. It follows a simple premise, which is swiping your finger over the letters, searching, connecting the letters, and combining them to form a word. There are so many different ways that you can connect the letters. These include vertical, horizontal, diagonal, and even backwards connections.
There are core levels that have names linked to something in the home, like Bookshelf, Album, Lamp, and more. Within these core levels, there are other levels that you need to go through to keep moving forward. These normally consist of five levels.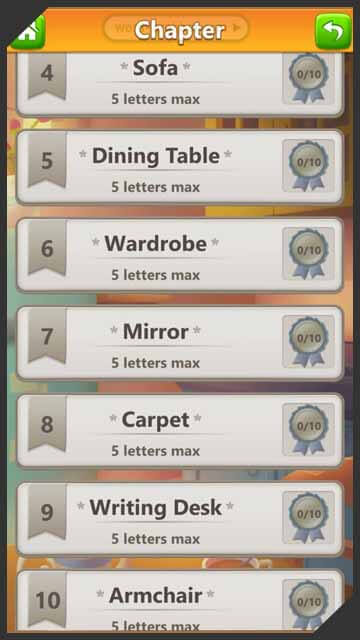 Buying Hints with the Coins
As you move through the levels, you get the chance to collect coins. The more coins you have, the more hints you can purchase. The hints help you move forward faster through the game and there are two ways that you can get these hints. The first of these is by choosing a hint that will reveal one letter on the board. The other way you can use coins is by purchasing a hint that will fill in a specific empty box on the board.
You can earn even more coins with the daily bonus, where you are given the opportunity to spin a wheel. You can win between twenty and eighty coins with this lucky bonus.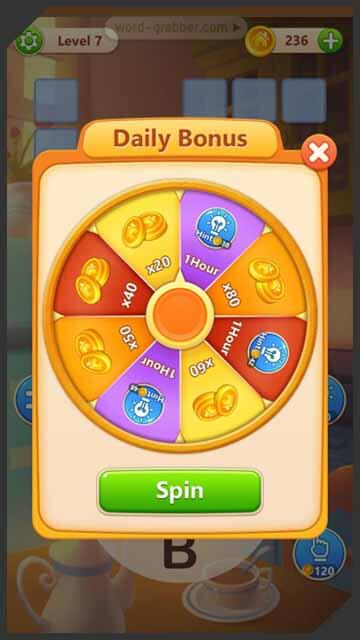 Take Up a Challenge Every Day
There is chance for you to increase your vocabulary and powers of deduction every day through the daily challenge puzzle. With this challenge, you will be able to create some more complex words, some of which have up to seven letters. This means that you need to think and deduce what the words might be.
It is also possible for you to get some more points by collecting butterflies. The butterflies flutter above certain letters. When you get a word where there is a butterfly, you are able to earn a few more coins.
Every day, you are able to go through more stages and the better you become, the more coins you can earn. From the daily challenge, it is even possible to make up to 600 coins. All you need to do is realize your word brilliance in the games.
Connect with Others and Get Some More Points
One brilliant way to make this game more enjoyable is to connect with friends and see how far up the ranks they are. You can quickly do this through Facebook: If you choose to log in to the game using Facebook, you will be able to see all of your friends who are also playing the game.
There is also a reward of 150 coins when you chose to connect to Facebook. With this friend connection, you have the chance to invite your friends and play matches against them. It is also possible to send them messages and organise online 'play dates' or even share hints as to how to pass various stages of the game.
Advertising
At the heart of it, this is a free game that you can enjoy and the best thing is that it is compatible with all devices. If you want to get more out of the game, it is possible to make some in-app purchases where you can get some coins.
In addition to getting more coins you can also make a purchase and remove all the advertisements. Without doing this, you will need to watch the adverts after each game you play. These normally last between five and thirty seconds. It is also possible to skip through some ads, so these should not be too much of a deterrent.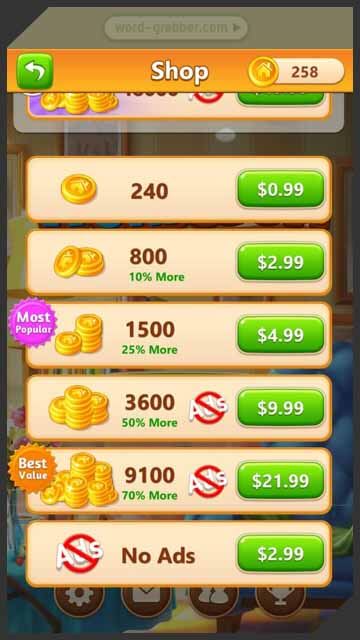 The Best of Puzzles is at Your Fingertips
Wordsdom is a game that will do several things for you, peaking your curiosity as well as helping you use your powers of deduction. You will enjoy the many levels of the game and be occupied creating words for hours. Featuring a pleasant theme that has a few surprises is what makes every day on this game worthwhile. Once you take the time to begin gaming, you will find that it is hard to stop yourself, simply because you are having so much fun.
image source
title: Screenshot form Wordsdom by 1337 UGC GmbH
picture 1 – 4 screenshots from the game wordsdom by 1337 UGC GmbH