Words Story is a word game like no other. It starts off with a man who says that he has been framed and imprisoned. He is, however, creating a master plan. He wants to find a way to save himself from prison and break free. Every day, going on for years, the words created help to build up his plan of escape.
Break Away from the Shackles of Prison
If you keep at it, you just might help him escape prison. When you start off the game, you will be prompted to play by some simple and easy rules. At the heart of it, all you need to do is create the correct word. When you do so, you are able to move on to the next level. This is a brilliant game that will help you test out your logic skills and prove that you are really clever.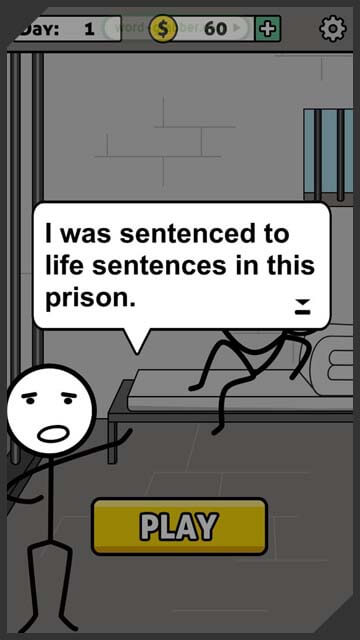 Create the Story as You Go Along
The game begins with a narrative and you continue to create words to help you along with this narrative. From the words that you create, you are able to get a few bits and pieces to help you grow your arsenal. Your arsenal is strategic, including tools that will help you break free, as well as tools that can help you and other people. This makes it easier to suss out the types of words that you need to create: namely words that are linked in some way to breaking free.
To create the words, the top of the screen contains boxes with lines for you to fill in. The number of boxes represents the number of letters in each word. Below each box, there are some letters in other boxes that you can choose from. There are typically more letters than the number needed to create the word. This is where logic really comes in.
When you create a word, the letters will be highlighted in one of three colours. One colour is white, the other is yellow, and the other is blue. The white box means that the letter chosen is not present in the word and should not have been selected. The yellow box means that you have selected a letter that is present in the word. It is not, however, in the right position. The blue box means that you have chosen the right letter for the word and it is in the right position. When all the letters glow blue, then you get points and move on to the next level.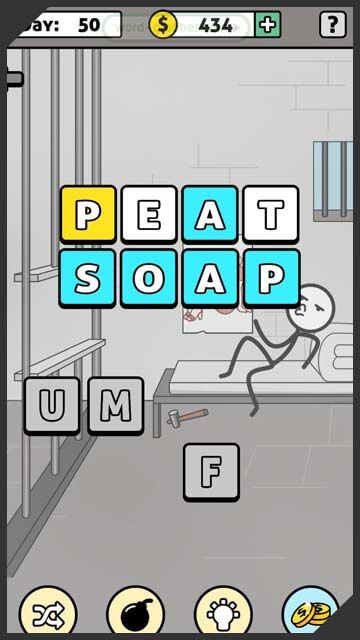 Lots and Lots of Bonuses
As you go along your escape journey, there are lots of little bonuses that you can benefit from. These normally show up at the end of a level. When you play a bonus, you are able to get some more coins. And you need these coins to help you with clues as you progress through the game. The clues make it easier for you to complete words faster, helping you go deeper into the adventure.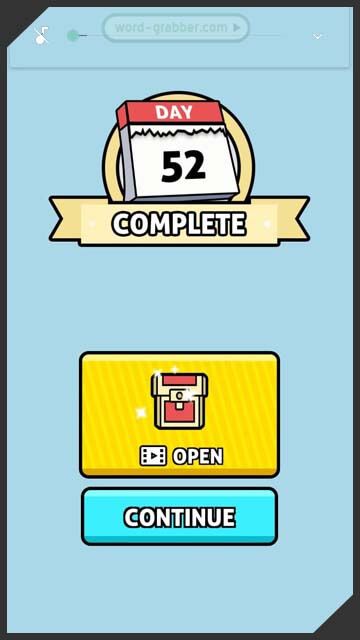 One of these bonuses is the Spin and Win bonus. When you select this bonus, you get the chance to spin and win twice. There are several things you can win, including boosts, coins, and surprise gifts.
You can also get bonuses at the end of each level that give you more coins automatically, or you could get a surprise gift. The surprise gift could be anything, including Spin and Win and coins. When you reach a certain number of levels, you are able to assess your progress in inches achieved for the level. This is compared to the overall inches you have dug out.
There are also rewards that you can get as you go along. These help you upgrade a certain skill or attribute to make you a better person. For example, you can move from listening to music, to listening to high-quality music. All these little things make the time in prison more bearable. It also gives the man an edge so that he can get little things that he needs.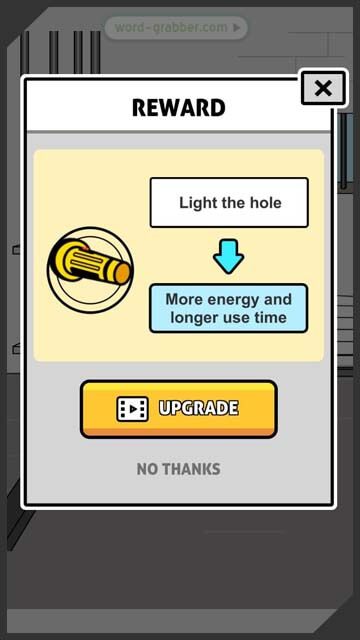 Get Out of Prison Faster
You can help the man escape even faster by taking advantage of tools during the game. These are located at the bottom of the screen. The first of these is the shuffle button. This helps you rearrange the letters so you can see the word more clearly. Next to this is the bomb button. When you select this, you will eliminate one of the letters that does not make up the word. This makes it much easier to create useful words. Then there is the light bulb button. Click on this, and you will fill in a letter in the word. If you need to earn more coins, you can click on the button and watch a few advertisements.
Advertising
Simply put, this game has too many ads. For you to move from one step to the next, you will need to watch an ad. To get a bonus, you must watch an ad. When you upgrade, go through an ad again. If nothing else, it will test your perseverance. It is the ads that help make the game free. After a couple of days, however, you may find yourself avidly wishing you could pay just to get rid of the ads.
A Perfect Game All the Time
Tell the story of escape with Words Story. You do not need to worry about timing, as all levels allow you to take as much time as you need. You can enjoy this game offline. Anyone can play this game. The adventure never ends, just keep going from level to level. Make sure to create your escape story and also take note of the disclaimer. This game really is highly addictive.
image sources
title picture and picture 1 – 4: all in game screenshots of Words Story by 1337 UGC GmbH