Similar to Words With Friends Wordfeud, developed by Bertheussen IT, is a multiplayer word game that can be played on iPhone, Android or Windows Phone 7. About 15 million people enjoy this game already and more and more word game enthusiasts are being added every day. What makes Wordfeud so special? Here are the reasons.
Wordfeud overview
Wordfeud is quite similar to Words With Friends or Scrabble. You have a 15 by 15 tile board and you earn points for building words out of letters and placing them on the high scoring Double Letter, Double Word, Triple Letter and Triple Word fields. No difference to the latter word games. The distinctiveness lies in the ability to customize the board game and play with friends and random opponents.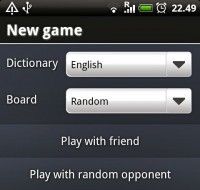 To play Wordfeud you have to register with your E-Mail address. Thus you can chose your own nickname. Your friends can find you by searching for your E-Mail address or nickname. Vice versa you can find them like this. There is also the possibility to play against a random opponent. Actually you can do both since it is allowed to play up to 30 separate games simultaneously. If you are tired of the same standard board each game you can choose the option to randomize the board and change up where the DL, TL, DW, TW tiles are placed – giving the classic game a new twist!
Like most of the word games for mobile devices it is possible to chat with your opponents while playing a game. This app is also able to send you push notifications informing you of your opponent's latest move.
Wordfeud Scoring
Here you can see the letter distribution of the 104 tiles. There are also blank tiles included in this game. These tiles can be assigned a letter when they are placed on the board, and are worth 0 points.
| Letter | Count | Points | Letter | Count | Points |
| --- | --- | --- | --- | --- | --- |
| A | 10 | 1 | N | 6 | 1 |
| B | 2 | 4 | O | 7 | 1 |
| C | 2 | 4 | P | 2 | 4 |
| D | 5 | 2 | Q | 1 | 10 |
| E | 12 | 1 | R | 6 | 1 |
| F | 2 | 4 | S | 5 | 1 |
| G | 3 | 3 | T | 7 | 1 |
| H | 3 | 4 | U | 4 | 2 |
| I | 9 | 1 | V | 2 | 4 |
| J | 1 | 10 | W | 2 | 4 |
| K | 1 | 5 | X | 1 | 8 |
| L | 4 | 1 | Y | 2 | 4 |
| M | 2 | 3 | Z | 1 | 10 |
As mentioned before there are Double Letter, Double Word, Triple Letter and Triple Word fields on the board. This leads to a multiplied word or letter value. If you use all seven letters on your rack at once you are awarded additional 40 points.
If you can not build a word at all you can choose to pass your turn to the opponent. If three passes are made in a row, the game will end and final scores are calculated according to the rules below. The game also ends when one of the players has used all his tiles and there are no more tiles left in the bag. Points on remaining tiles are subtracted from each player's score, then added to the opponent's score if he used all his tiles. The player with the highest final score wins the game.
There is also another possibility if you can not build a word: the player can choose to swap one or more of his tiles instead of playing a word.
Altogether you have 72 hours to complete the turn. After this you will be resigned automatically, and your opponent will win the game.
Wordfeud Dictionary
You can play Wordfeud in up to seven languages including Danish, Dutch, English, French, Norwegian, Spanish and Swedish. The English version can be played internationally with the SOWPODS word list or the TWL word list for American English words. These English word lists are the official Scrabble word lists. So Scrabble pros can use Wordfeud as a training place whereas Words With Friends uses a unofficial and inconsistent word list called ENABLE.
The Swedish dictionary is provided by The Swedish Academy (Svenska Akademien). The Dutch dictionary is proprietary, created by TaalTik, using the OpenTaal dictionary as base material. Furthermore, Wordfeud uses Retskrivningsordbogen 2001, made by Dansk Sprognævn for it's Danish version and the dictionary from Norsk Ordbank for Norwegian words.
What do Wordfeud players say?
Love how it is free and it don't freeze up! I love how I can play this with my friends that don't have an iPhone!
by C… (iPhone user)
It's a smooth version of traditional "scrabble". Relatively speaking, the few ads that are there are easy enough to back out of. The added variation of being able to choose a random board throws an extra twist of challenge into this addiction!
by W… (Android user)
Brilliant, works perfectly. More games should be cross-platform like this.
by M… (Windows Phone user)
Get Wordfeud for your smartphone
Convinced of this mobile word game? Try it. It is available in Apple's App Store (iPhone, iPod Touch and iPad) and the Google Android Market (Android 1.5 and above) for free. However, if you are a Windows Phone user you have to pay $2.99 in the Windows Market Place (Windows Phone 7.5 Mango).