Word Snack is a cool, new, and tasty word game developed by APNAX Games. Like similar word games such as Word Guru, the goal is to connect letters and make words.
Word Snack Settings
The environment provided by the developers is quite similar to Word Guru, the general theme being food and eating. In Word Snack, the player is taken outdoors on a field of grass, maybe in a nice public park. You are seated on a nice, red piece of cloth and are surrounded by everything that makes a picnic a picnic: like bread, fruit, cookies, and dairy. On the cloth in front of you, you have your letters. Swipe over the letters with your fingers and create words that fit in the blocks on the tray in front of you. The correct words are automatically inserted in the respective fields.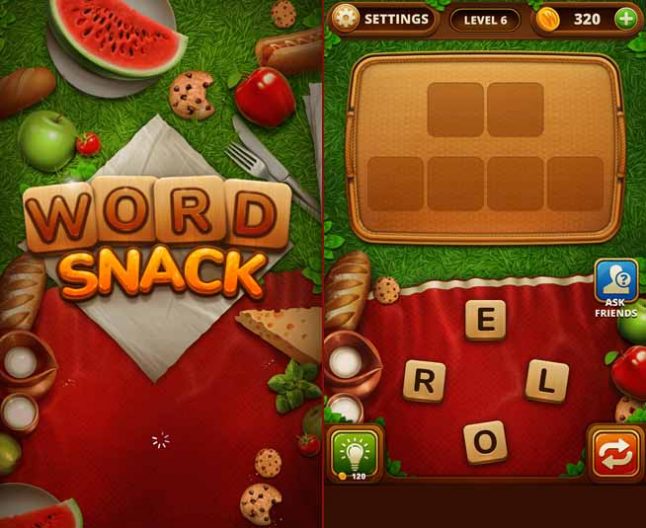 Sharing is Scoring
You can't earn coins by simply finding the right answers, but sometimes you are rewarded 25 coins when you finish a level. You can also share your score on Facebook and receive another 20 coins! Every once in a while, the Daily Bonus Wheel pops up. This is not an ad, but an opportunity to win up to 300 coins. If you are stuck in Word Snack, but don't have the money to pay for hints, you can press the "Ask Friends" button and share your current game status via social media or messenger services.
Hints – Paying by the Letter
The cost for hints can make you go broke in no time. Each letter that you let yourself be shown costs more than the previous one. Note the irony, when you use up all your hard-earned coins in order to find out that the final word you were looking for was in fact HINT. Before spending hard-earned coins, you should use the SHUFFLE button and have the letters rearranged. Sometimes, the right words will just reveal themselves. Some blocks are marked with a star symbol. If you solve the corresponding word, you are given five coins for each star.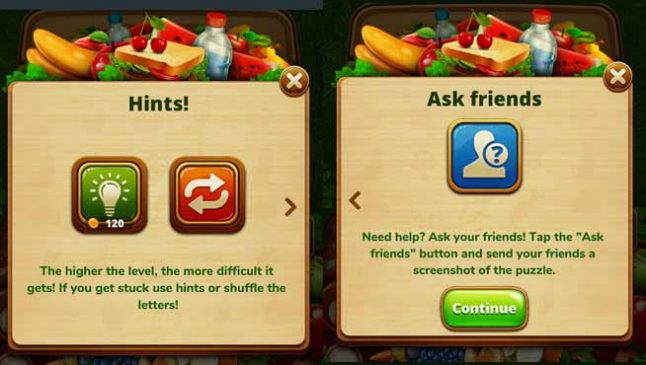 Expanding one's vocabulary is a reward in and of itself
In Word Snack, there are no extra words to find like in Word Guru. If you swipe a word that does not fit any of the blocks on the board, you don't receive any extra coins. But that doesn't mean you can't gain anything at all from it. You can always take pride in the fact that you found more new words. Maybe in the near future, Word Snack might have some updates just like Word Guru.
It is not about calling names. At all.
In Word Snack, the words required to complete a level are most often the easiest and most obvious adjectives, articles, pronouns and verbs. In level 59, for example, we have the letters AELNP. The noun PLANE is accepted, but the name NEPAL is not, and neither is NEAL. Accepted are LAP, PEN, and PAN (the frying one, not the mythological one.).
Rudimentary Picnic Poetry Made from Word Snack Answers
Level 11: Do one. Done? End!
What is transcribed here with almost HAIKUISH precision is the simple and yet genial advice not to lose oneself in a hurry, but merely to focus on one thing at a time. Once we have succeeded, a highly deserved rest is in order.
Level 61: Hero rose, so horse she hose.
The newly arisen hero, a.k.a. knight in shining armor, needs a vehicle that is also adequately shiny in appearance. So, the maiden takes a dirty stallion out of the stable and hoses it down.
Level 69: Moth hot? Out mouth!
The moth is always fatally attracted to the flame. If it catches fire, it should be eaten with extreme precaution so as not to burn one's delicate palate.
Image sources
title picture – Screenshot of the Game Word Snack developed by APNAX Games
picture 1, 2 – Screenshots of the Game Word Snack developed by APNAX Games