It would seem that playing word games is the #1 summer activity this year. When I was a kid (Caution! Old man telling tales!) we splashed around in the kiddie pool, whereas kids nowadays would rather install a swimming app than jump into the water. This year, maybe due to the bad weather, neither outside nor mobile swimming is on the to-do list. Instead, word games are like Word Cookies by BitMango.
Word Game Overkill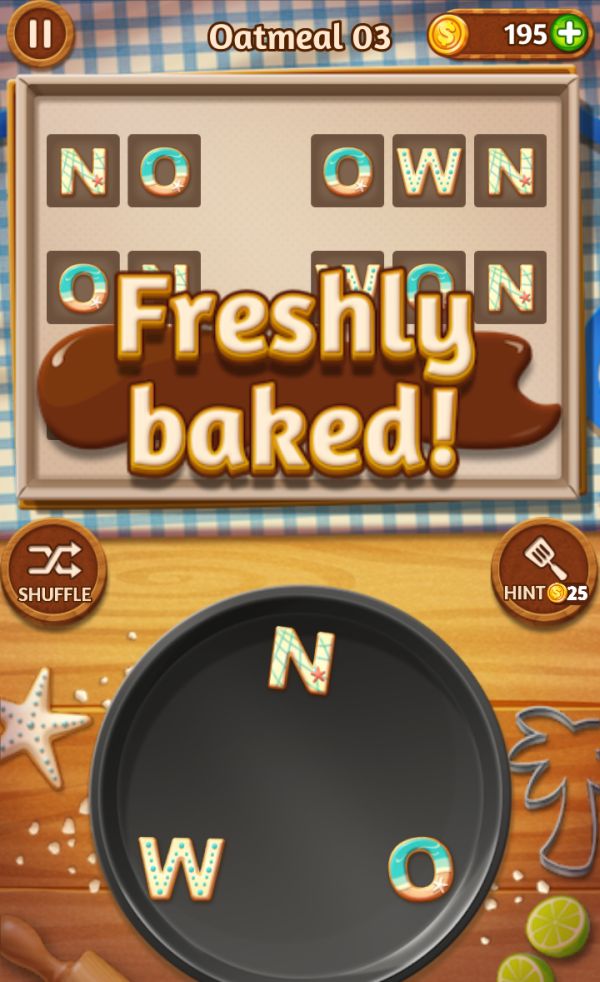 First things first: Word Cookies doesn't reinvent the wheel. Actually, it's in good company with games like WordSearch or WordChoco, which follow the exact same game rules. All these games have identical goals, the same gameplay, and similar visuals. It's almost impossible to identify the original, since everyone plagiarizes everyone these days. So, how do you keep your head above water in a flood of copycats? Keep your chin up when the water's up to your neck and simply pick one game as if it's the only representative of its genre.
Given that, we'll consider this game to be representative of all lookalikes and keep going!
Easy Peasy Lemon Squeezy!
The aim of "Word Cookies" is to find all the words that are hidden vertically, horizontally, diagonally, and even backwards in the cake pan on your screen. By swiping your finger over each letter of a valid word, it will be marked and appear on the word list above. By "baking" words in your cake pan, you get "baking points" for your high score (or pastry chef career).
On your way up, you are accompanied by a friendly maître de cuisine, who helps you out whenever she can by reminding you to use the shuffle button (which is barely necessary on the first few levels, but very useful at later stages). The first world is called Butter and as the name implies, you master all levels as smooth as a hot knife going through butter.
After completing the Butter Pack, however, things get a bit trickier.
"I did it all for the cookie!"
After getting your home baker certificate, you'll have to climb up the greasy buttered pole. This will allow you to start as a novice chef (55 baking points) and end with the title of the ultimate chef, for which you need 1407 baking points. Until then, you have to keep baking cookies like a madman. Luckily, your maître sputters like an inexhaustible fountain of praise ("Tasty!" "Cookielicious!" "Yummy!"), which will keep you motivated over a long period of time.
Actually, I'm starting to think this gal should swap her toque blanche with a pant suit in order to increase employee engagement in non-profitable companies. 🙂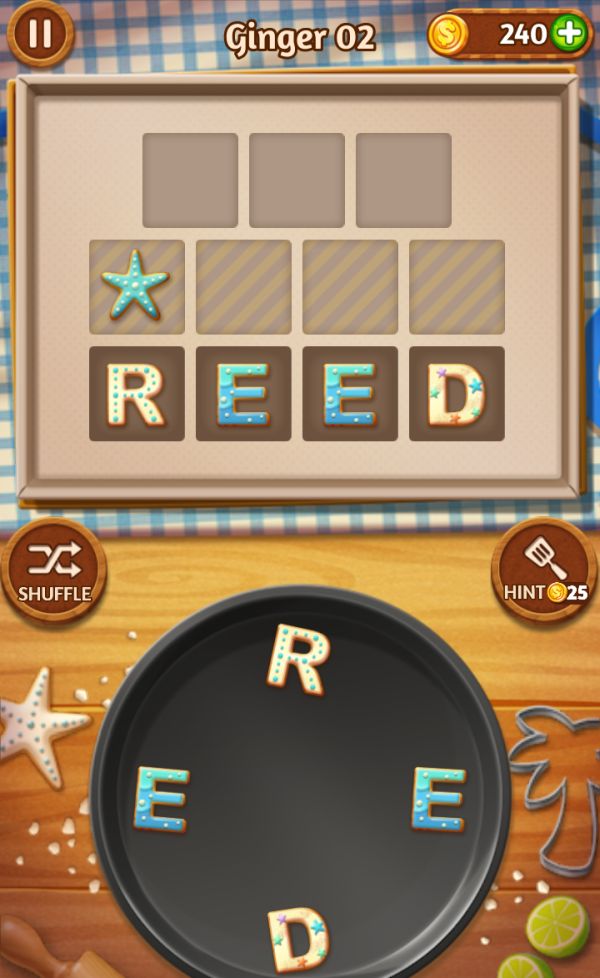 Anyway, the game lives up to its promise to be a "great exercise for the brain" and a helpful app to "improve your vocabulary, concentration, and spelling skills." – especially for non-native speakers. When I played the "Ginger 2" level, during which the letters R, E, E and D were thrown at me, I needed hours to squeeze some English words out of my brain, where a little, angry German dwarf was shouting "DER!" (the), "REDE!" (talk) and "ERDE!" (earth).
I might not be the only one who is grateful for anything capable of stimulating a mind clouded with work and worries (or dwarfs in my case). In case stimulation turns into frustration, however, there is always a helping hand by your side to get the letters sorted, so don't worry.
The Verdict
"Word Cookies" is a well-done mobile game, easy to handle, intuitive to the core, and yummy to the extreme. Even though I reckon that BitMango is hand in glove with the food industry and the app is just a conspiracy to whet our appetite, I still recommend you try it out for yourself.
Bonus: if you manage it to keep your hands off the cookie jar after playing this game, you'll win the Laura Branigan prize for self-control. Have fun!